January 30, 2019
Vegetarian Minestrone Soup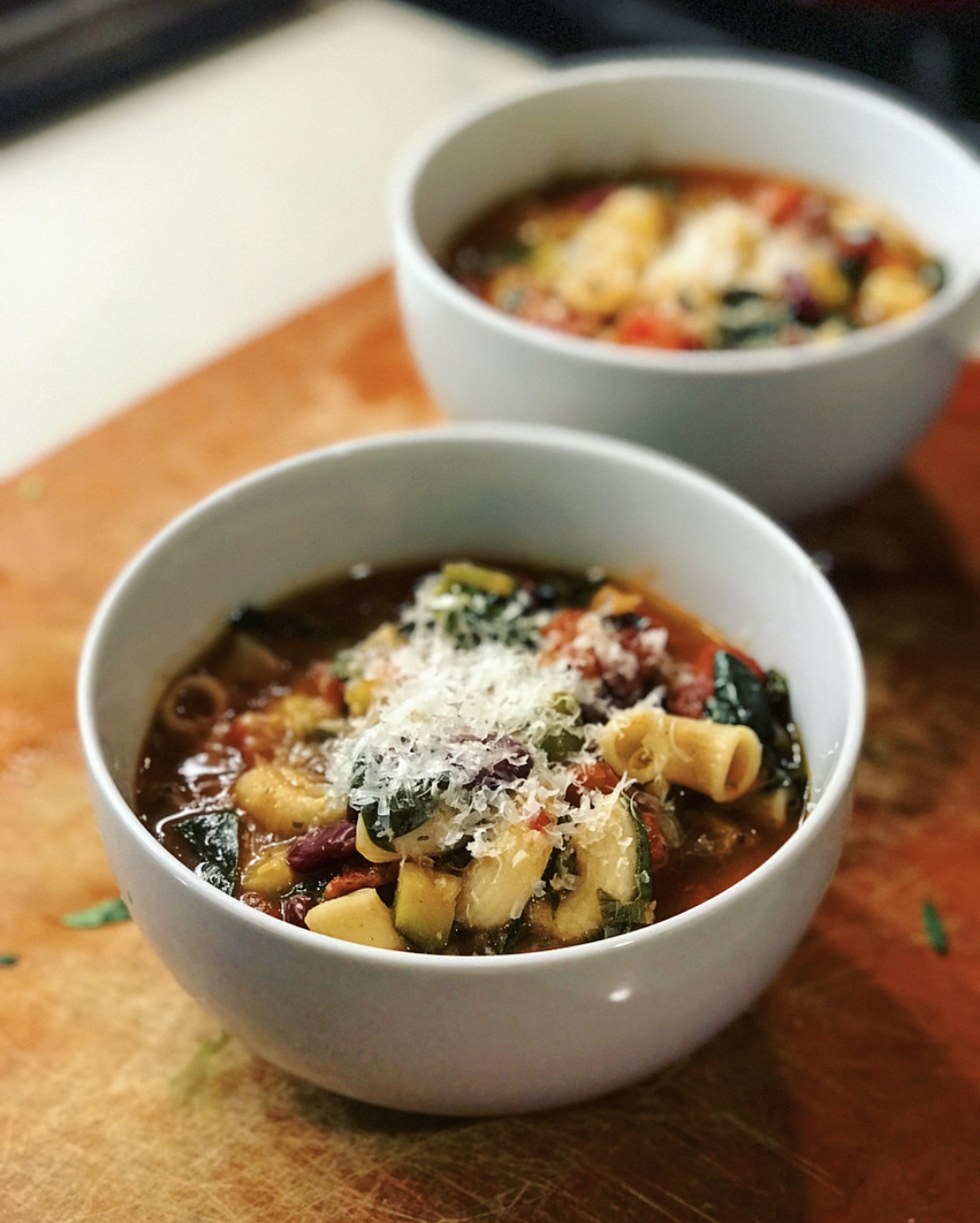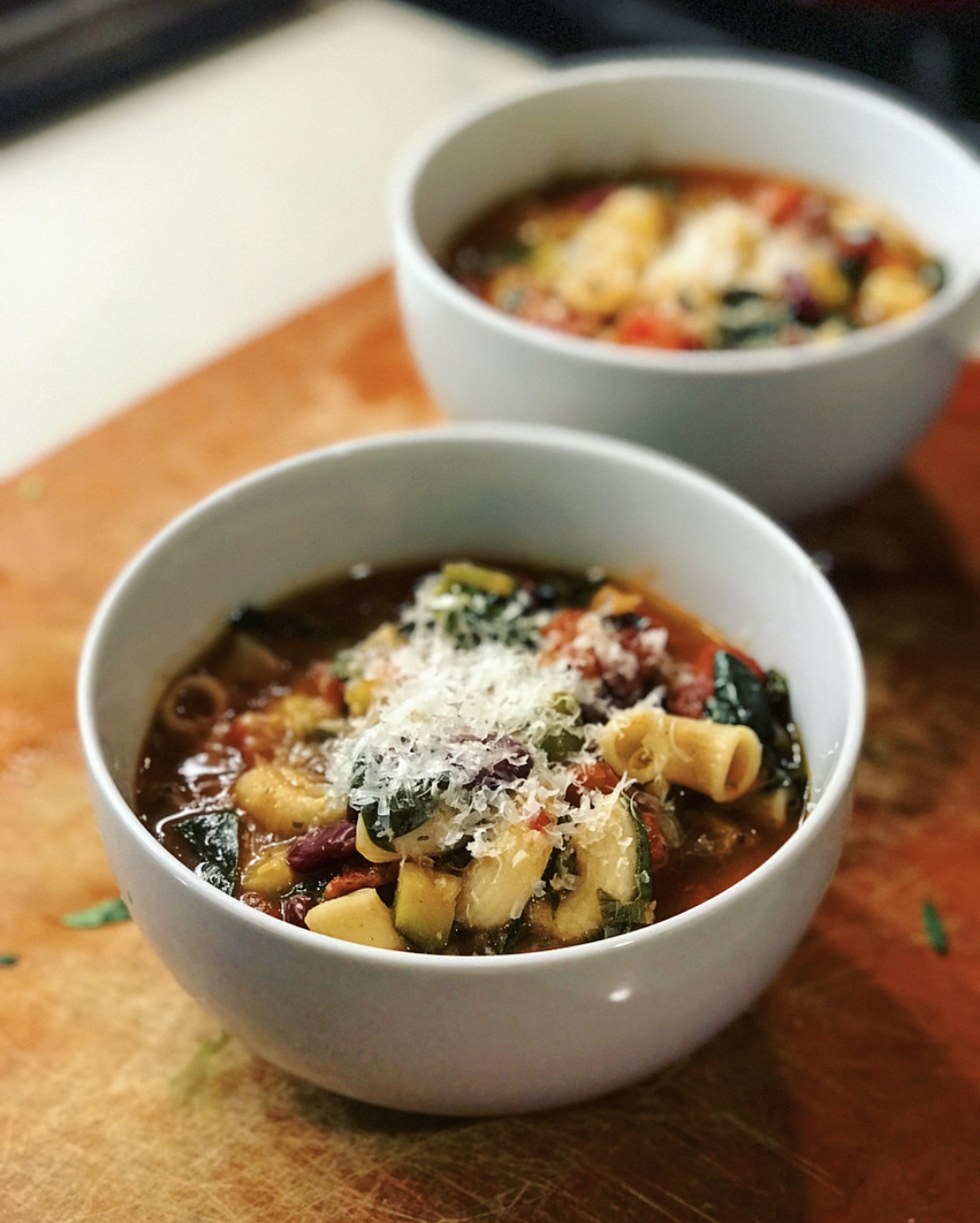 It could just be me, but this feels like the coldest Winter we've ever had. Maybe it's because I semi-recently downsized from a house with a backyard to an apartment without – which means I need to leave my warm, cozy couch to walk my dog in the freezing cold, rather than just let her run around outside. Or maybe it's because we're in the middle of a polar vortex… probably that. Either way, it's nice to have an easy, healthy, comforting and hot bowl of soup to come home to after freezing our butts off in the bone-chilling air. This recipe is my go-to this winter.
I've made various types of vegetable soups and they typically come out bland, leaving me missing something heavier and more indulgent – like a broccoli cheddar. This recipe on the other hand, packs a huge flavor punch from the long list of herbs in the ingredients and likely the 'flavor-layering' (I just coined that term) that go into this soup.
Minestrone is also super versatile. You can swap the veggie stock for chicken, if you're a meat-eater; You can use any shape or type of pasta you like (I used Jovial elbows) or swap the pasta for rice; You can even get creative with the herbs and veggies you add/takeaway. No matter what, this recipe will be tasty and will warm you from the inside out.
The Tips:
Add the herbs with the rest of the aromatics. This recipe kicks off with aromatic veggies like carrots, celery, onion and garlic. Herbs, also an aromatic, should be added to the pot after these first layer of veggies have time to sweat. The herbs will have a chance to warm-up and toast in the pot, allowing them to give their maximum flavor.
Release the natural oils of the dried herbs. A fun tip when using dry herbs to any recipe is to release the natural oils. To do this, before adding the dried herbs to the food, put them in the palm of your (hopefully clean) hand. Move your hand over your dish, then rub both hands together to create friction and allow the herbs to fall into your food. This extra step may seem pointless but you'll see what I mean when you get a huge, delicious waft of herbal aromatics in whatever dish you're cooking (and in the palms of your hands).
'Flavor-layering' defined. I've noticed a lot of quick soup recipes where the directions are simply to toss everything into the pot & let simmer. While I know most of these are meant for people with busy schedules, it's really worth taking the time to layer your flavors. For example, cook the aromatics until they soften and you start to see some brown bits at the bottom of the pan before adding the next layer of veggies. Then let those sweat before adding the next layer of liquids, using those liquids to scrape the brown bits at the bottom of the pan off, so on and so forth. Slowing down and flavor-layering will give you a deeper flavor and will make this and any recipe that much better.
The Recipe:
1 TBS extra virgin olive oil (EVOO)
1 TBS butter or vegan butter (can sub for EVOO)
1 small yellow onion, diced
2 medium carrots, diced
3 stalks celery, diced
4-6 cloves garlic, minced
2 tsp dried basil
2 tsp dried parsley
1 tsp dried oregano
1 tsp dried thyme
1/4-1/2 tsp red pepper flake
5 oz fresh green beans, trimmed and cut into 1/2 inch pieces
1 zucchini, diced
2 14.5 oz cans diced fire roasted tomatoes, low or no sodium
1 15 oz can tomato sauce, low or no sodium
1 15 oz can kidney beans, drained and rinsed
1 bay leaf
Salt & pepper, to taste
6 cups low sodium vegetable broth
2 cups water
1 1/2 cups uncooked pasta, (I used gluten free Jovial elbows.)
2/3 cups Tuscan kale (can sub for spinach)
Freshly grated Parmesan cheese, optional (I used vegan Violife Just Like Parmesan Wedge.)
Instructions
Melt butter in EVOO in a large Dutch oven/pot over medium heat.
Add onions, carrots, celery and a pinch of salt. Cook, stirring often for 7-10 minutes until the onion is translucent and there are small brown bits at the bottom of the pot.
Add the garlic basil, parsley, oregano, thyme and red pepper flake, cooking for another 30 seconds to 1 minute.
Add the green beans, zucchini and a pinch of salt, cooking until the zucchini softens, 2-5 minutes.
Add the diced tomatoes and tomato sauce, scraping the brown bits off of the bottom of the pot.
Stir in the beans, add the bay leaf, salt and pepper. Add the veggie stock and water. Cover the soup and bring to a boil. Uncover and reduce to a gentle simmer for 10-15 minutes.
Add the pasta and cook just until al dente. Remove from the heat and add the kale or spinach, allowing it to wilt for about 1-2 minutes.
Ladle hot soup into bowls and garnish with fresh Parm.
Notes: Recipe adapted from Carlsbad Cravings.