June 14, 2018
Jackfruit Enchiladas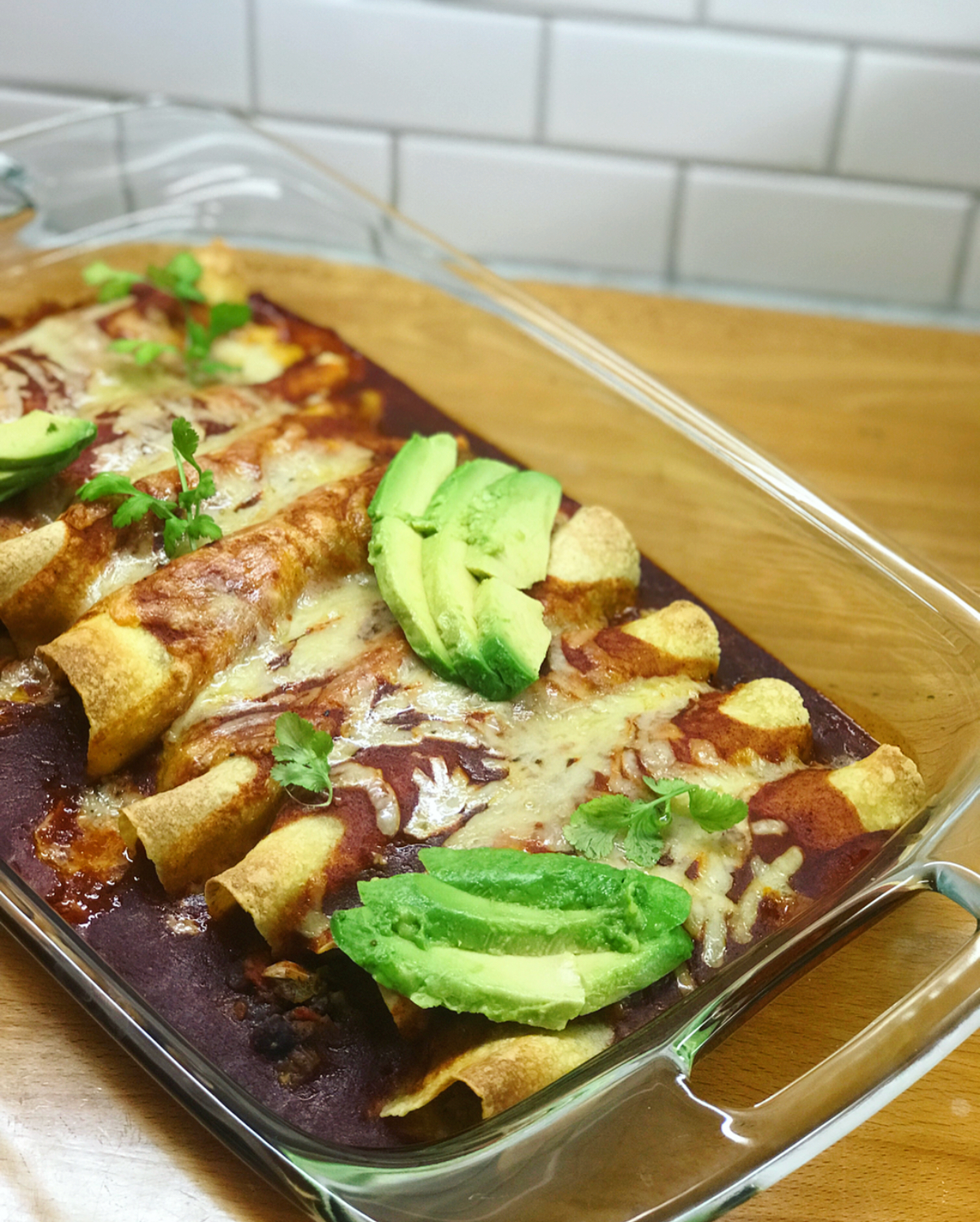 After going vegetarian the last few years, it's surprising I've waited until now to try jackfruit. While it seems the most common usage for this fruit-with-a-meat-like-texture is pulled 'pork' or 'chicken' sandwiches, I'm not the biggest fan of BBQ. That said, I thought enchiladas would be the perfect vehicle to test this vegetarian-friendly fruit. This recipe was such a success, I'm ready to use jackfruit in other scenarios – like buffalo 'chicken' dip!
The Tips
Use the correct jackfruit. There are two types of canned jackfruit commonly sold, one young in brine and one ripe in syrup. From what I gather, ripe jackfruit is super sweet and tastes similar to Juicyfruit gum – I can't say I've tried it, but it definitely doesn't sound like the right vehicle for a savory meal. The young in brine jackfruit has more of an artichoke consistency and a neutral taste, which allows it to adapt to other flavors – this is the kind you want for your savory dishes!
The mad hunt for canned jackfruit. I went to three grocery stores before I found out Trader Joes had an abundance of canned jackfruit. Safe yourself the time and head to your closest Trader Joe's for this product!
Handle the jackfruit properly. Drain and rinse the jackfruit then lay it on paper towel to dry. Next, cut off the tough center of the jackfruit, remove as many seeds as possible and pull apart the fleshy (gross term) part with your fingers. Then, lay the jackfruit flat & pat with paper towel to remove as much moisture as possible. The blog where I adapted my recipe has an extremely helpful video for beginners here.
Use prepared enchilada sauce. I used Whole Foods' 365 red enchilada sauce because the price was right and ingredients looked good, but feel free to use your favorite! There are a lot of great options out there, so no need to make the sauce from scratch.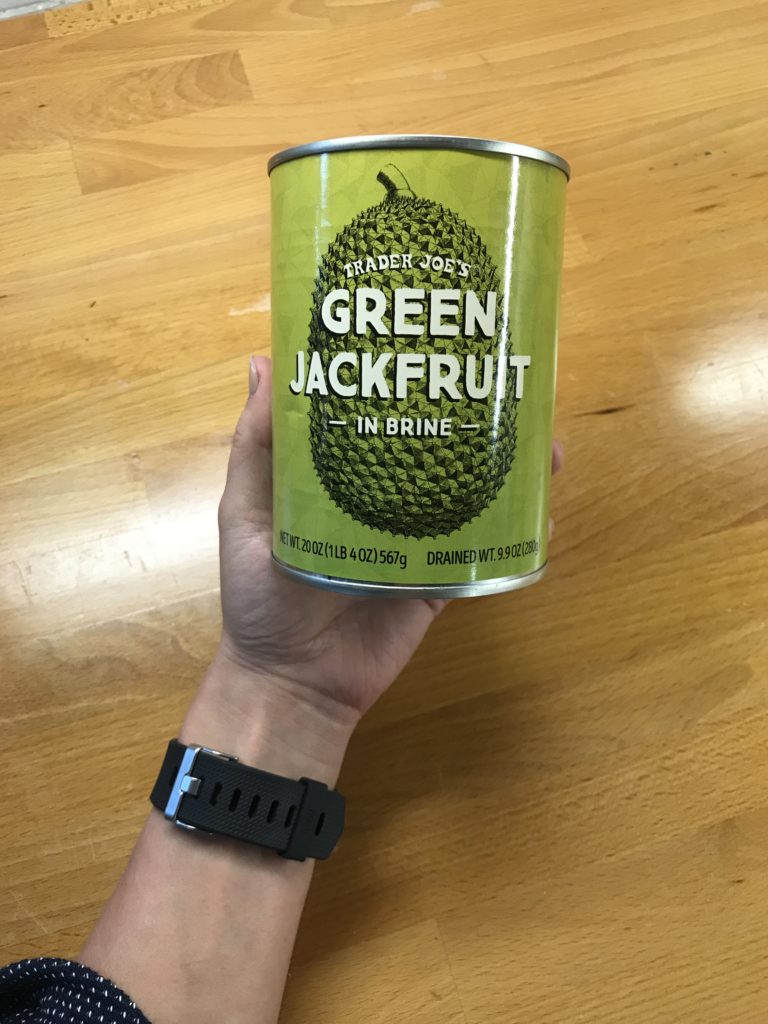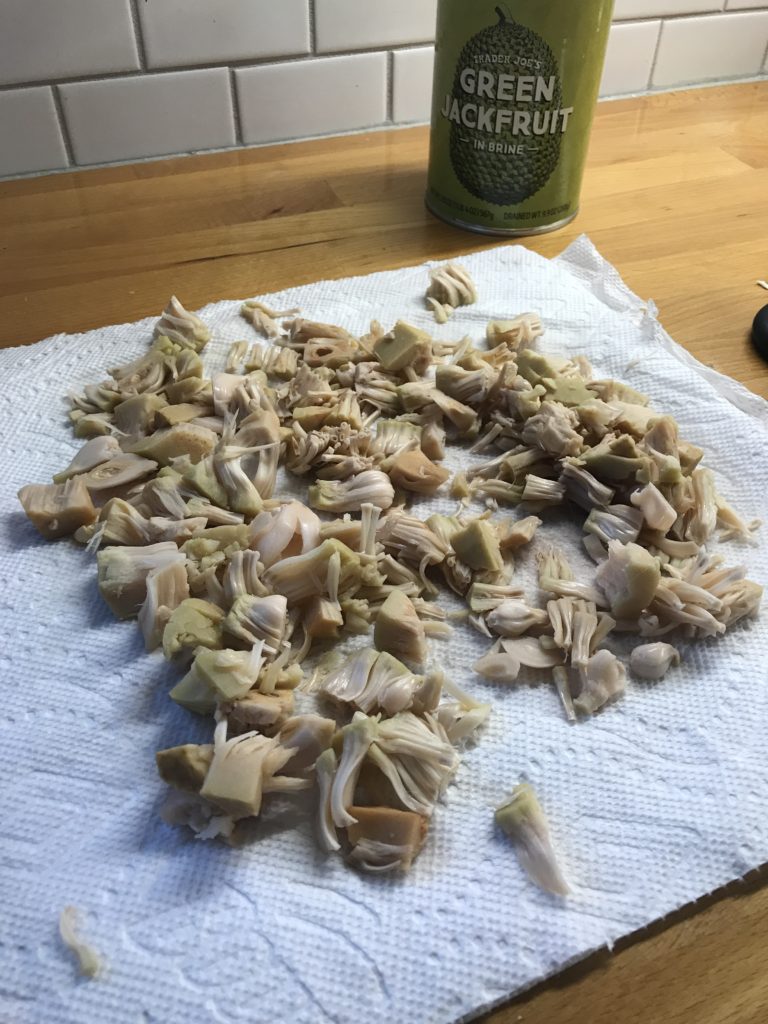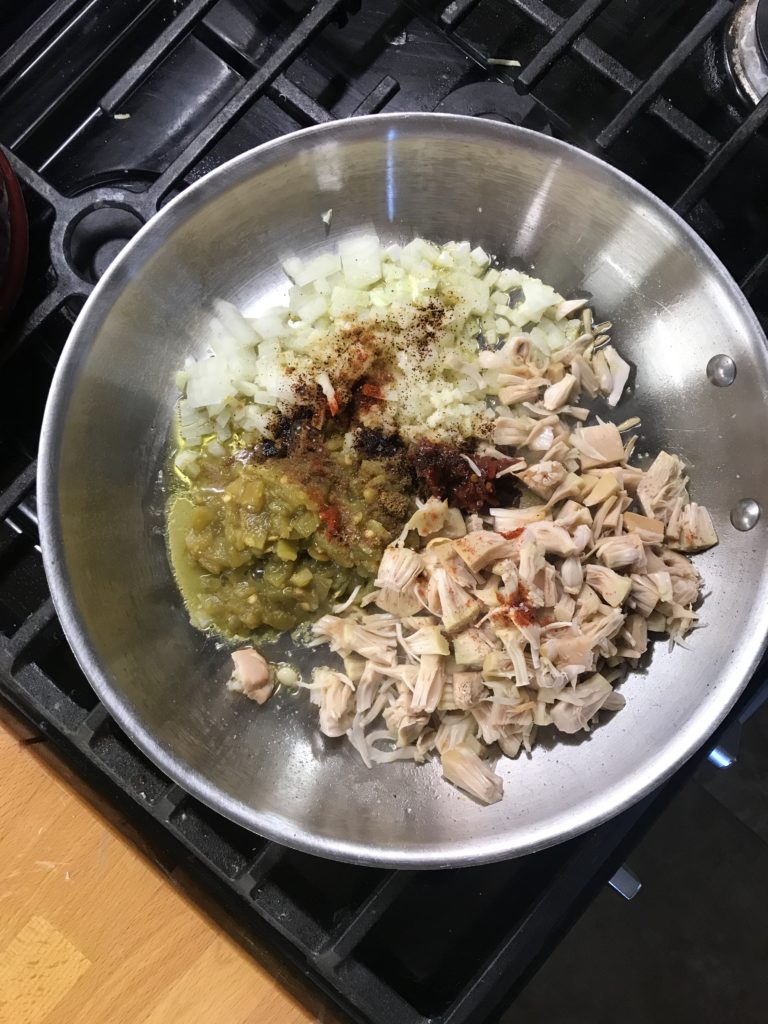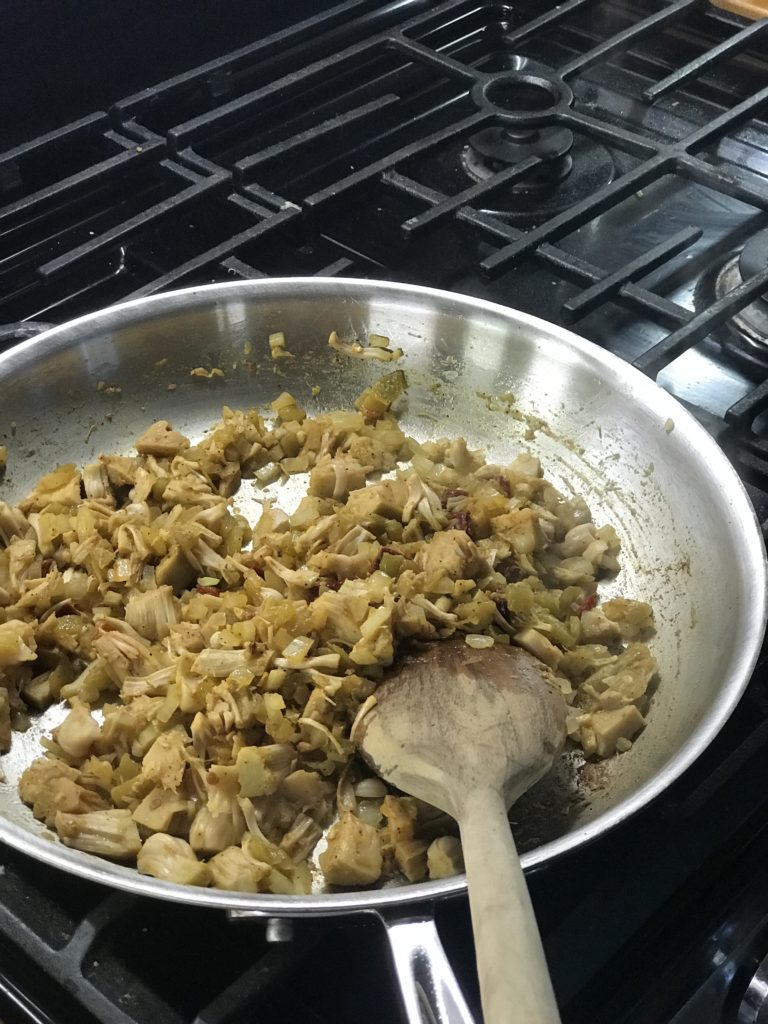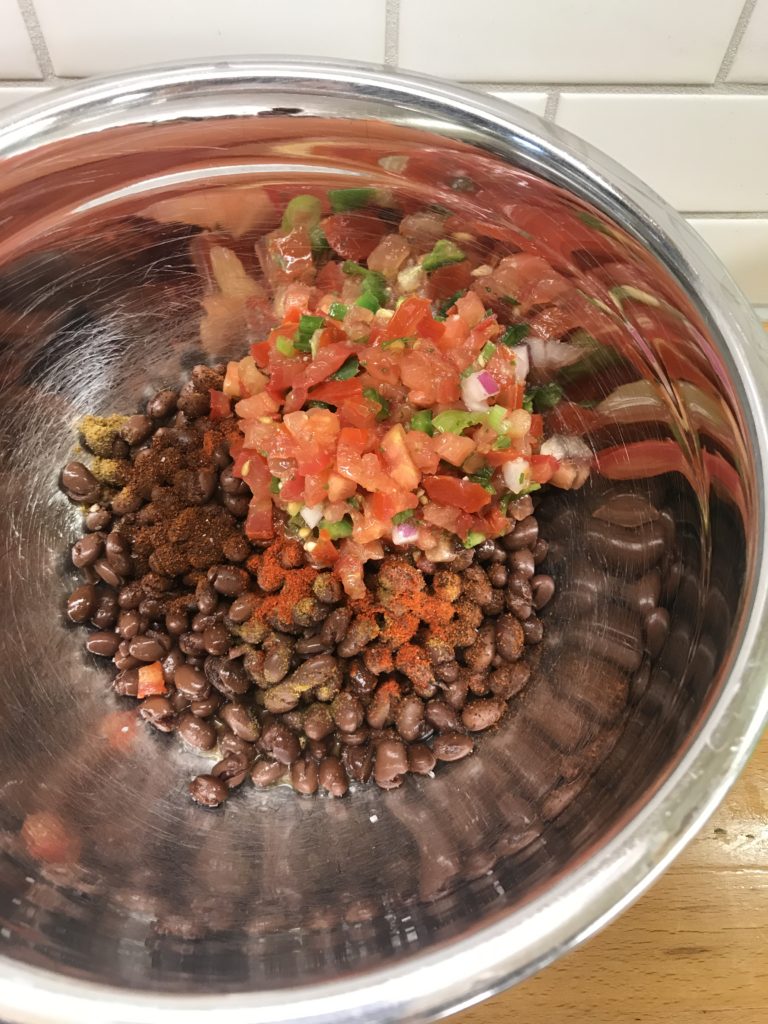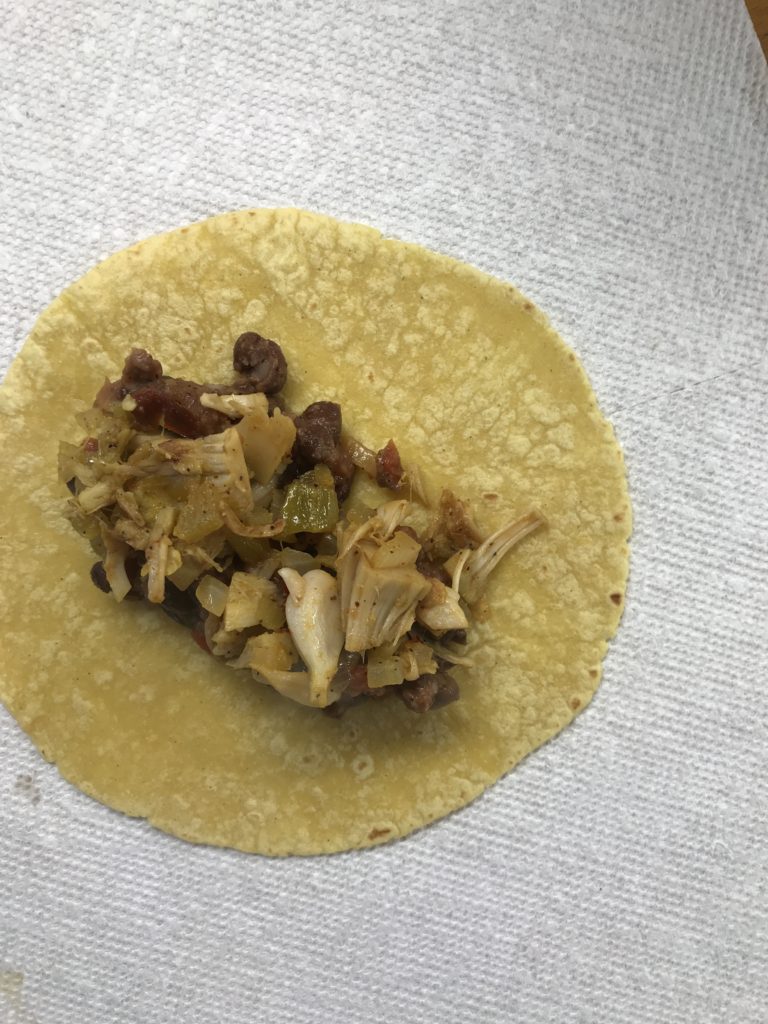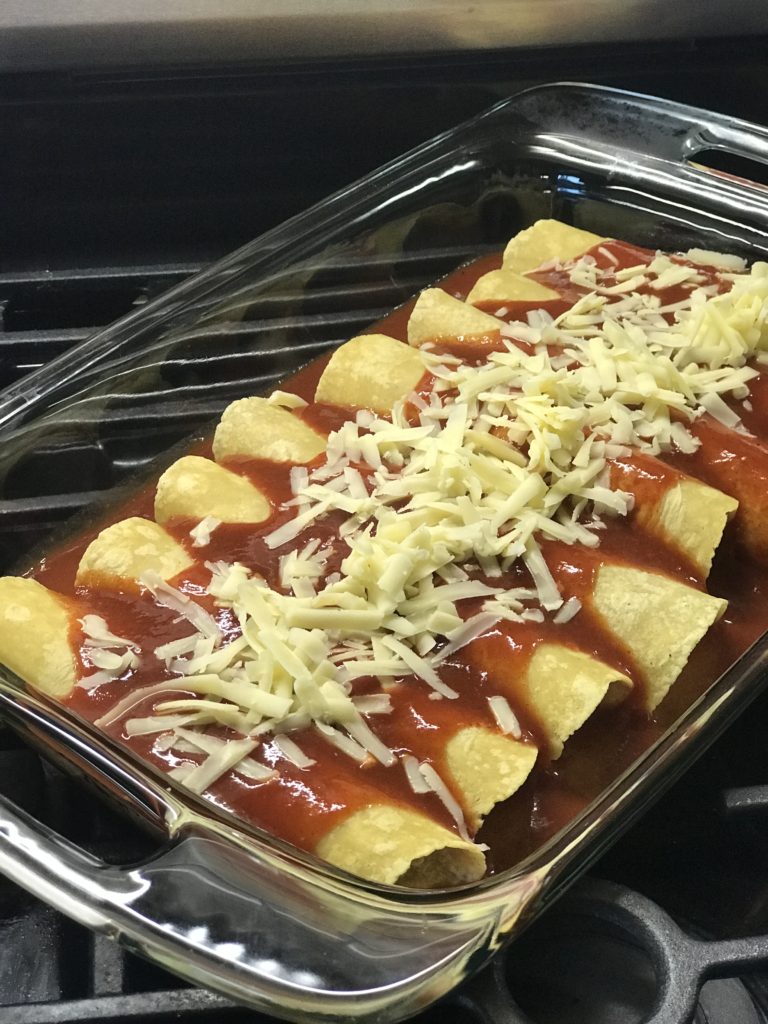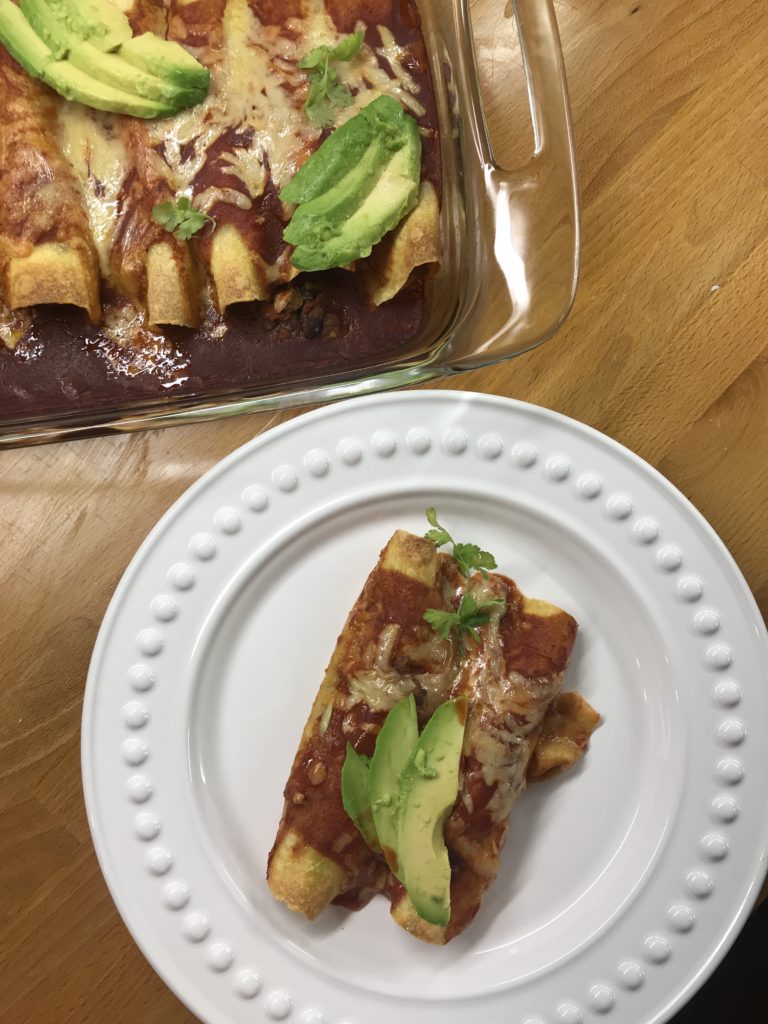 The Recipe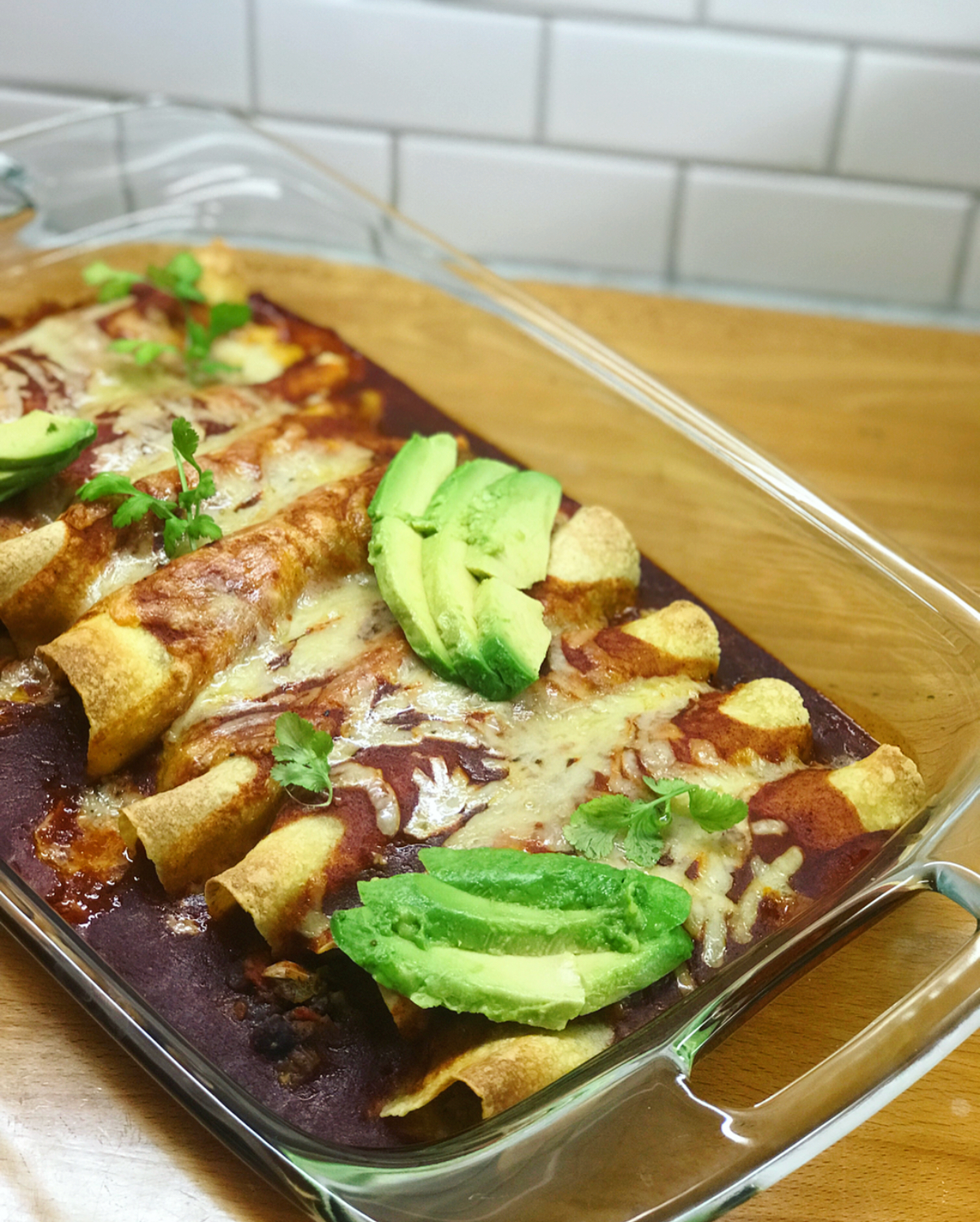 Jackfruit Enchiladas
2018-06-14 08:25:37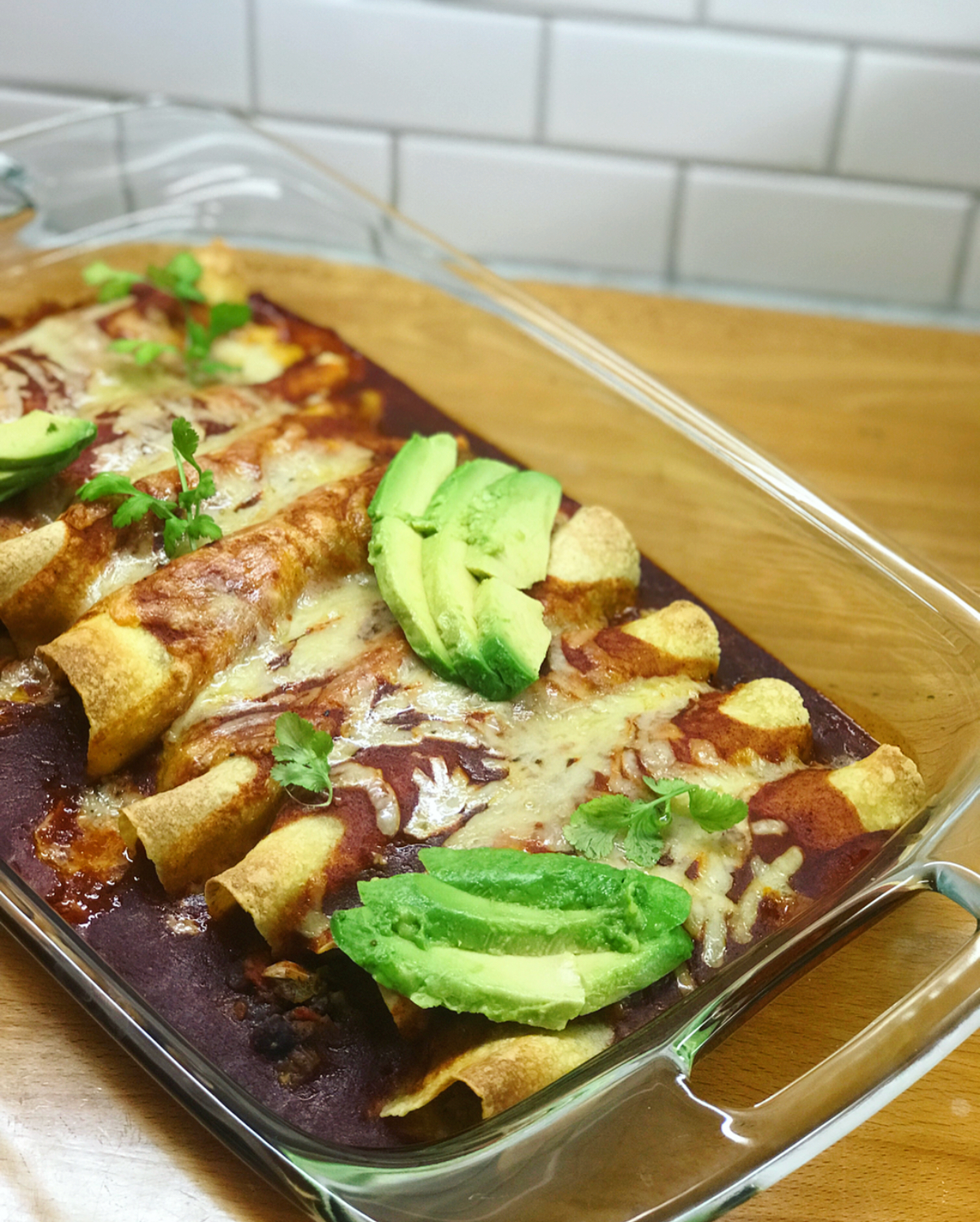 Serves 4
1 20 oz. can young jackfruit in brine, drained & rinsed
2 tsp. EVOO
1/2 yellow onion, diced
2 cloves garlic, minced
1 4 oz. can diced green chili
1 chipotle chili pepper in adobo sauce, diced
1 tsp cumin, divided
1/2 tsp chili powder, divided
Salt & pepper, to taste
1 15.5 oz can black beans, no salt added, drained & rinsed
1/2 cup pico de gallo (or your favorite salsa)
1 15.5 oz jar of red enchilada sauce
8 corn tortillas (taco size)
1/2 cheddar cheese, shredded (optional)
1 avocado, sliced (optional for serving)
Fresh cilantro leaves (optional for serving)
Prepare the canned jackfruit. Drain & rinse with cold water. Transfer the jackfruit to a cutting board, and remove the tough core and as many seeds as possible. Using your hands, pull the fleshy part of the jackfruit and lay on paper towel. Plot dry with additional paper towel to remove excess moisture.
Preheat the oven to 375 degrees.
Drizzle EVOO in a skillet and place over medium heat. Add the onion and garlic and saute, stirring often for 2-3 minutes until onion is translucent. Add the jackfruit, green chili, chipotle pepper, 1/2 teaspoon of cumin, 1/4 teaspoon chili powder, salt, pepper and stir to combine. Cook 5-8 minutes until most of the moisture from the jackfruit has evaporated. Remove from heat & set aside.
In a separate bowl, add the black beans, pico de gallo, 1/2 teaspoon cumin, 1/4 teaspoon chipotle powder, salt & pepper to taste. Using a fork, lightly mash the black beans and stir the mixture to completely combine.
Pour 1/2 cup enchilada sauce into the bottom of a 9x13 glass baking dish.
Lay tortillas on a flat counter-top. Add a spoonful of the black bean mixture to the center of the tortilla, followed by a spoonful of the jackfruit mixture. Roll the tortilla up and place them seam-side down in the prepared baking dish. Follow this step for remaining tortillas.
Pour the remainder of the sauce over-top to completely cover the enchiladas. Sprinkle cheese over-top, if using. Bake for 20-25 minutes, until the edges of the tortillas are slightly crisped and the cheese is bubbly.
Serve enchiladas warm with sliced avocado and fresh cilantro.
This recipe can be gluten free, if you find gluten free tortillas.
This recipe can also be vegan, if you skip the cheese or use vegan cheese.
Adapted from Well Vegan
Lana del Crave https://lanadelcrave.com/