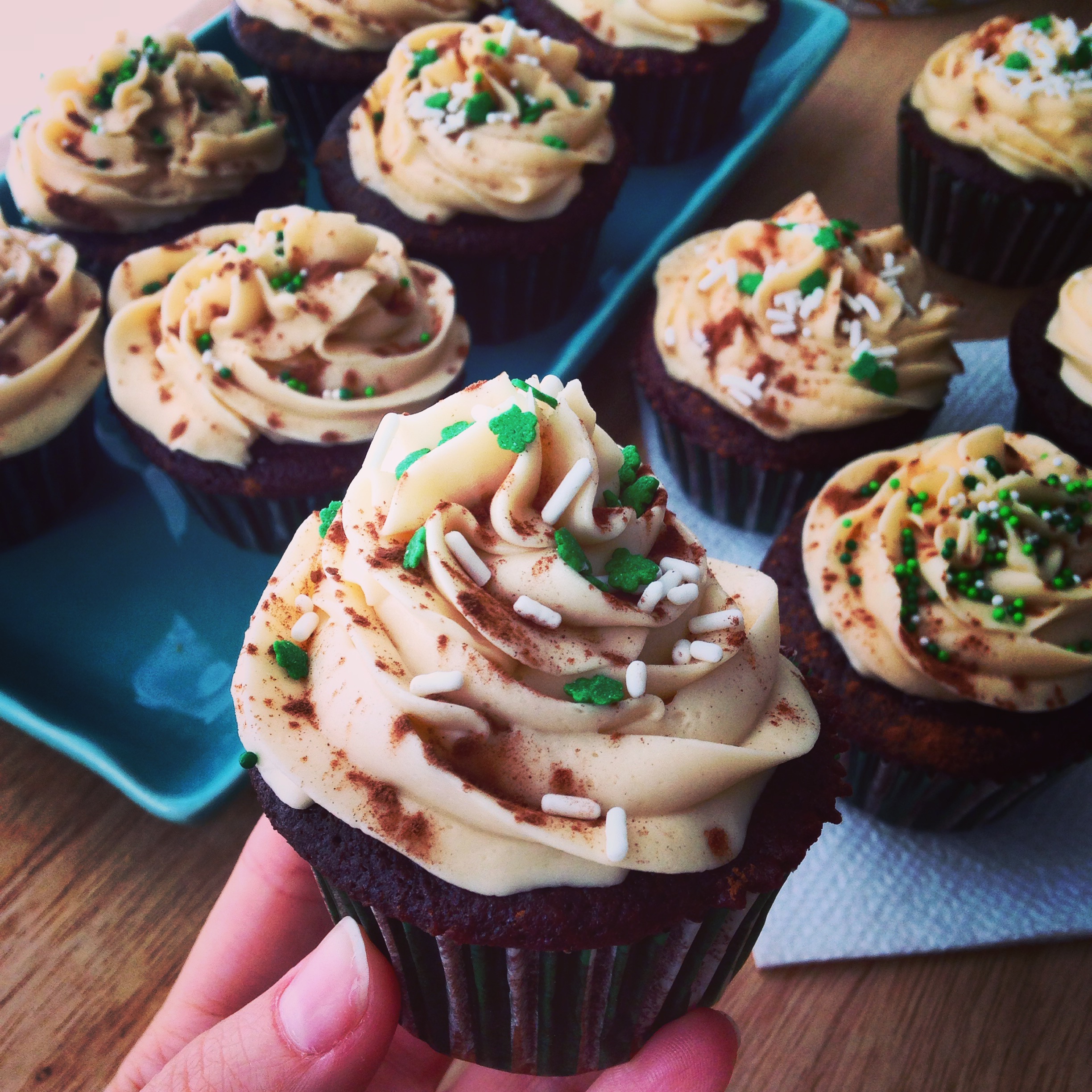 Boozy cupcakes are one of my favorite things to make during St. Patty's day for two reasons, the booze and the cupcakes. The light carbonation of Guinness gives these cupcakes delicious flavor and a perfectly airy consistency.
I wish I had a better story to tell you about these cupcakes, but there's not much to it. For the past few years, I've simply used St. Patrick's Day as an excuse to indulge in these decadent cupcakes.
The Tips
Coffee loves chocolate. Each time I bake chocolate cake or cupcakes, I add a tablespoon of instant espresso powder to my batter. While the taste of coffee is non-existent, the espresso powder gives the chocolate a boost of flavor. If you don't have instant espresso powder, instant coffee works just as well – just make sure it's good quality!
Automatic cookie scoops. I've mentioned this before in previous posts, so if you haven't already purchased an automatic cookie scoop… GET ONE! This will make your life much easier when it comes to baking. Each cupcake will be the same exact size if you measure batter using this automatic scoop, and for those of us with slight OCD, this is a great thing.
Have fun. Cupcakes are for decorating, so have fun! I purchased my star piping tip, shamrock cupcake liners, and festive St. Patty's Day sprinkles from Michael's craft store. They sell a ton of baking tools and toppings. Here's a link to their products.
Double the recipe. This recipe makes 12 cupcakes, but will double very easily if you plan to entertain or share with more than 12 people. I may have eaten 1-2 while decorating… so the more cupcakes the merrier.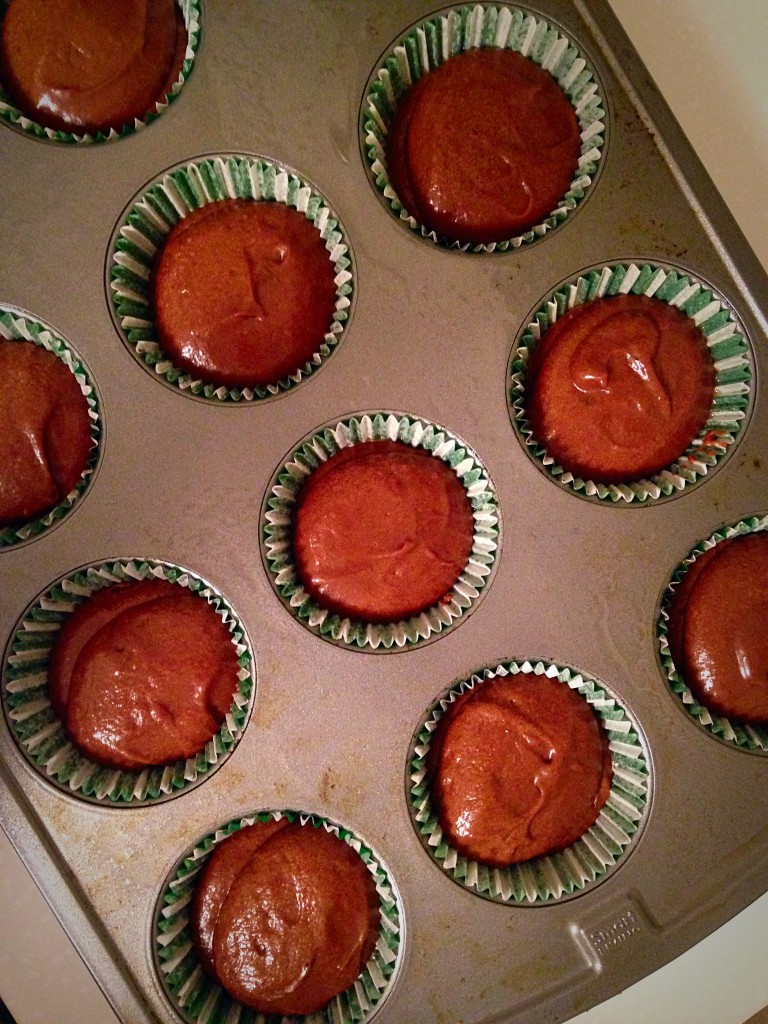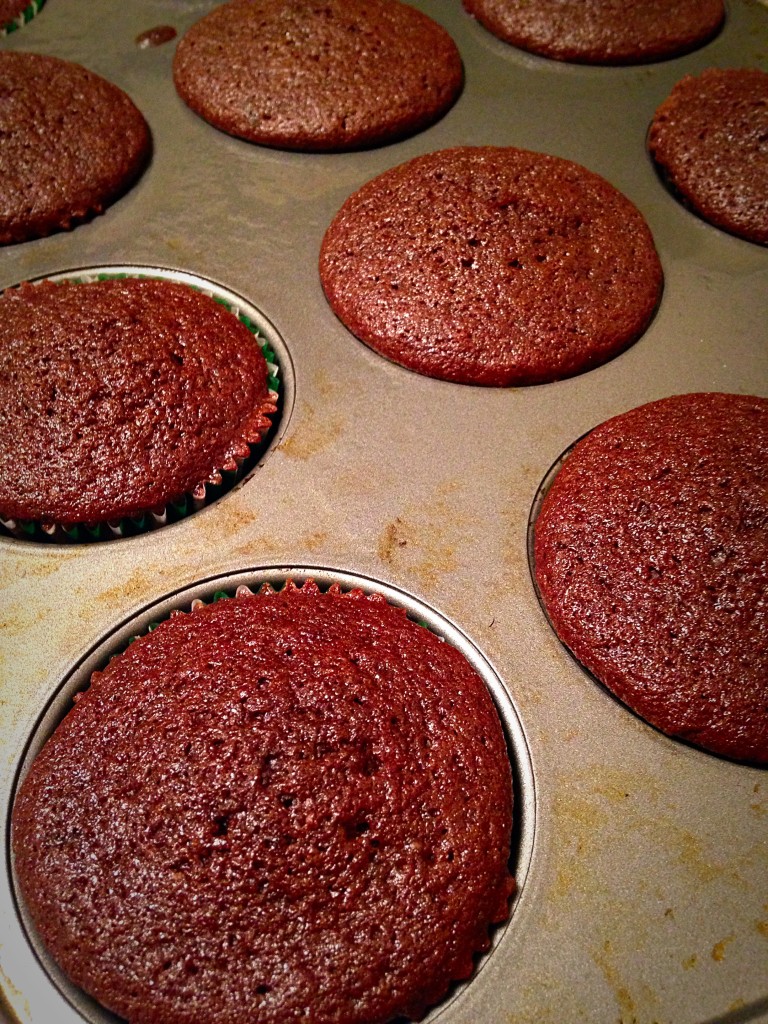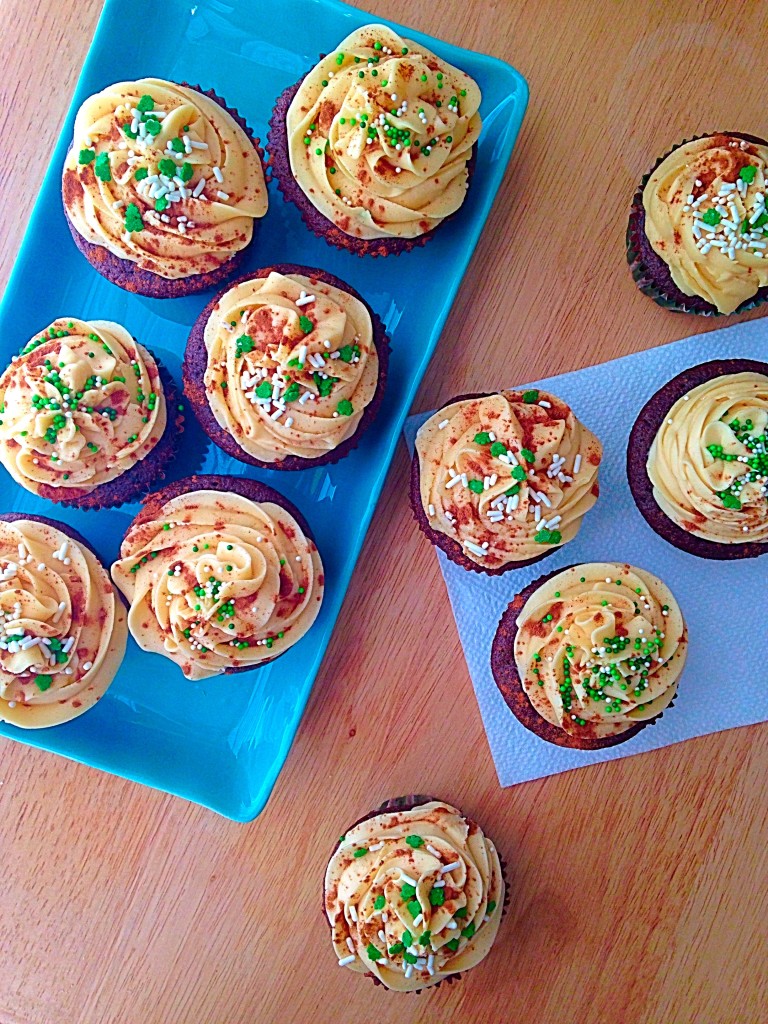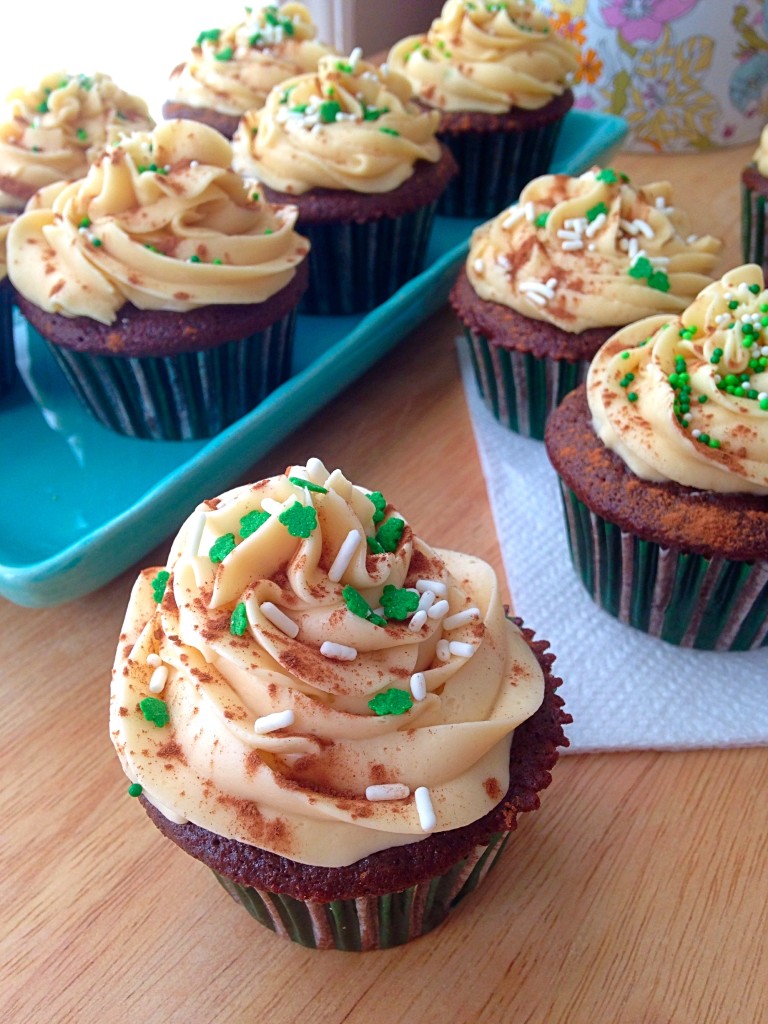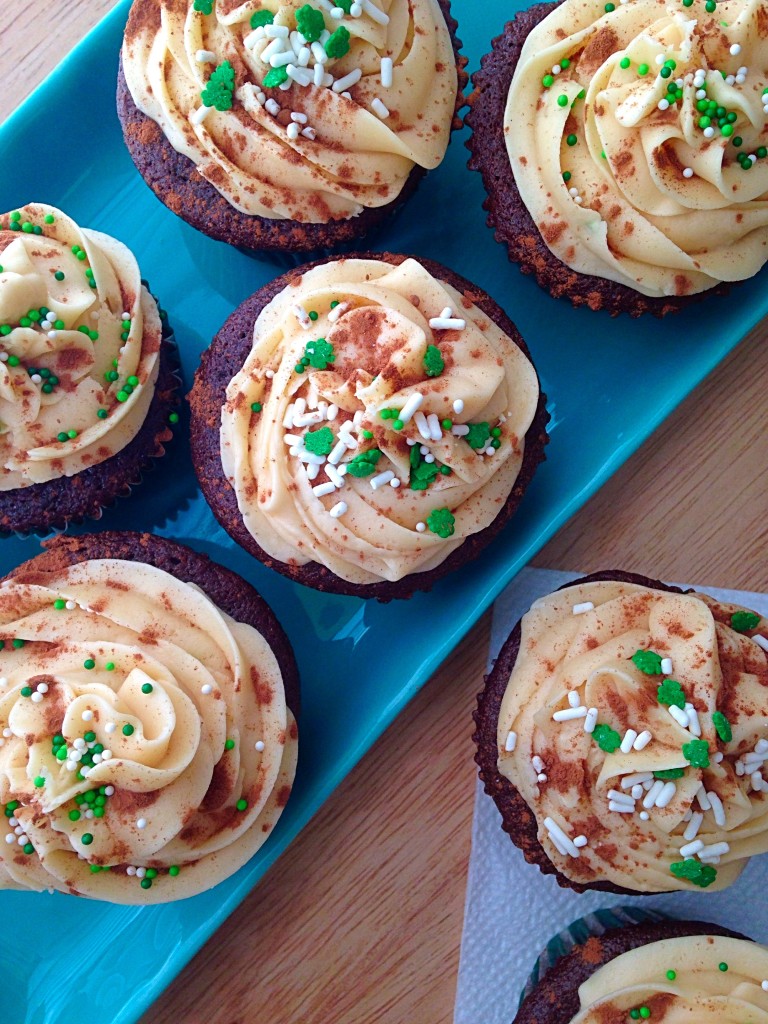 The Recipe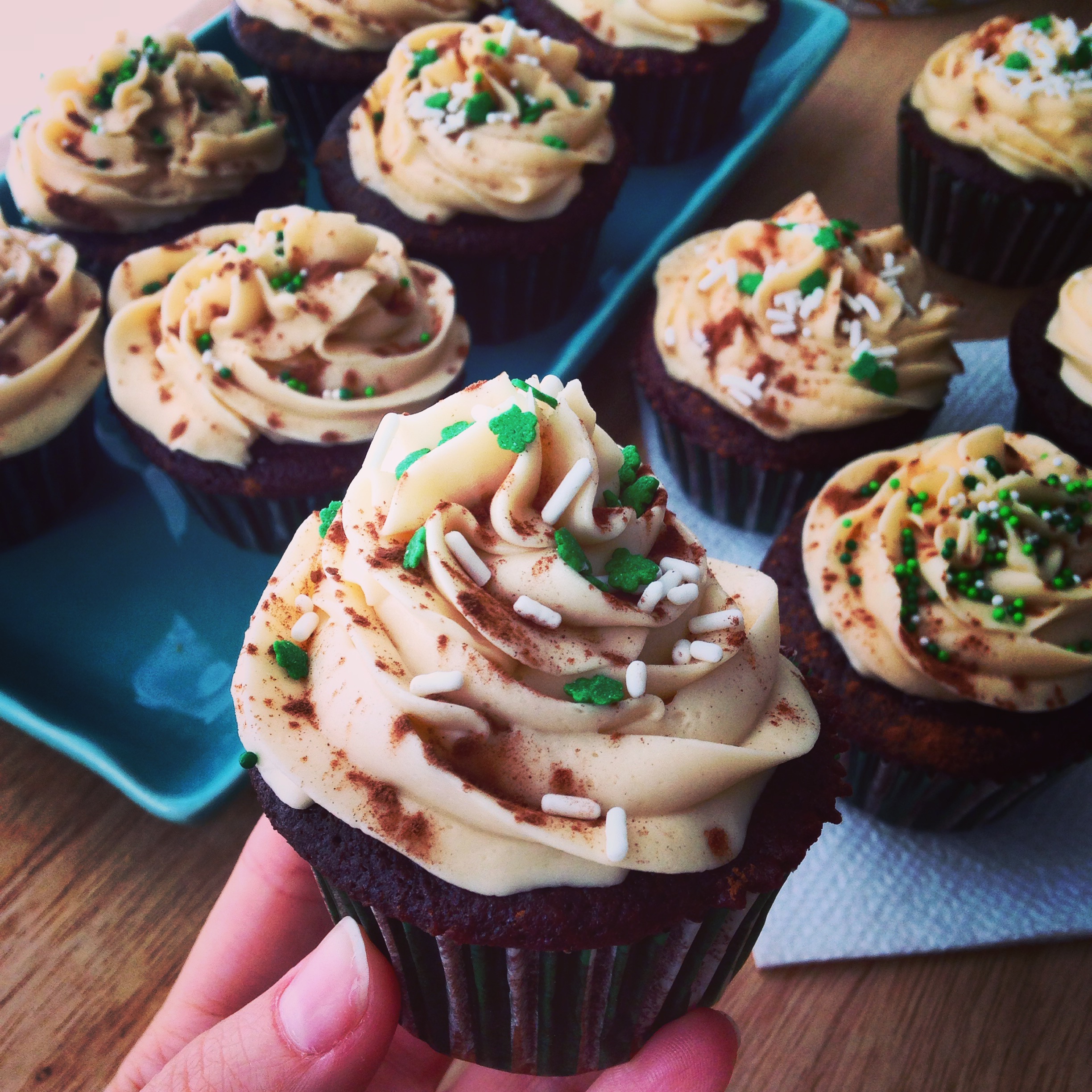 Irish Cupcakes
2015-03-12 11:41:29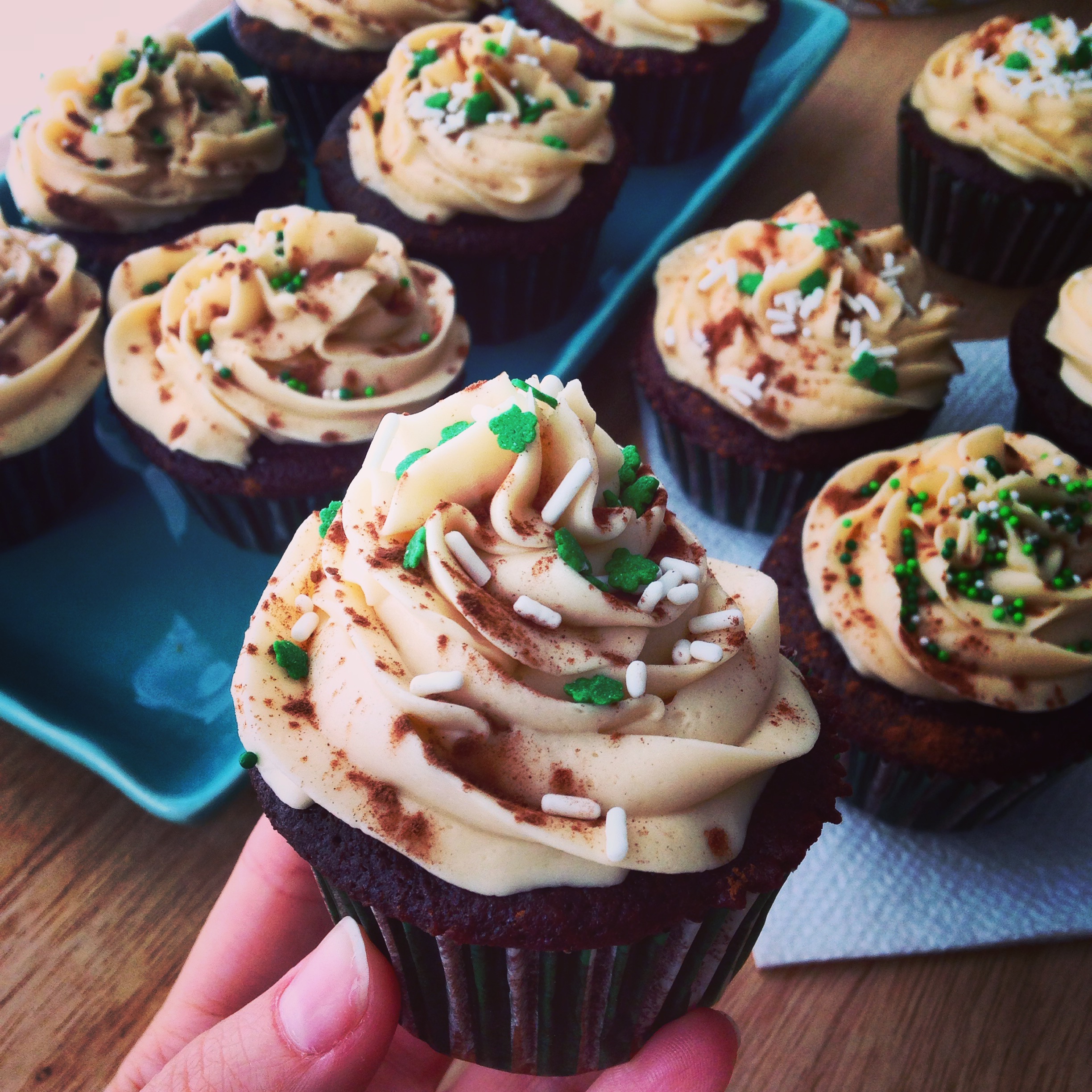 Ingredients
For the Cupcakes -
1/3 cup cocoa powder
1 cup granulated sugar
1 cup flour
1 tablespoon instant espresso powder
1/2 teaspoon baking soda
1/4 teaspoon salt
3/4 cup Guinness
1/4 cup unsalted butter, melted
1/2 tablespoon vanilla extract
1/4 cup plain Greek yogurt, room temperature
1 egg, room temperature
For the Frosting -
1/2 cup unsalted butter, room temperature
1 1/2 cup confectioners sugar
2 tablespoons Bailey's Irish Cream
Instructions
Preheat the oven to 350 degrees. Line a cupcake pan with paper liners & lightly grease with all-natural canola or vegetable oil. Set aside.
In a medium bowl, whisk together the cocoa powder, sugar, flour, espresso powder, baking soda and salt until combined. Set aside.
In a large bowl or stand mixer with the paddle attachment, mix together the Guinness, melted butter, and vanilla.
With the mixer on low, add the yogurt and egg until combined. Slowly spoon the dry ingredients into the mixer until completely combined.
Using an automatic cookie scoop, fill each cup of the prepared pan 3/4 full - about 2 scoops.
Bake for 20-25 minutes. You'll know the cupcake is done once it passes the toothpick test (see notes). Let the cupcakes cool completely before frosting - pop them into the fridge for 15 minutes if you're in a rush.
While the cupcakes are cooling, make the frosting in a medium bowl or in a stand mixer with the whisk attachment. With the mixer on low, add the butter, confectioners sugar & Baileys until completely combined. Set aside. Push the piping tip of your choice through the corner of a gallon-sized plastic bag, until the tip is completely exposed but still half in the bag. Fill the plastic bag with the frosting. Decorate each cupcake with frosting, cocoa powder and/or festive sprinkles, if desired.
Notes
The toothpick test - stick a toothpick in the middle of each bread. If the toothpick comes out completely clean, it's cooked through. If the bread is still moist in the middle, pop it back into the oven for 10-15 minutes.
This recipe doubles beautifully, if you'd like more cupcakes to eat/share!
Store any extra cupcakes in the fridge to keep the frosting perfectly fresh & delicious.
Adapted from Rick on the Rocks
Lana del Crave https://lanadelcrave.com/