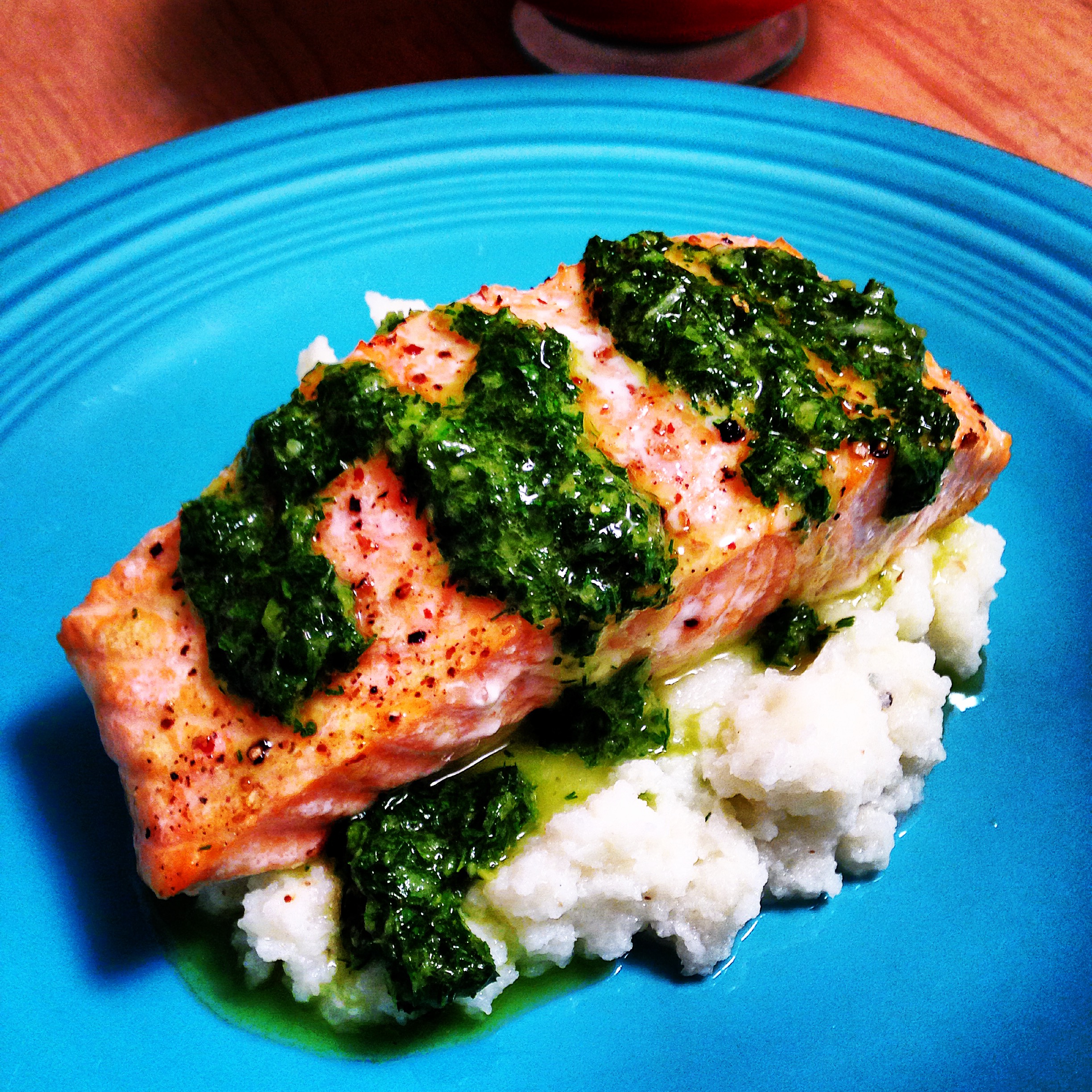 Let the Spring recipes begin! After spending the winter eating hot soups & stews, it's good to welcome Spring with bright, fresh ingredients. Fresh vegetables, lemon, and herbs are what come to mind this time of year, and what better way to enjoy these ingredients than together in a tasty sauce?
Chimichurri is a green sauce from Argentina, typically used for grilled meat. While typical chimichurri includes parsley, oregano, garlic, oil and vinegar, I took this traditional idea and turned it into the perfect lemony-herb sauce to drizzle over salmon (or other kinds of fish).
The Tips
Cook the fish to your liking. I love baked salmon because the skin becomes crisp, while the inside remains tender and juicy. If you prefer your salmon grilled or pan seared, cook it that way. The fish is simply a vehicle for this deliciously addicting sauce, so whichever way you prepare your salmon will be just fine – as long as you drizzle the chimichurri on top!
Use a food processor. Some chimichurri recipes suggest finely chopping the vegetables and herbs, but the food processor makes life much easier. Toss the ingredients into the processor & take it from there; no knife necessary.
This sauce is versatile. If you're like my younger brother & have an allergy to pink fish, or if you simply don't like it, this particular chimichurri will taste amazing on white fish, shrimp, or even chicken.
Another LDC recipe! Serve this salmon atop my mashed cauliflower – recipe here.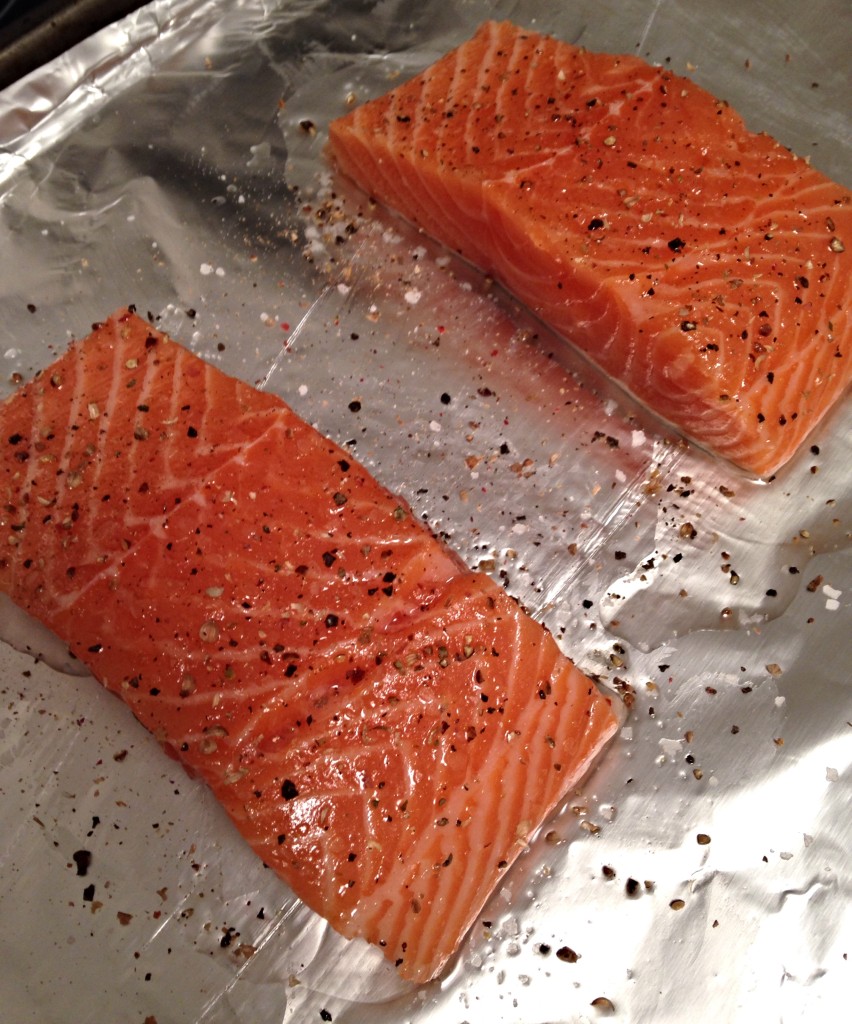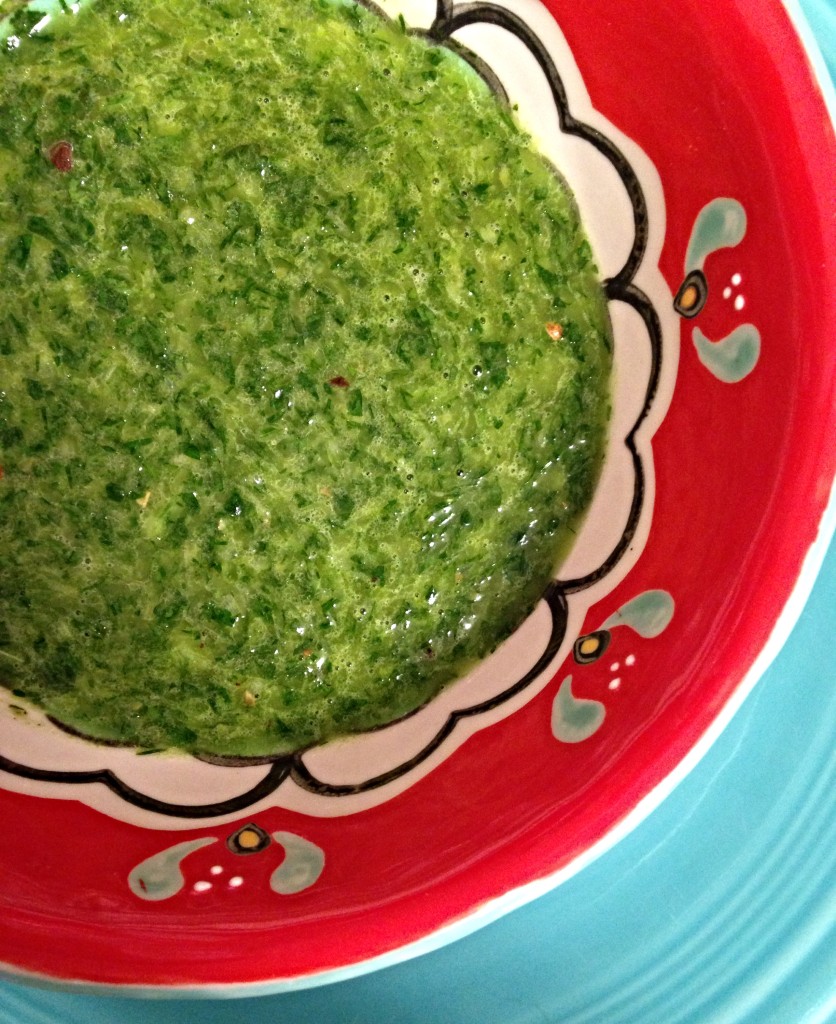 The Recipe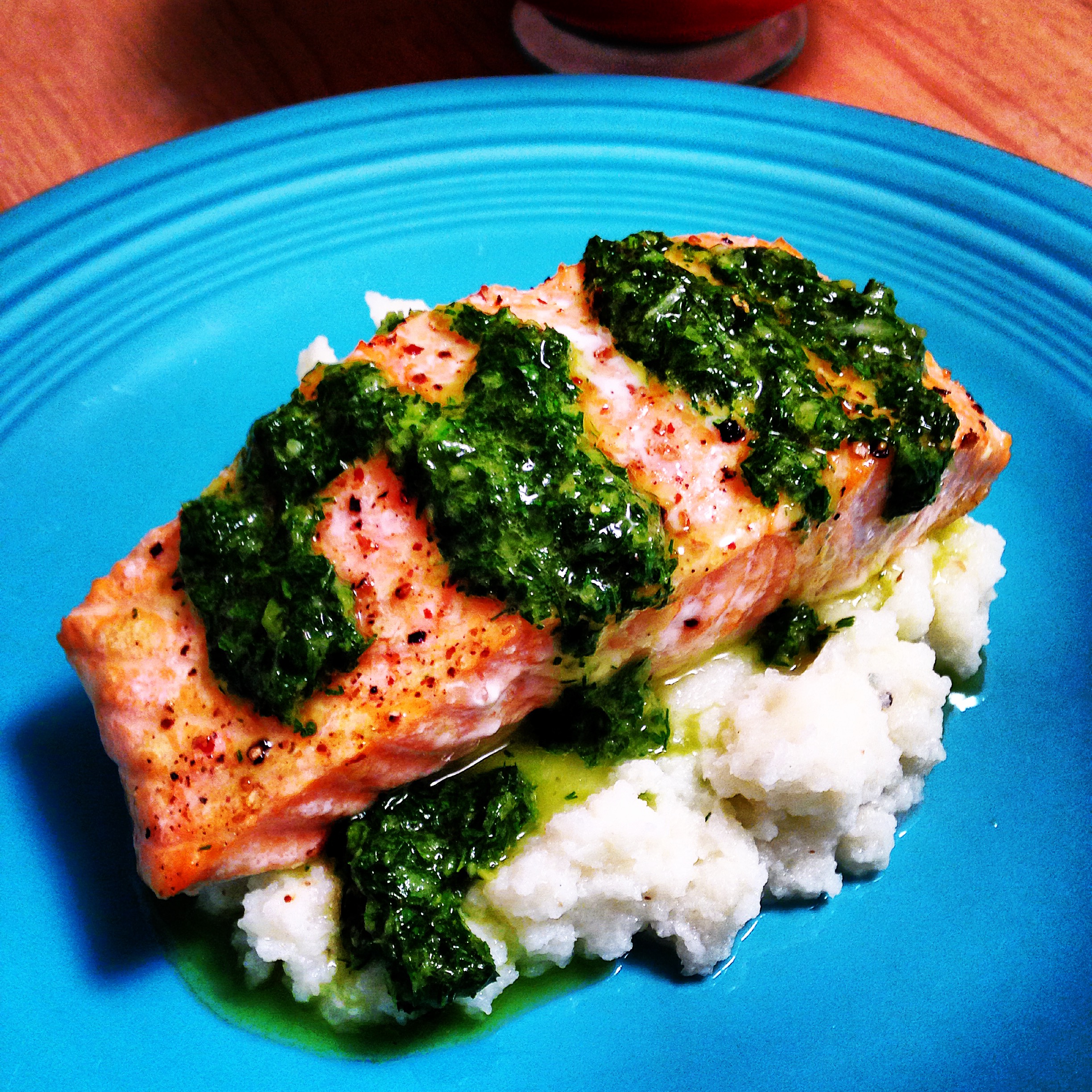 Salmon w. 'Chimichurri'
2015-03-18 09:42:52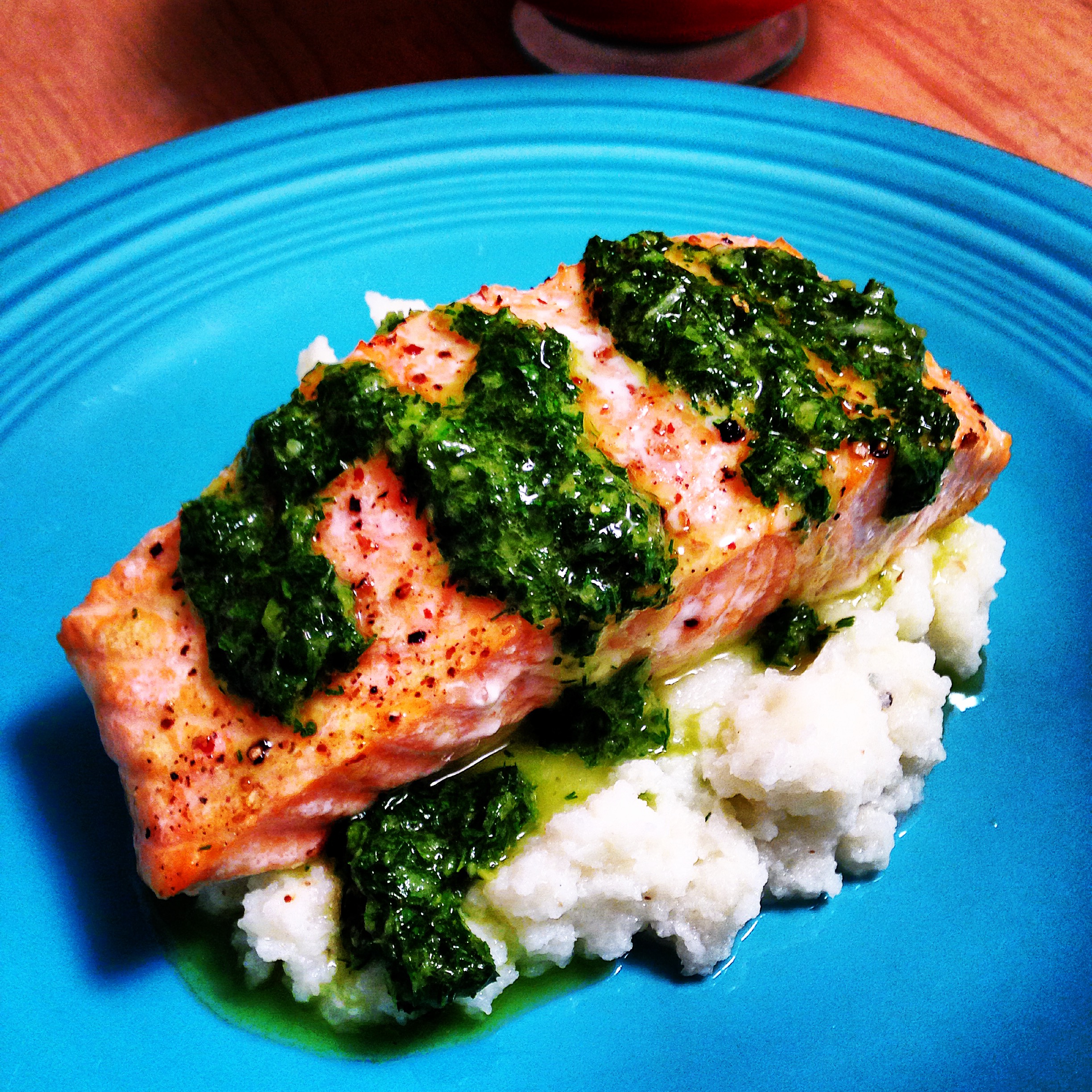 Ingredients
For the Salmon -
1 lb salmon, cut into 2 servings
EVOO, for drizzling atop the salmon
Salt & pepper to taste
For the Chimichurri -
3 scallions, white & green parts
1/2 cup parsley
1/4 cup dill
Zest of 1 lemon
Juice of 1 lemon
1/4 teaspoon red pepper flake (omit if you're sensitive to heat)
Salt & pepper to taste
2-4 tablespoons of extra virgin olive oil (EVOO)
Instructions
Preheat the oven to 400 degrees.
Line a baking sheet with tin foil & spray with all-natural, non-stick spray. Place the salmon pieces atop the prepared baking sheet, then pat dry with a paper towel. Gently rub the salmon with extra virgin olive oil, salt & pepper.
Once the oven comes to temperature, bake the salmon until cooked through, about 15-18 minutes.
While the salmon is baking, make the chimichurri sauce. In a food processor, add chives, parsley, dill, lemon juice and zest, red pepper flake, salt & pepper. Process for 5-10 seconds until vegetables and herbs are completely broken down. Add 2 tablespoons EVOO and process until the sauce is completely smooth. Note: You may need to add more EVOO if you prefer a thinner sauce.
Drizzle sauce atop the salmon.
Notes
Serve atop mashed cauliflower.
Refrigerate leftover chimichurri sauce in an airtight container for up to 1 week.
Lana del Crave https://lanadelcrave.com/