March 10, 2015
Classic Irish Soda Bread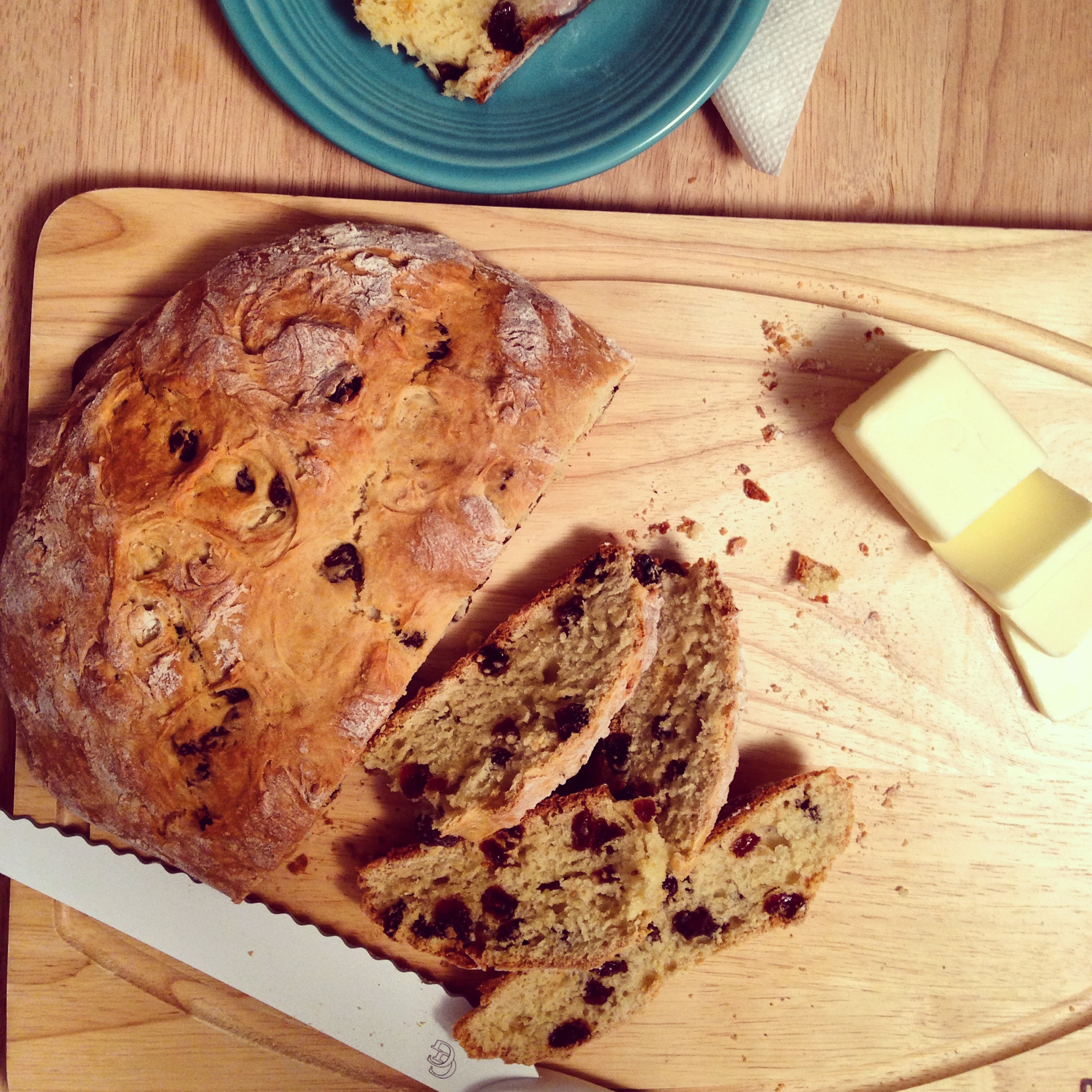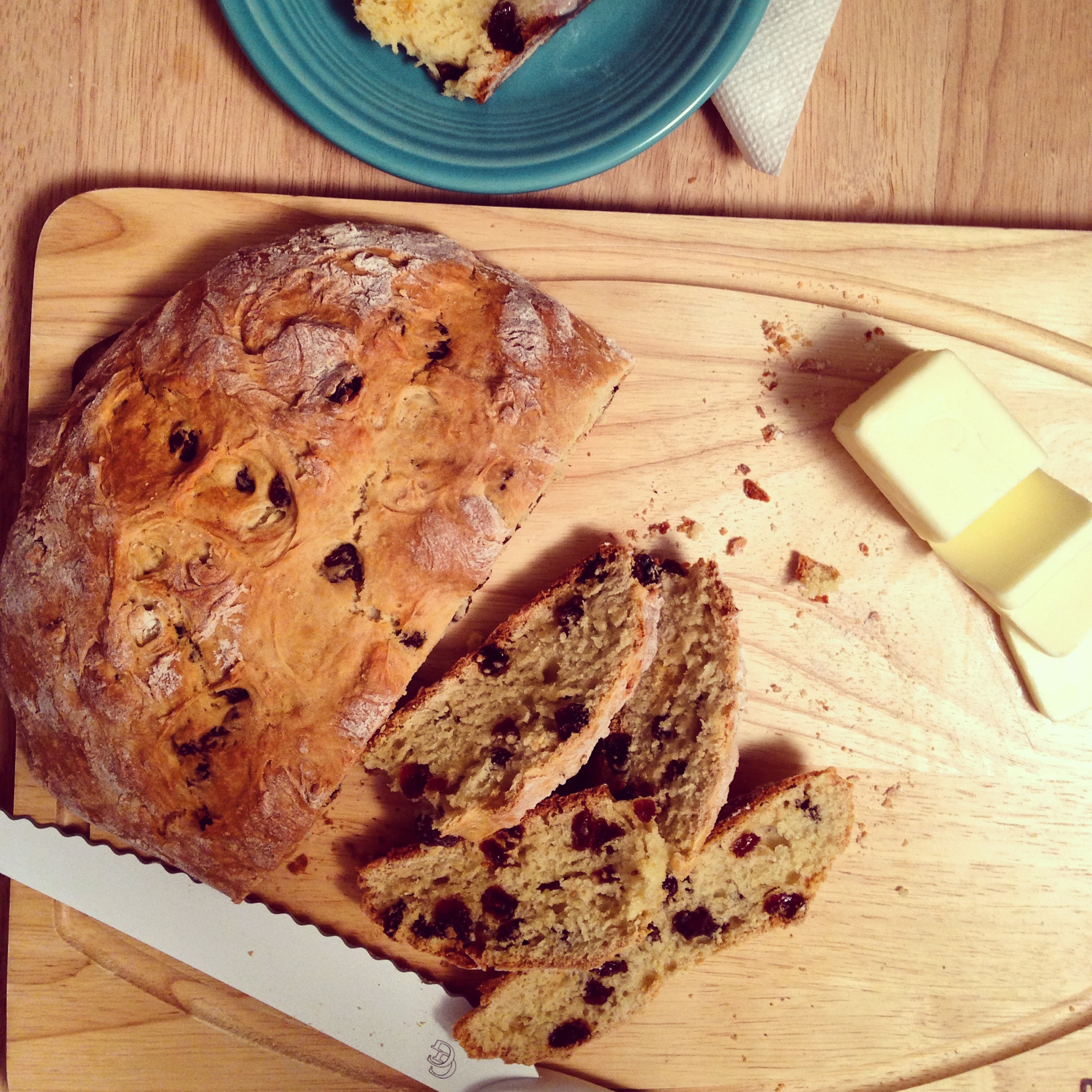 The Spring season & St. Patrick's day are the two best things March has to offer. Each year on St. Patty's day, I ignore that I'm 0% Irish and take part in traditional cooking, baking & drinking. While Irish coffee and boozy cupcakes are my specialties, I look forward to soda bread each St. Patty's day & decided to make my own this year.
I hadn't tried soda bread prior to Irish neighbors moving next-door to my parents' house. Once they had moved in and our families became close, Maggie brought over traditional soda bread made by her mother. I was hooked. Luckily, she was more than willing to share her recipe and my mom was able to re-create this delicious treat.
What makes Irish soda bread unique from traditional bread, is it uses a combination of baking soda and buttermilk as a leavening agent, rather than yeast. The buttermilk's lactic acid reacts with the baking soda to form tiny bubbles and allow the bread to rise. I know… food nerd alert, but I can't help myself!
The Tips
Lump-free baking soda. Baking soda has a tendency to 'clump' or turn into small lumps overtime, which don't break-down simply by whisking into other dry ingredients. Since the baking soda should be totally smooth before added to this recipe, press it through a small sieve before incorporating to the rest of the dry ingredients.
Use your hands. Some recipes advise using a fork or pastry cutter to cut the butter into the dry ingredients. I'm overruling this advice – use your hands. Once you've sifted and combined the dry ingredients, add the softened butter and squeeze until combined. In fact, it's best to be as hands-on as possible while making soda bread. After whisking together the eggs and buttermilk, I used my hands to combine the wet ingredients with the dry and was left with a totally moist soda bread. Not only does the perfect texture make the hands-on experience worth it, but it's always fun to play with your food!
When to add the raisins. Adding raisins to soda bread is an Irish-American tradition, rather than an Irish tradition. Although I've made 'classic' Irish soda bread, I like the subtle pop and sweetness of the raisins and decided to add them. Feel free to leave them out, but if you do add them, add them in as you're mixing the egg/buttermilk mixture with the dry ingredients. This will ensure the raisins will flow throughout the bread mixture, rather than sit at the top or bottom.
No need to knead. There seems to be a debate on whether or not to knead Irish soda bread, and I'm taking the side of no need to knead. Much like I would with a muffin recipe, I handled this bread batter gently and avoided over-mixing. Because this technique resulted in a perfectly light and moist texture, I don't see the need to knead!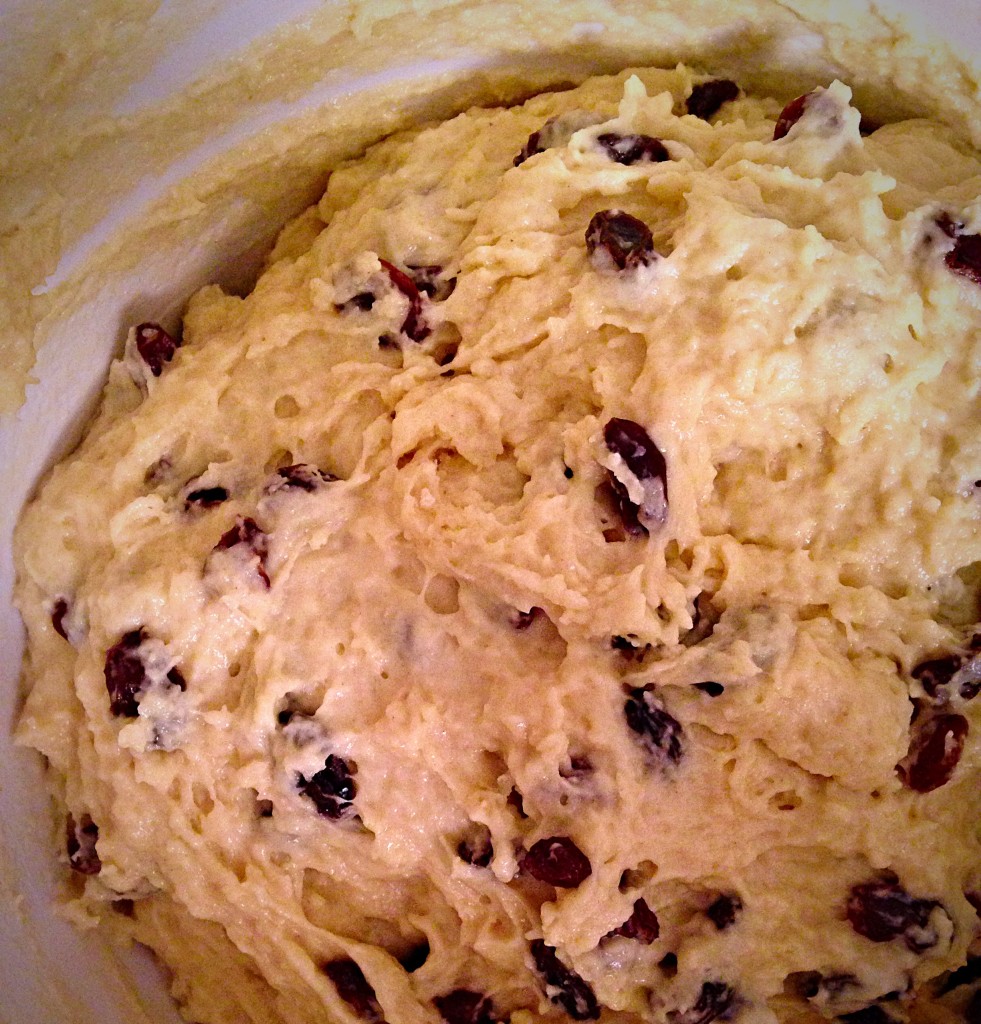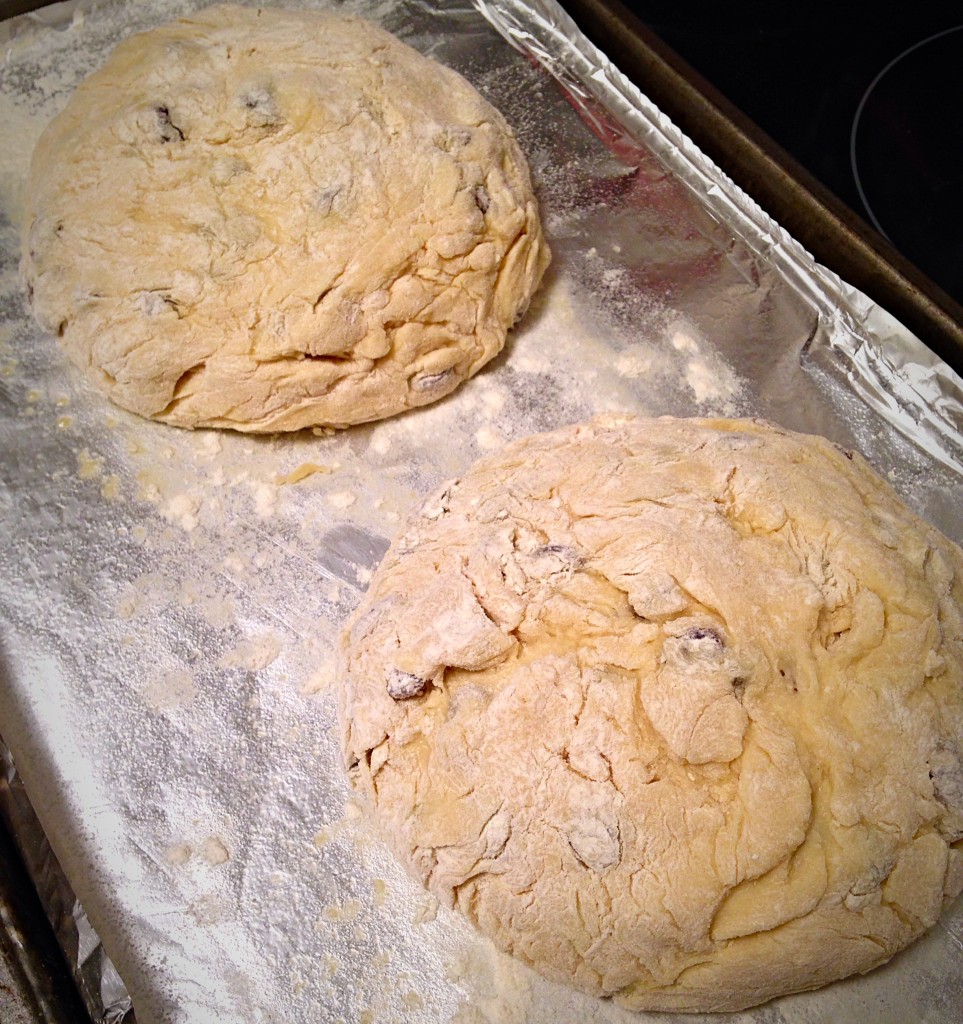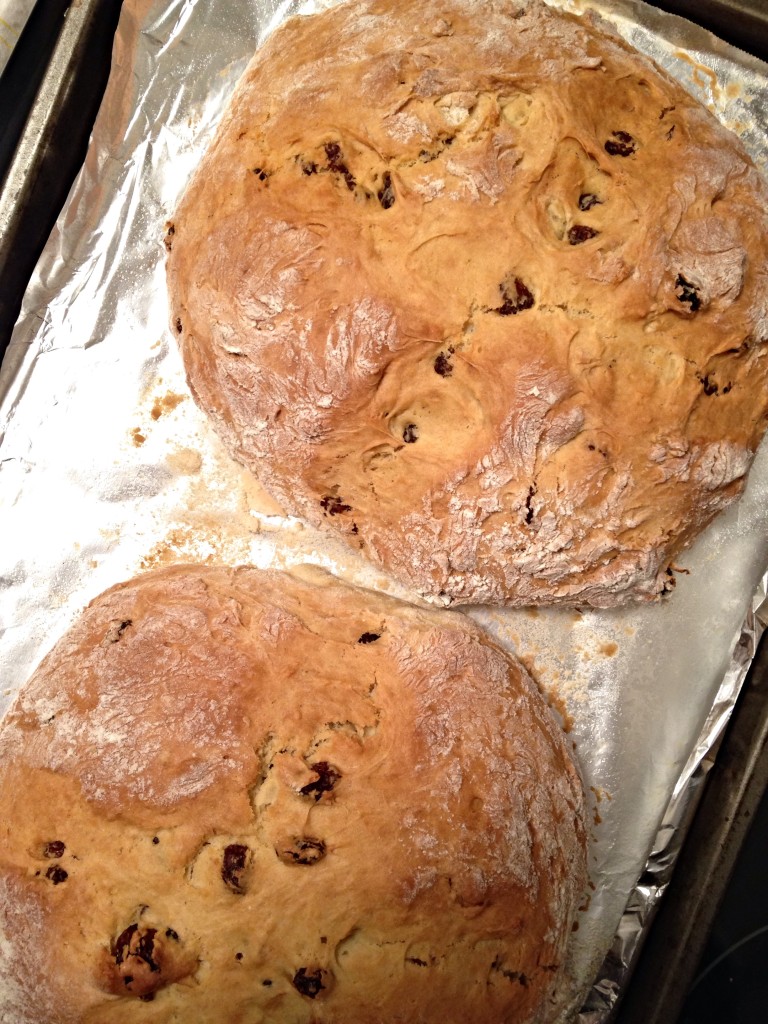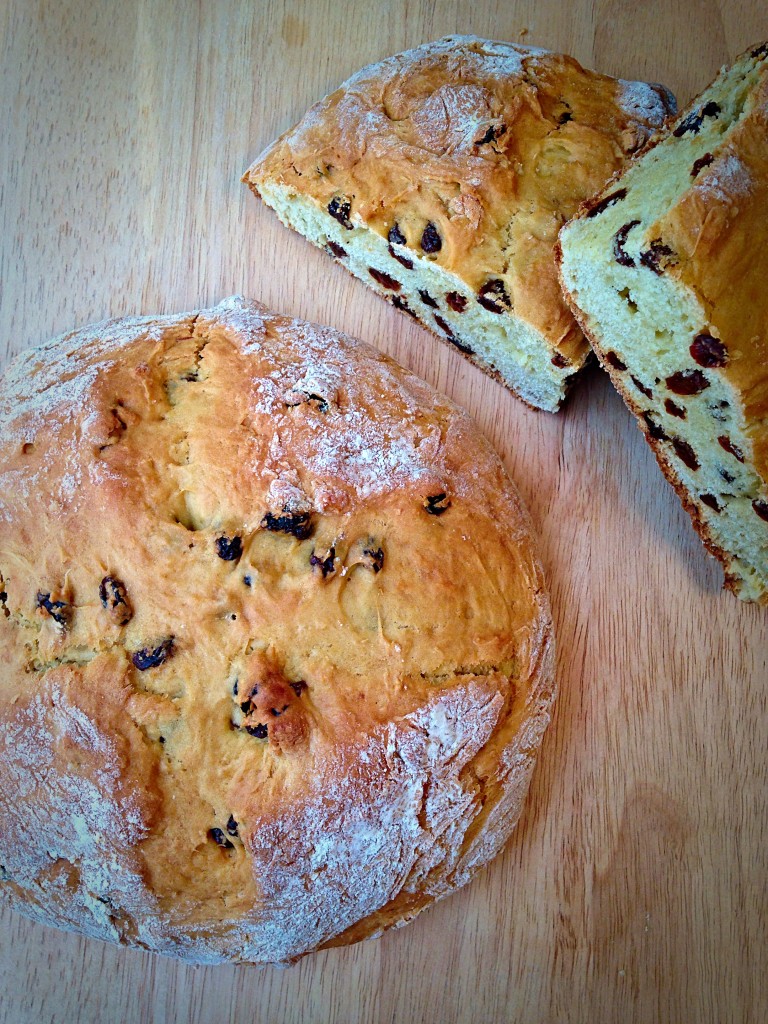 The Recipe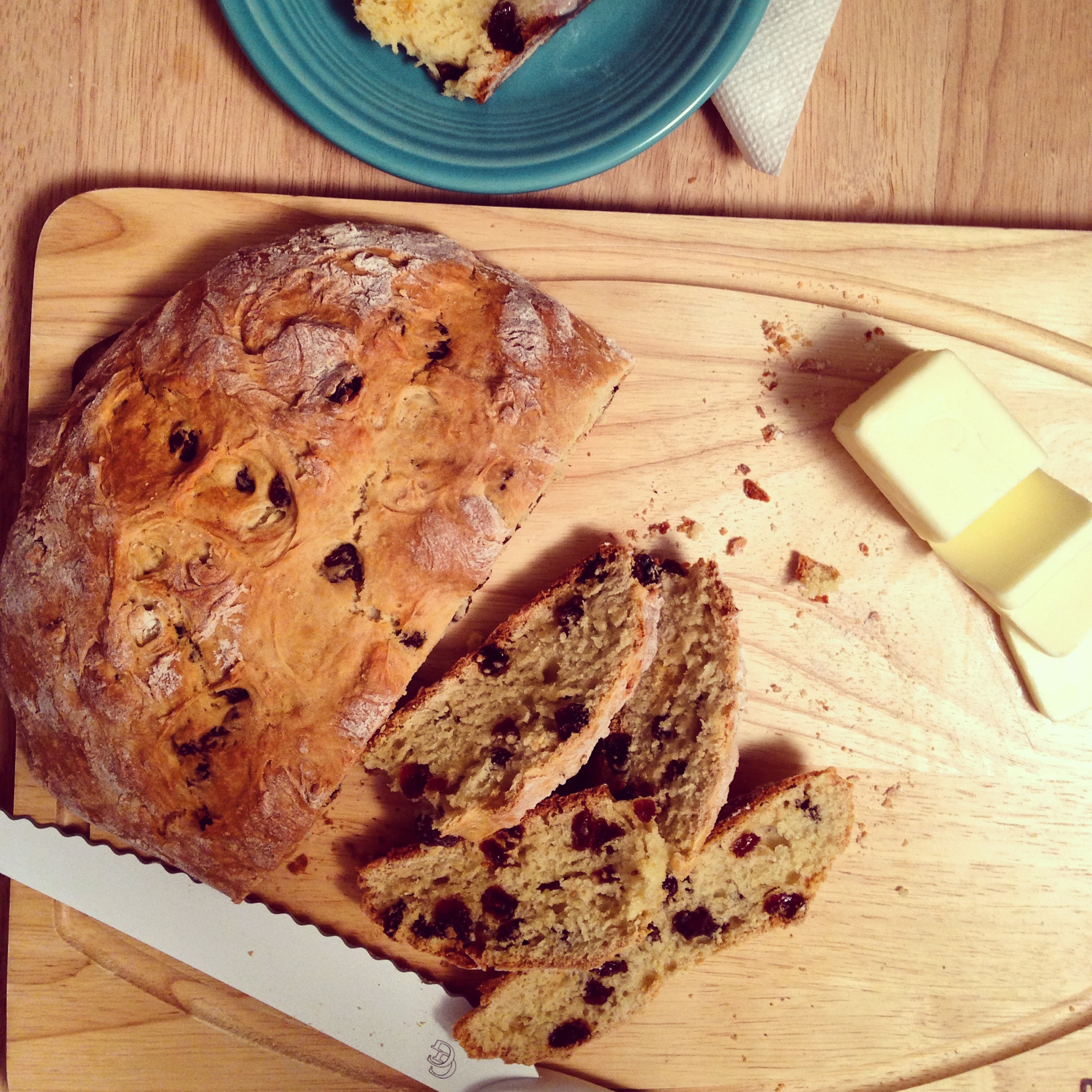 Classic Irish Soda Bread
2015-03-10 07:17:14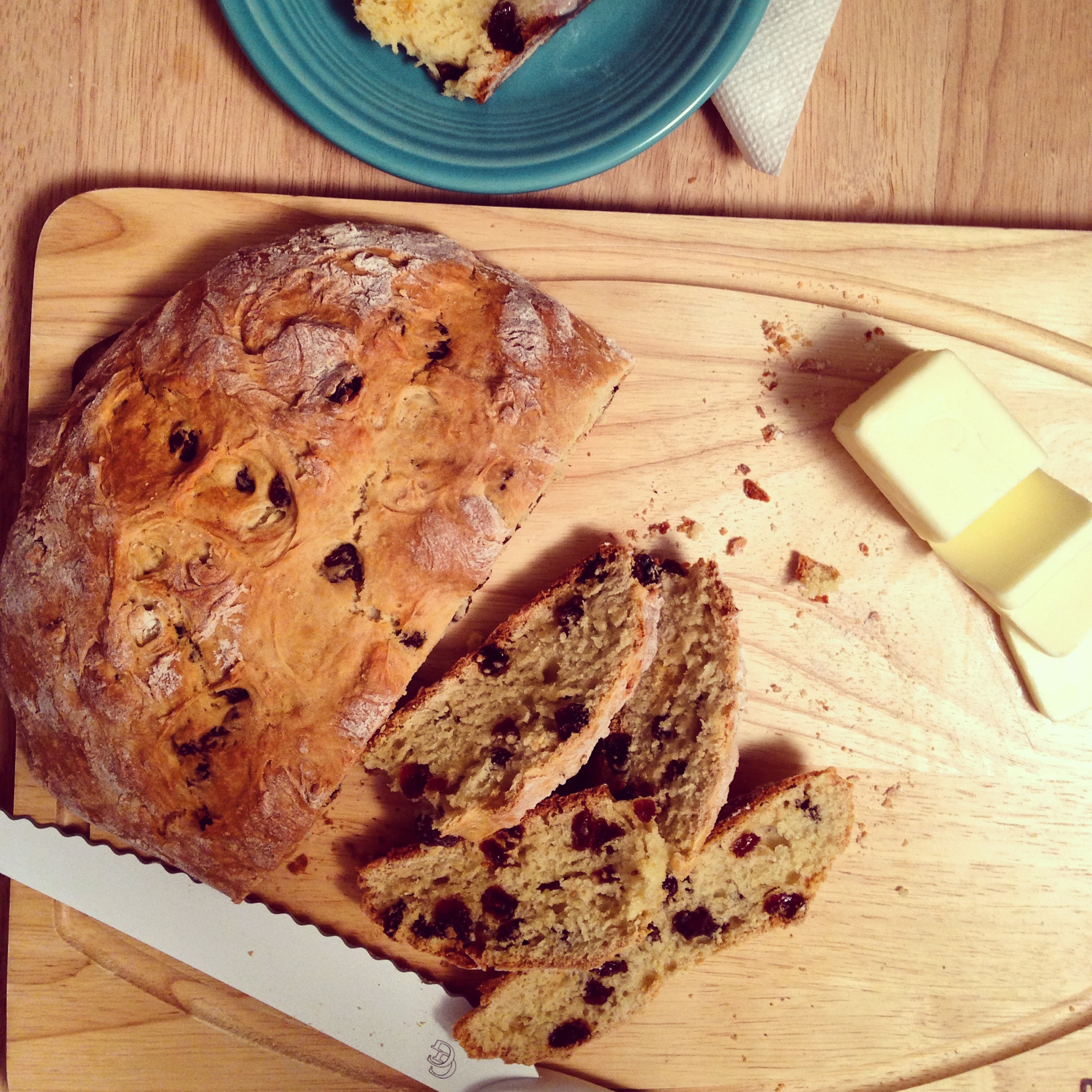 4 cups all-purpose flour, plus extra for baking
3/4 cup granulated sugar
1 teaspoon kosher salt
1 teaspoon baking powder
1 teaspoon baking soda
1/2 cup unsalted butter, at room temperature
3 eggs at room temperature
1 1/2 cup buttermilk, at room temperature
1 1/2 cup raisins (optional)
Preheat the oven to 350 degrees. Line a baking sheet with parchment or tinfoil and spray with non-stick baking spray. Sprinkle a bit of flour on the greased sheet to keep the bread from sticking while baking. Set the baking sheet aside.
In a large bowl, sift together the flour, sugar, kosher salt, baking powder and baking soda. Although tempting, don't skip the sifting!
Add the butter to the dry ingredients. Using your hands, squeeze the butter into the dry ingredients until as combined as possible. Note: The mixture will be extremely dry and the butter will clump together a bit; that's perfectly okay.
In a separate medium bowl, whisk the eggs until frothy, about 2-3 minutes. Whisk the buttermilk into the eggs until combined.
Add the egg/buttermilk mixture to the dry ingredients and use your hands to gently combine until the dough begins to form. During this process, add the raisins. Once the dough is just barely combined, turn the dough onto a well-floured countertop or cutting board. Gently shape the dough into a large ball, then cut in half. Shape each half into a circle and place both breads onto the prepared baking sheet - as far from each other as possible to account for rising while baking.
Using a serrated knife, make a deep crosscut in the center of each loaf. After making the first cut, start in the center and cut toward the outer edge in order to make the two remaining shorter cuts to form the cross.
Bake for 45 minutes to 1 hour, until the bread passes the toothpick test (see notes).
Slice thin & enjoy with butter!
The toothpick test - stick a toothpick in the middle of each bread. If the toothpick comes out completely clean, it's cooked through. If the bread is still moist in the middle, pop it back into the oven for 10-15 minutes.
Store the soda bread in the freezer if you don't plan to eat it immediately.
Adapted from Allrecipies.com - Best Ever Irish Soda Bread
Lana del Crave https://lanadelcrave.com/