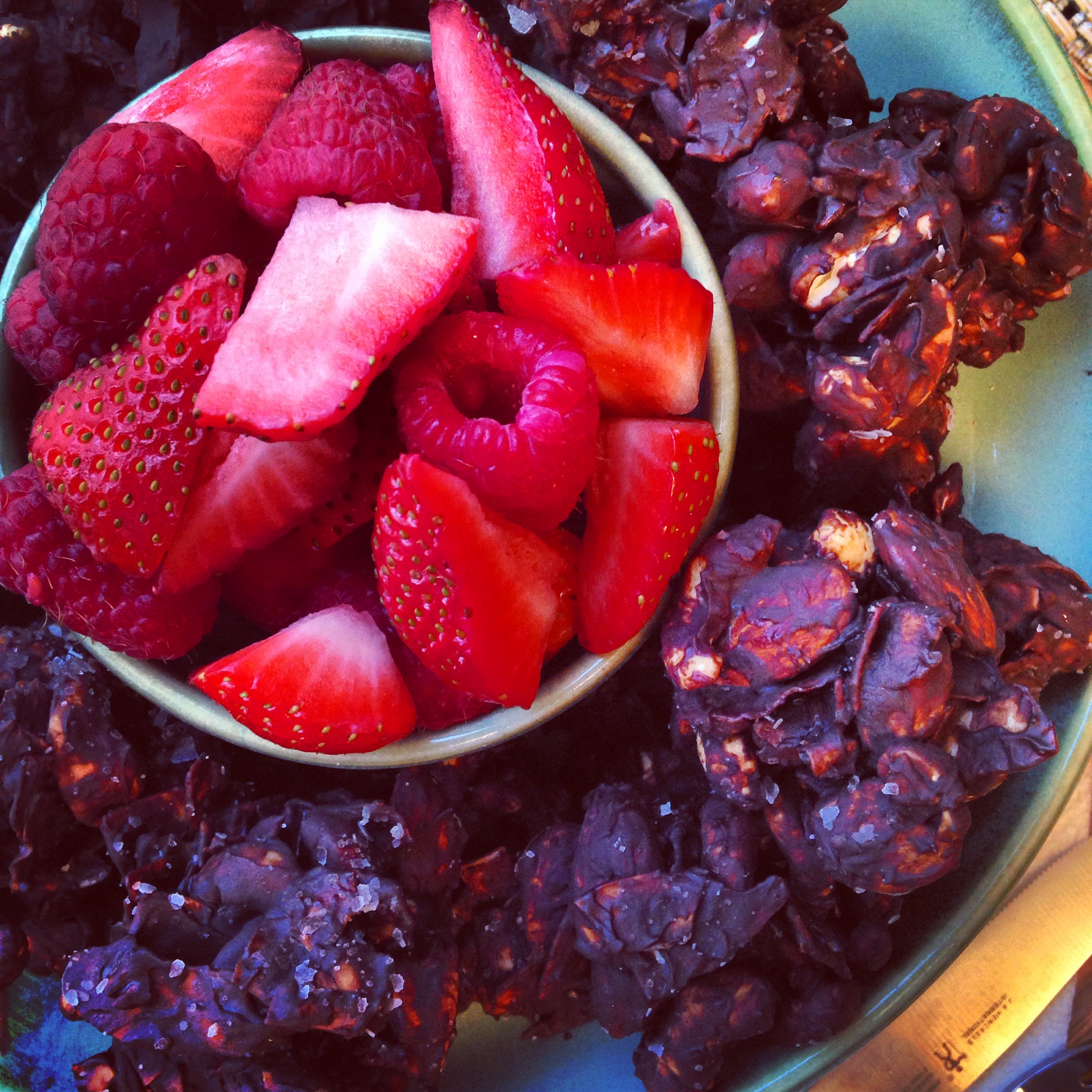 A few nights ago I had some friends over for dinner & was looking for a simple/healthy-ish dessert. I remembered just a few weeks earlier, my boyfriend's mom & I made homemade, dark chocolate nut clusters. They were delicious, but I wanted to put my own spin on them & figured dinner with friends would be the perfect opportunity.
This recipe is perfect for any occasion, but with Valentine's Day approaching, what better to share with loved ones than a bite-sized chocolaty treat? A unique combination of ingredients is what makes this recipe so tasty. In addition to both almonds and cashews, I've included toasted coconut shavings and two secret ingredients, espresso powder and a touch of sea salt.
The Tips
Chocolate and coffee are friends. I learned from one of my favorite Food Network celebrities, Ina Garten, that chocolate and coffee go together. To keep consistent with this theory I added instant espresso powder to the ganache, which gave the chocolate a bolder flavor. If you don't have instant espresso powder on hand, any instant coffee would be a good replacement.
Go nuts. I chose almonds & cashews for my nut combination because that's what I like! If you're partial to a different combination or want to add another type of nut, go for it! I'm sure a decadent macadamia nut or crunchy walnut would be just perfect, coated in a dark chocolate ganache.
What to do if your chocolate misbehaves. Chocolate can be temperamental, especially when turning it to a smooth ganache. It has a tendency to seize and thicken, which is NOT what you want. In order to turn a lumpy chocolate mess back to a thin & smooth 'sauce', simply whisk in 1 tablespoon of hot water at a time, until you've arrived at the consistency you're looking for.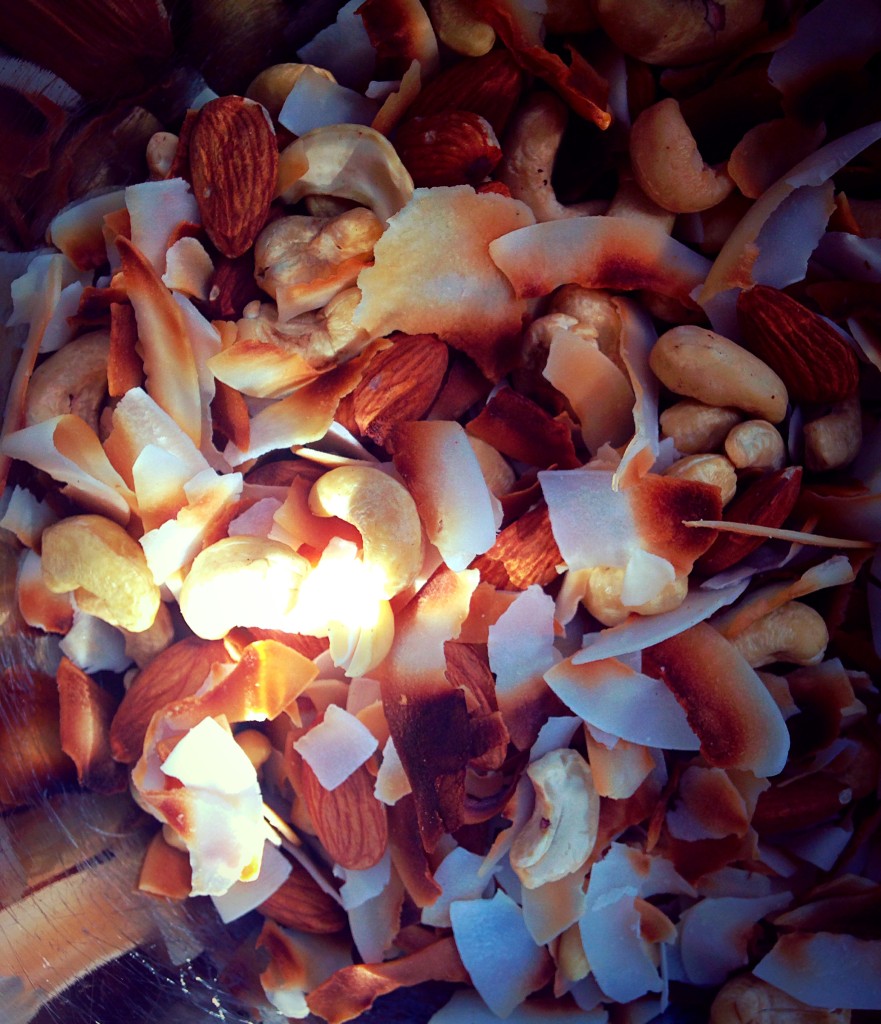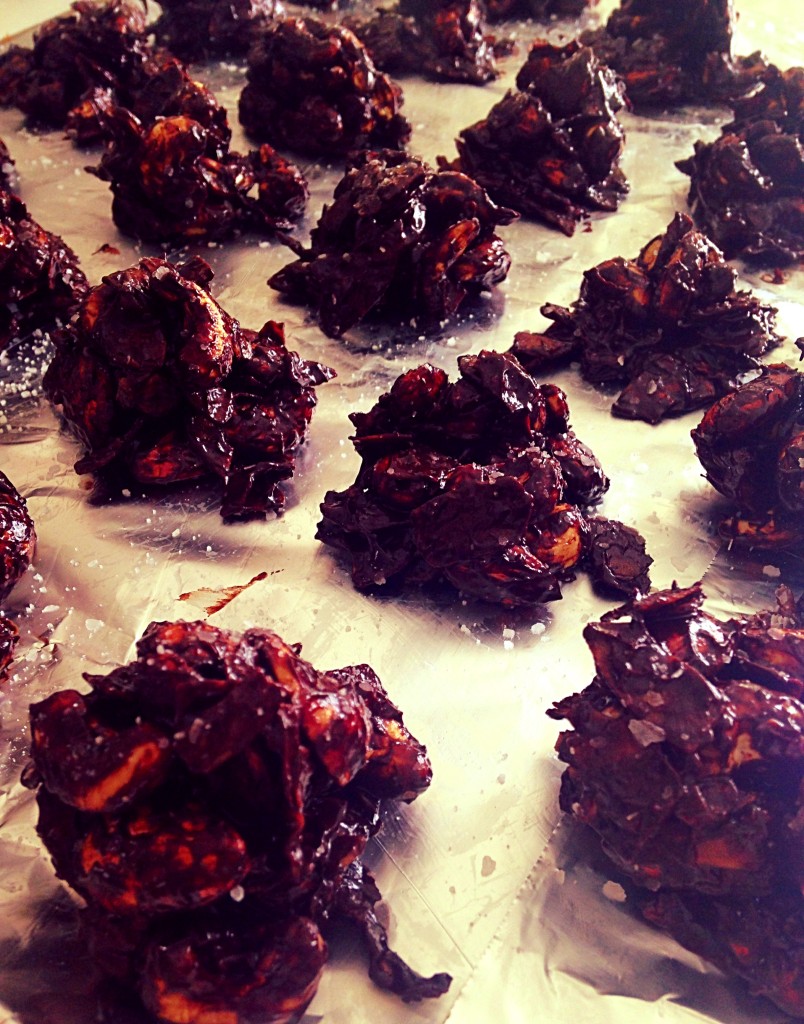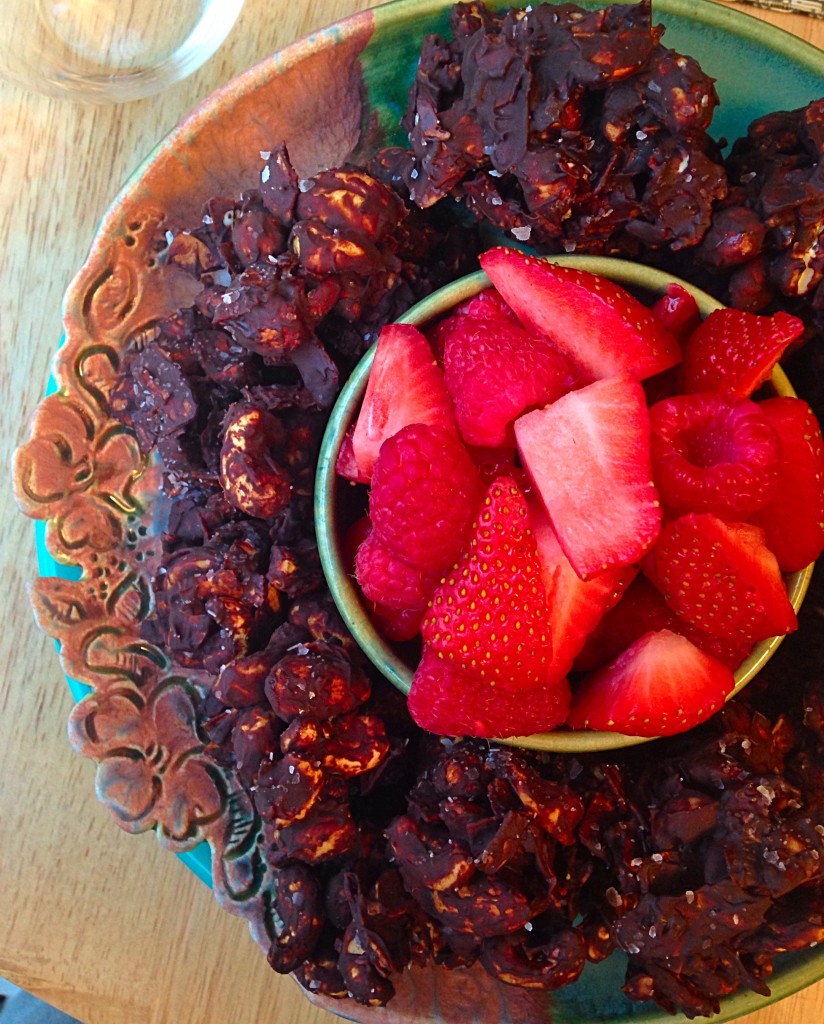 The Recipe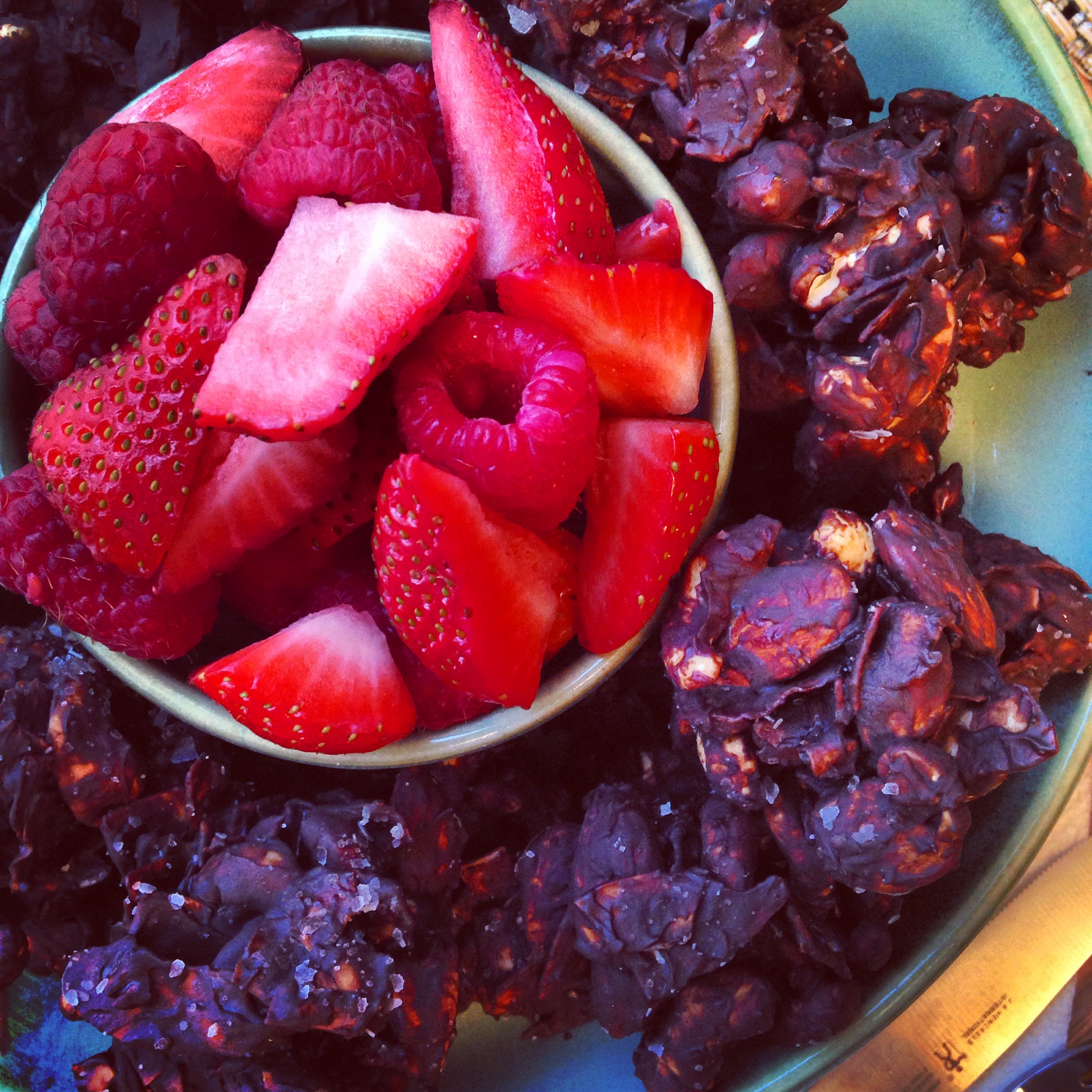 Dark Chocolate Nut Clusters
2015-02-09 15:06:15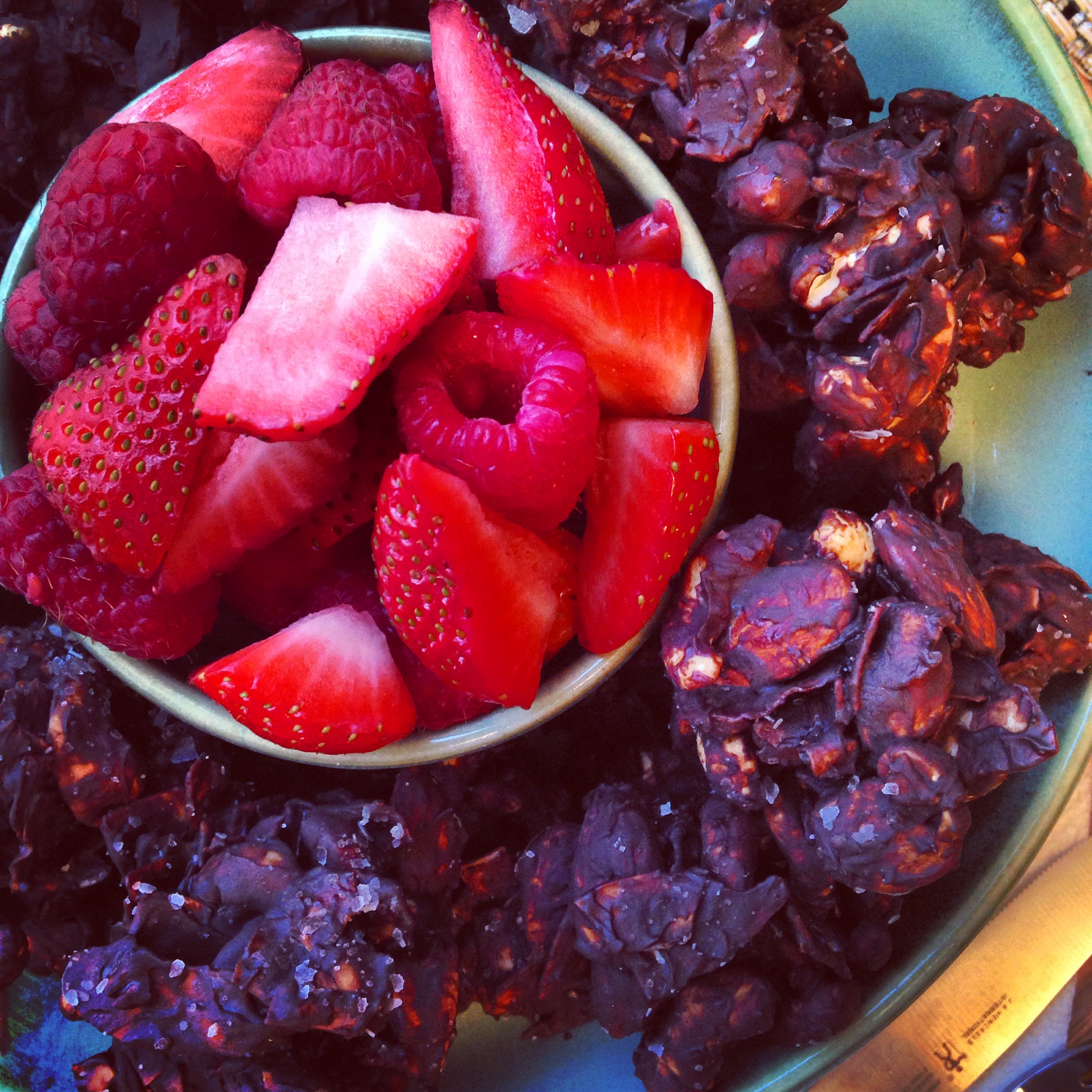 Ingredients
1 cup thick coconut shavings
1/2 cup almonds
1/2 cup cashews
8 oz dark chocolate (70% or higher)
1 tablespoon coconut oil
1 tablespoon instant espresso powder
1 tablespoon honey
1 teaspoon vanilla extract
Sea salt, to taste
Instructions
Prepare a baking sheet by lining it with aluminum foil or parchment paper. Set aside.
Spread the coconut shavings on a separate baking sheet & broil on low for 10-20 seconds. Keep an extremely close eye on the shavings, as they could burn VERY quickly! Remove & add to a medium bowl. Mix in the almonds and cashews. Set aside.
Create a double boiler - Fill a small pot 1/4 of the way with water & bring to a boil. Reduce the heat, then place a bowl atop the pot. Leave at least 2-3 inches between the bottom of the bowl and the water, or the chocolate will burn.
Add the chocolate, coconut oil, espresso powder, honey & vanilla extract to the double boiler. Stir occasionally, until almost completely melted. Remove from the heat and stir until the chocolate is completely smooth. If the chocolate seizes, don't panic... refer to tip above.
Pour the chocolate over the coconut/nut mixture. Using a rubber spatula, fold the mixture until the coconut & nuts are completely coated with the ganache.
Using a tablespoon (or an automatic cookie scoop), drop clusters of the chocolate coated coconut/nuts on to the prepared baking sheet.
Sprinkle a bit of sea salt atop each cluster.
Freeze for at least 1 hour or up to overnight.
Notes
Serve with fresh berries. If you have leftover clusters, store them in the fridge for up to a week.
Lana del Crave https://lanadelcrave.com/