February 3, 2015
Avocado Chicken Salad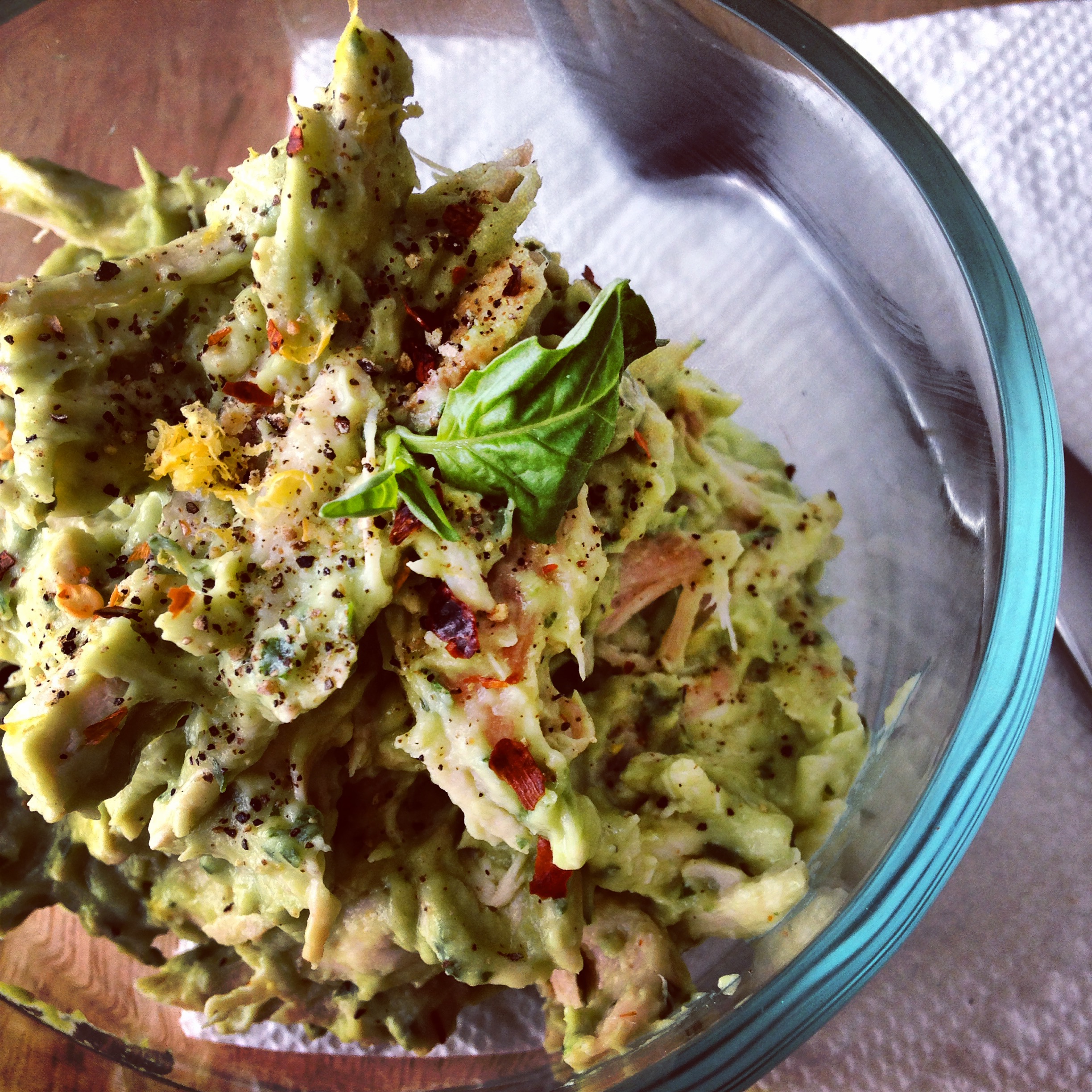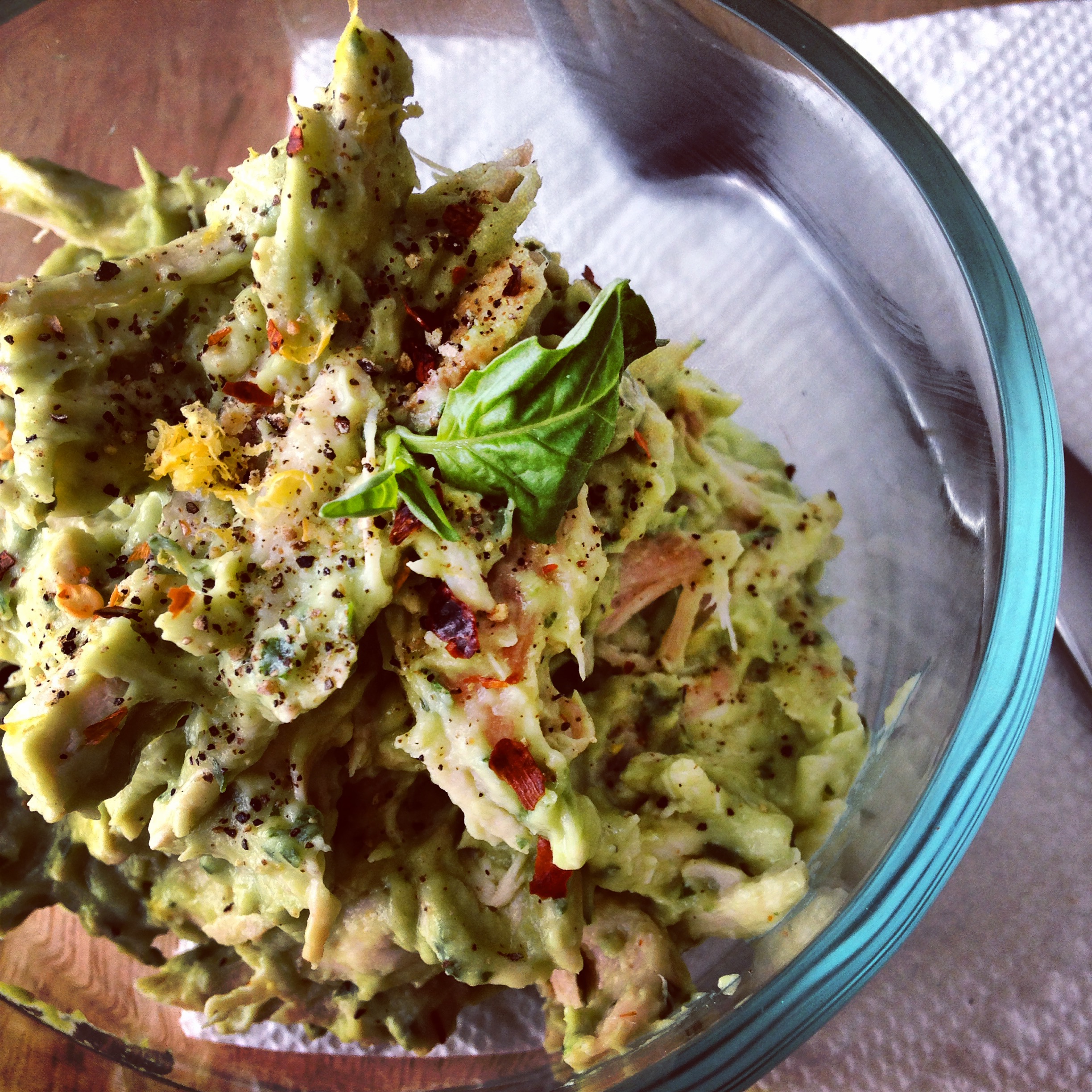 There's a time and a place for mayonnaise. Typically it's lunchtime, mixed into a chicken or tuna salad. I decided to do something healthy and unique by creating a chicken salad using avocado as the binder.
This idea came to me after craving a healthier pasta dish I used to make for my roommates and I during college. I changed the ingredients up a bit to tailor it to a simple, savory chicken salad and was very pleased with the result.
The Tips
My friend, the rotisserie chicken. My favorite way to make chicken salad is to use an all natural rotisserie chicken, found in the grocery store. It's super easy to pull the meat off the chicken, and much healthier/fresher than canned chicken. Also, the carcas never goes to waste in this house. I use it to make homemade chicken stock (recipe coming soon)!
What to use instead of rotisserie chicken. If you can't find rotisserie chicken, either use leftover chicken from the night before or make your own! Rub 4 bone-in, skin-on chicken breasts with extra virgin olive oil, then sprinkle salt and pepper. Skin side up, roast the breasts in a preheated 350 degree oven for 35-40 minutes. When the chicken is cool, pull the meat from the bones using 2 forks or just your fingers.
Make-ahead meal. I am surprised to say, this dish lasted me 3 days – even with the avocado! Typically, avocados turn brown pretty quickly when exposed to oxygen. Because I added a good amount of lemon juice and zest, the citrus kept the avocado fresh, making this a make-ahead lunch option.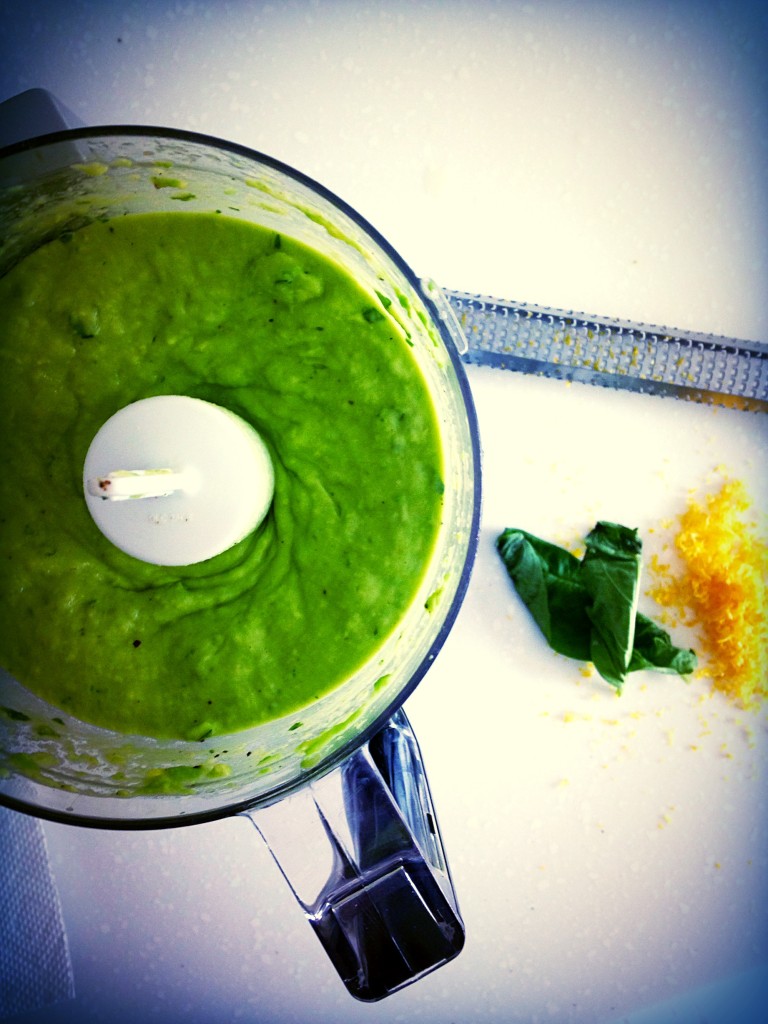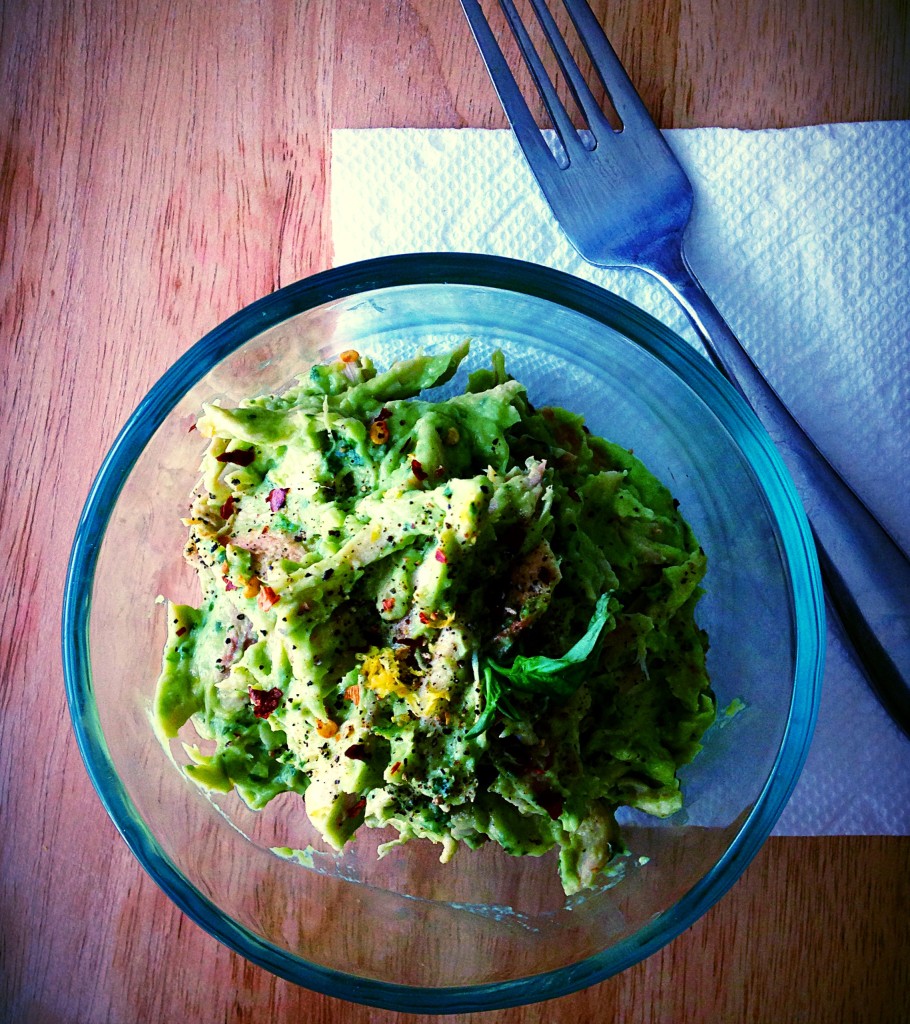 The Recipe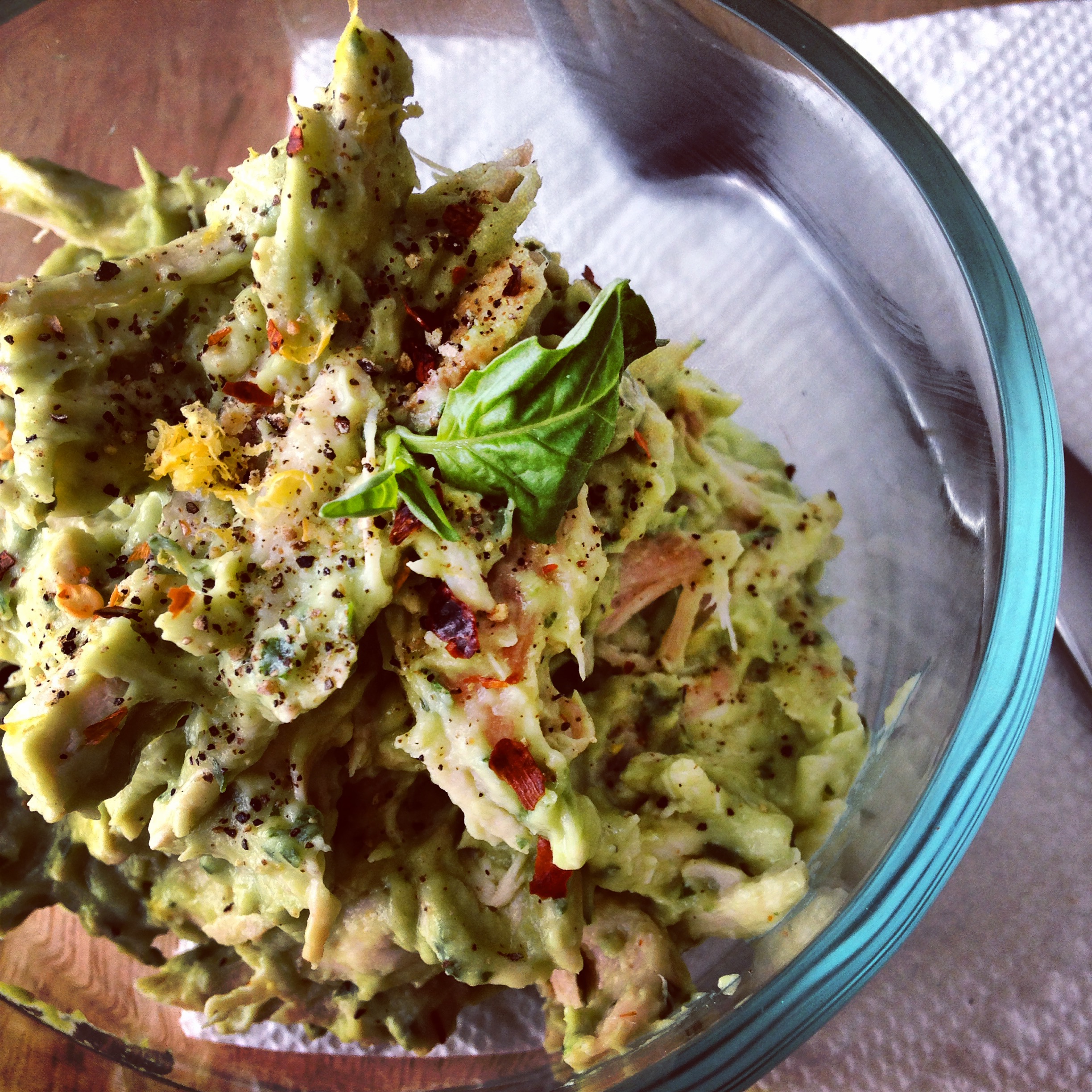 Avocado Chicken Salad
2015-02-03 07:50:32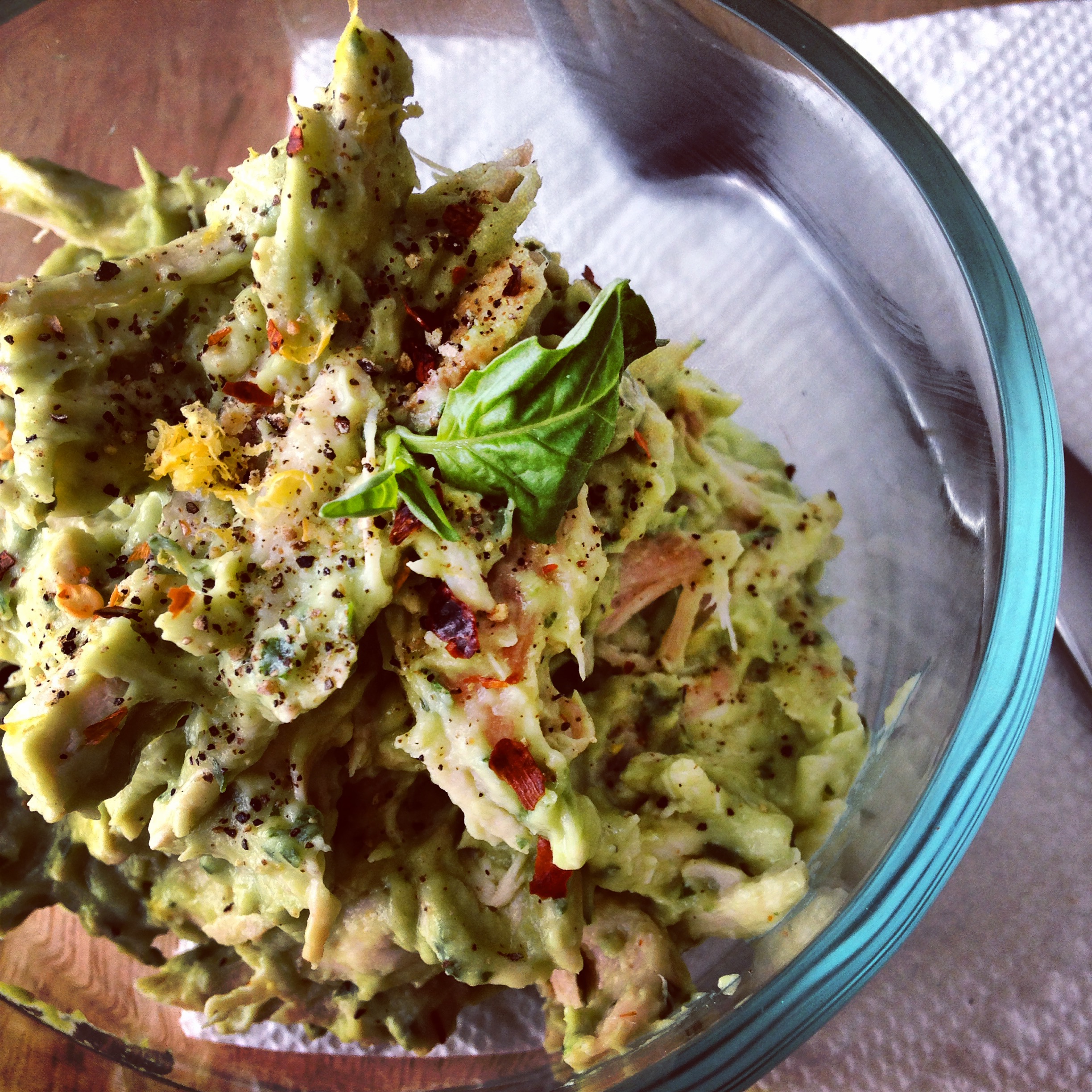 1 rotisserie chicken
2 avocado, ripe
Zest and juice from 1 lemon
1/4 cup fresh basil, packed
2 tablespoons extra virgin olive oil (EVOO)
Salt and pepper to taste
1/4 teaspoon red pepper flake for serving (optional)
Using 2 forks, pull all the meat off the rotisserie chicken.
In a food processor, add the avocado, lemon juice, basil and EVOO. Blend until completely smooth. Transfer to a medium bowl, then stir in salt, pepper and lemon zest.
Add the pulled chicken to the sauce and combine.
Serve with additional lemon zest and a sprinkling of red pepper flake.
Adapted from From the Little Yellow Kitchen
Lana del Crave https://lanadelcrave.com/