January 6, 2015
Vegan Split Pea Soup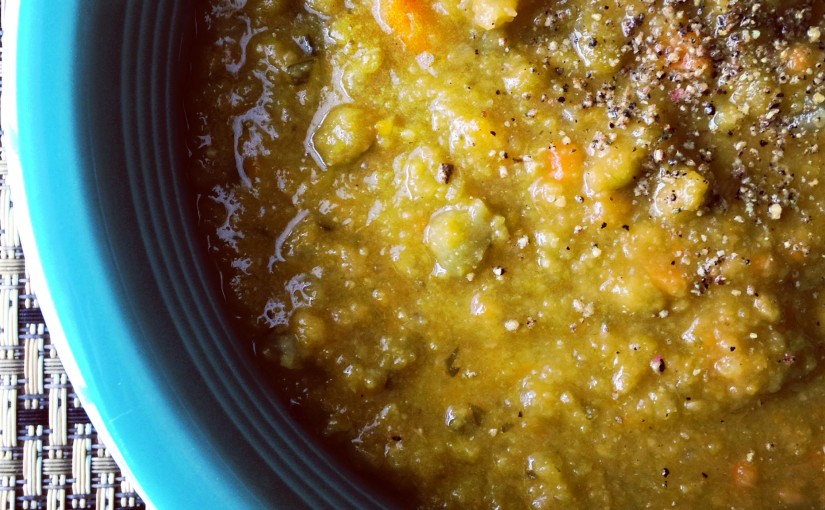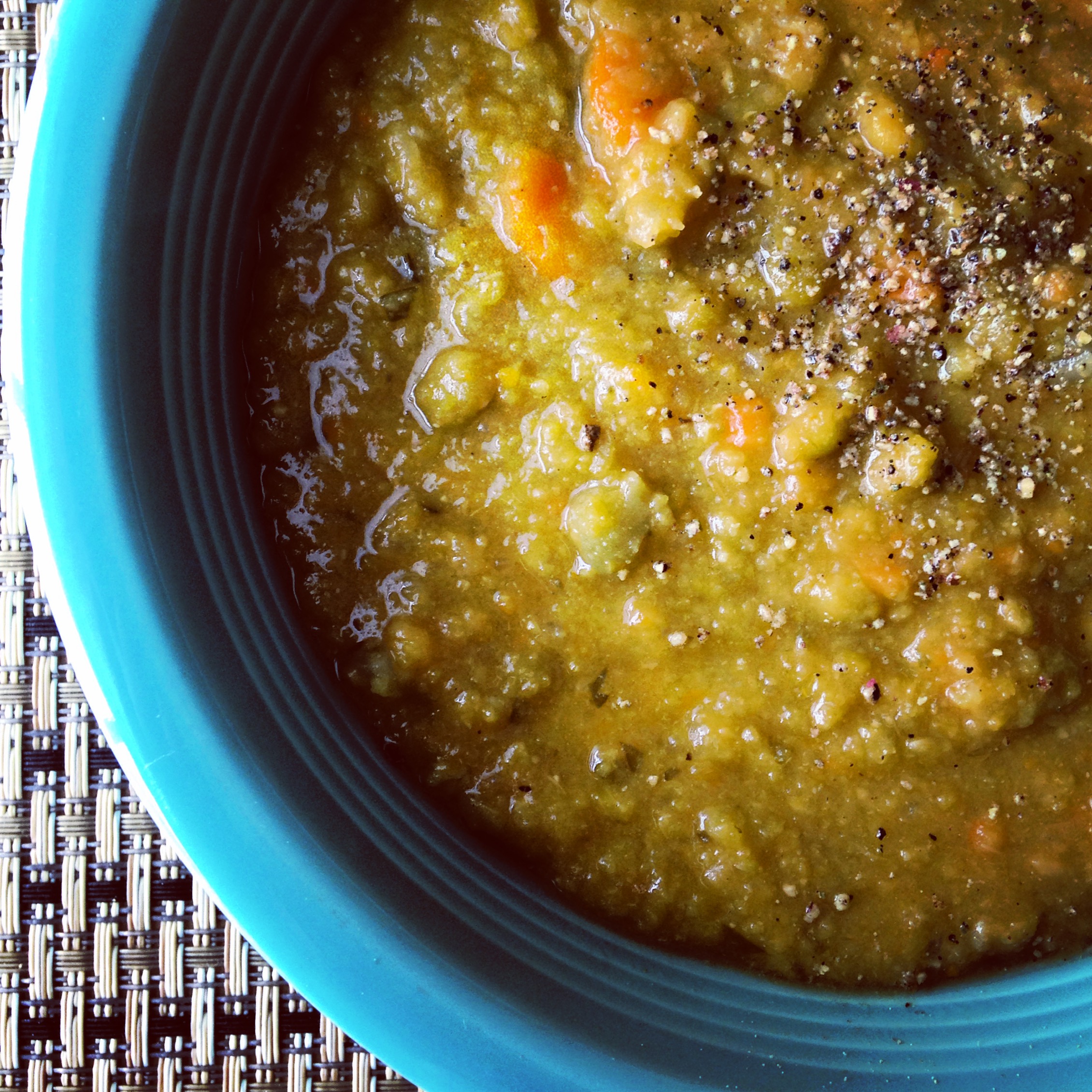 The winter holidays have ended and New Year resolutions have begun, which means crowded gyms and healthy eating. Since my boyfriend and I have a tropical vacation to look forward to at the end of February, I too am following a health-conscious New Year resolution.
Split pea soup is not the prettiest, but it is healthy & delicious. In the past I'd go for pasta fagioli or minestrone, but I've recently stumbled upon Whole Foods' vegan split pea soup in their prepared foods section. Although split pea is classically made with ham, I don't miss it at all in this vegan version. The one thing I will say, is Whole Foods' version is a bit too thin, so I re-created the flavor with a bit more consistency.
The Tips
Winter tools are essential. Slow cookers and immersion blenders are key for cooking delicious meals, especially soups, throughout the cold months of winter. Slow cookers can be expensive, but there are also some very reasonably priced versions sold at Bed, Bath and Beyond or Walmart. As for immersion blenders, I luckily received mine as a Hanukkah gift one year, but they range from about $20-40. Totally worth it for all of the soups to be made this winter! Check out these links to slow cookers and an immersion blender. If you haven't guessed by now, this recipe calls for both tools.
Prep the peas. Each recipe I read for split pea soup directed me to 'check' the peas. I had no problem doing this, but what was I checking for? I turned to mom as I usually do, and asked her what to look for. The answer is shriveled, broken, or brown beans in addition to stones or debris that could have been accidentally added while harvested in bulk. Thanks ma!
Old tip, new recipe. If you've read past posts, you know that I tend to grate onions using a cheese grater before adding it to certain recipes. I would suggest following this tip for this recipe, as you want the onion flavor to be evenly dispersed throughout the soup. Same goes for the garlic – Using a bit of salt, mince then crush the garlic into a paste before adding to your dish so the flavor melts into the soup.
Go Paleo. Part of my healthful New Year resolution includes avoiding sugar, aiming to go Paleo. Although we don't realize it, sugar is often added to pre-made stocks and broths. If you're on a sugar free diet, swap the vegetable stock for water, just to be safe.
Double the recipe. This recipe doubles easily, so feel free to make extra and store in the freezer!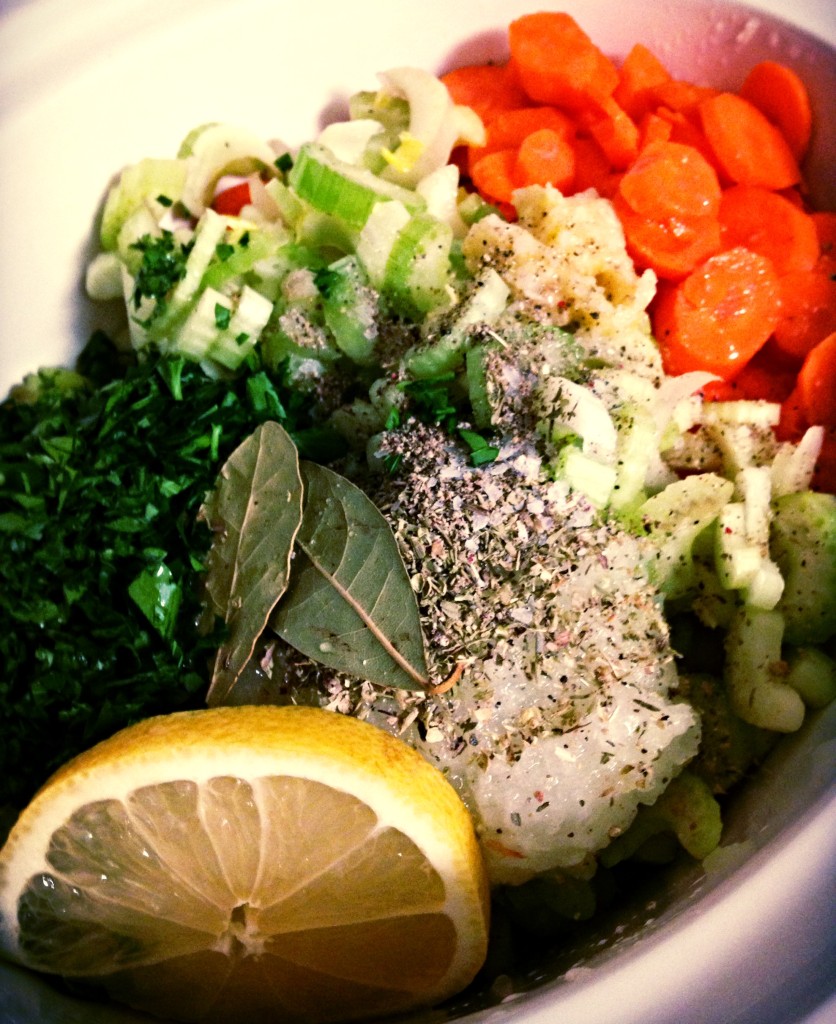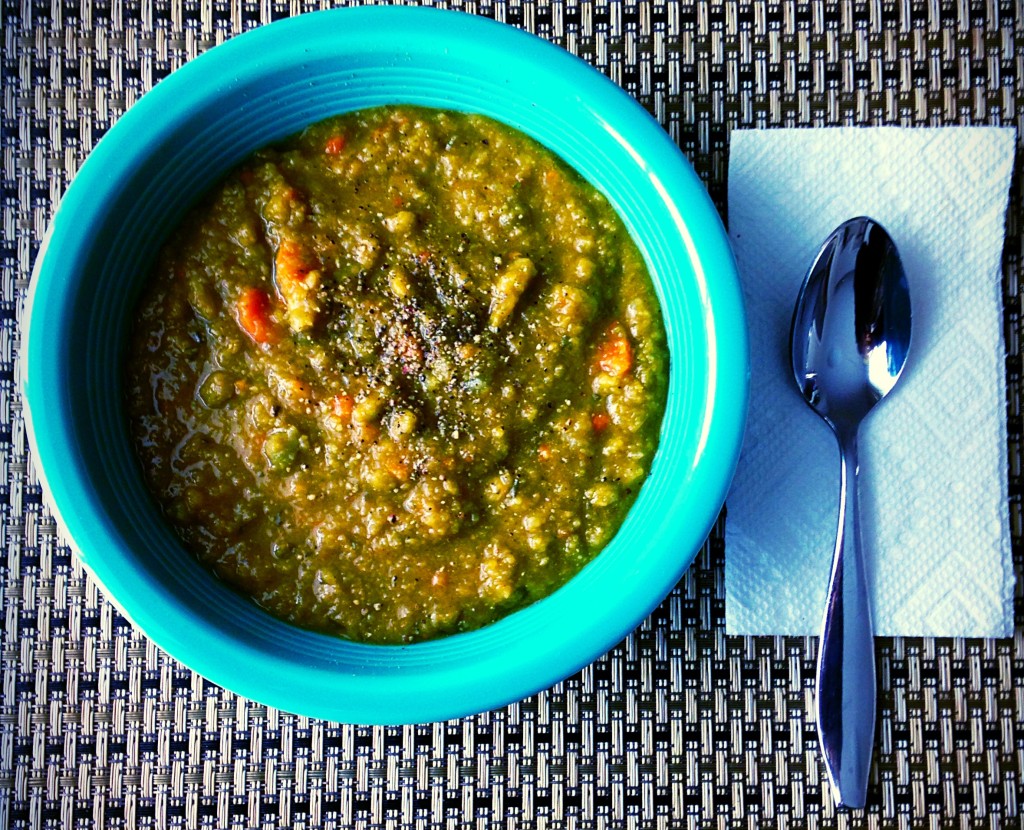 The Recipe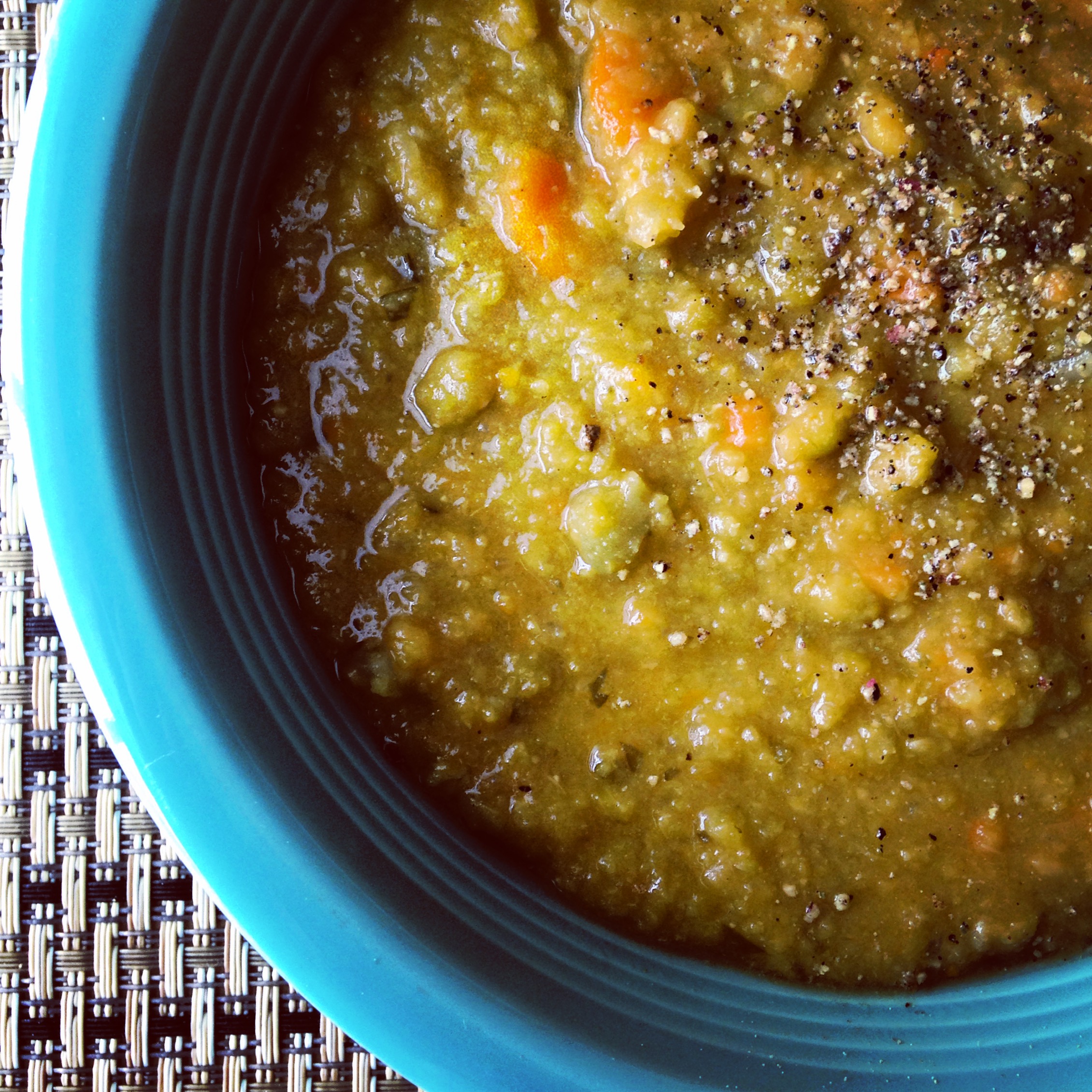 Vegan Split Pea Soup
2015-01-30 09:56:10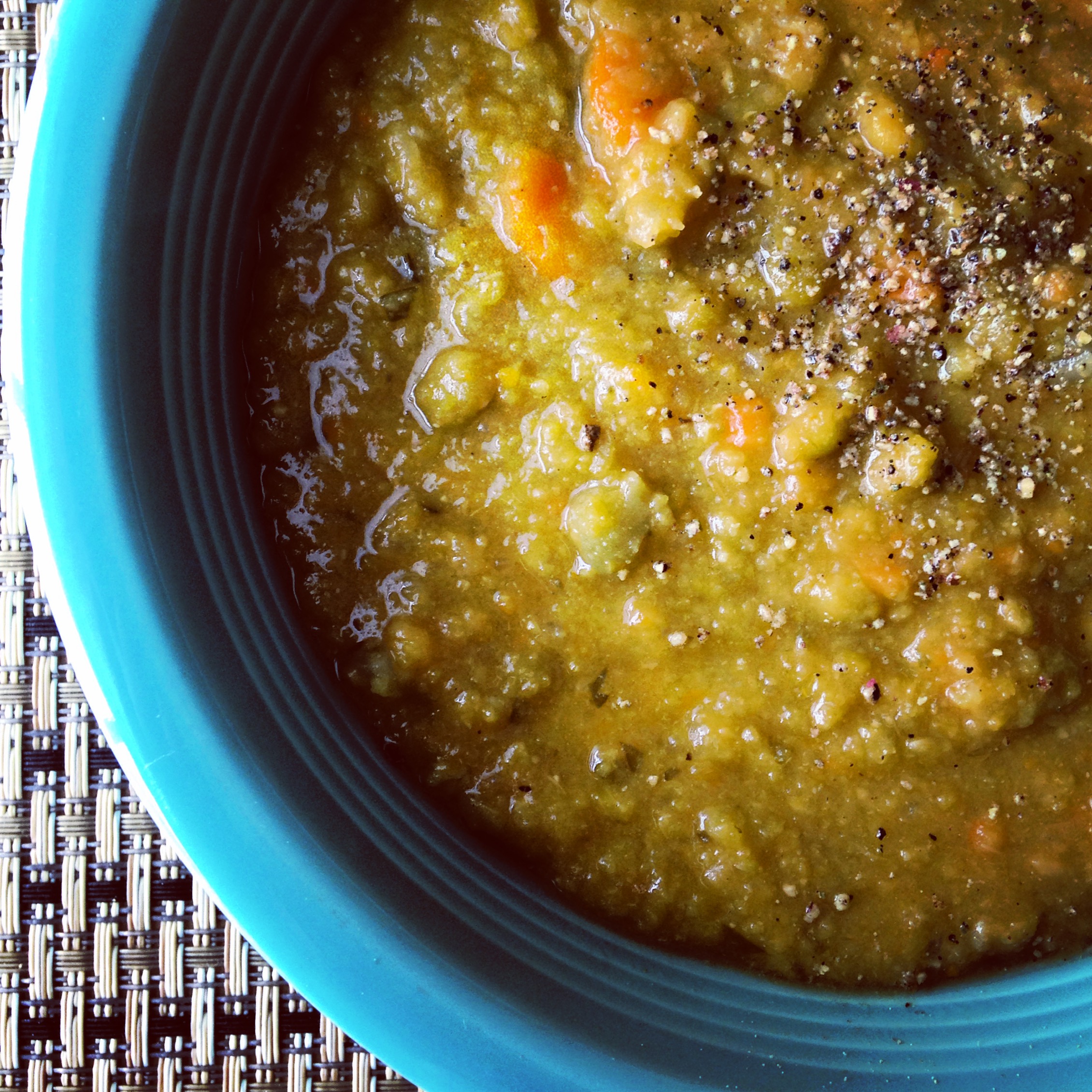 1 1/4 cups dried split peas, checked over and rinsed
1 cup thinly sliced carrots
1 cup thinly sliced celery
1/2 large onion, grated
1 clove garlic, turned into paste
Juice of 1/2 a lemon, plus an extra slice (optional)
1 dried bay leaf
1 1/2 teaspoons dried oregano
1 tablespoon finely chopped parsley
Salt & pepper to taste
5 cups vegetable stock or water
Add all the ingredients to the slow cooker. Cook on low for 10-12 hours, stirring occasionally.
Remove the bay leaf and lemon slice.
Using an immersion blender, blend about half of the soup to give it a semi-smooth consistency. Stir before serving. Store leftover soup in the freezer.
Adapted from The Inventive Vegetarian
Lana del Crave https://lanadelcrave.com/