May 19, 2015
Spinach & Walnut Pesto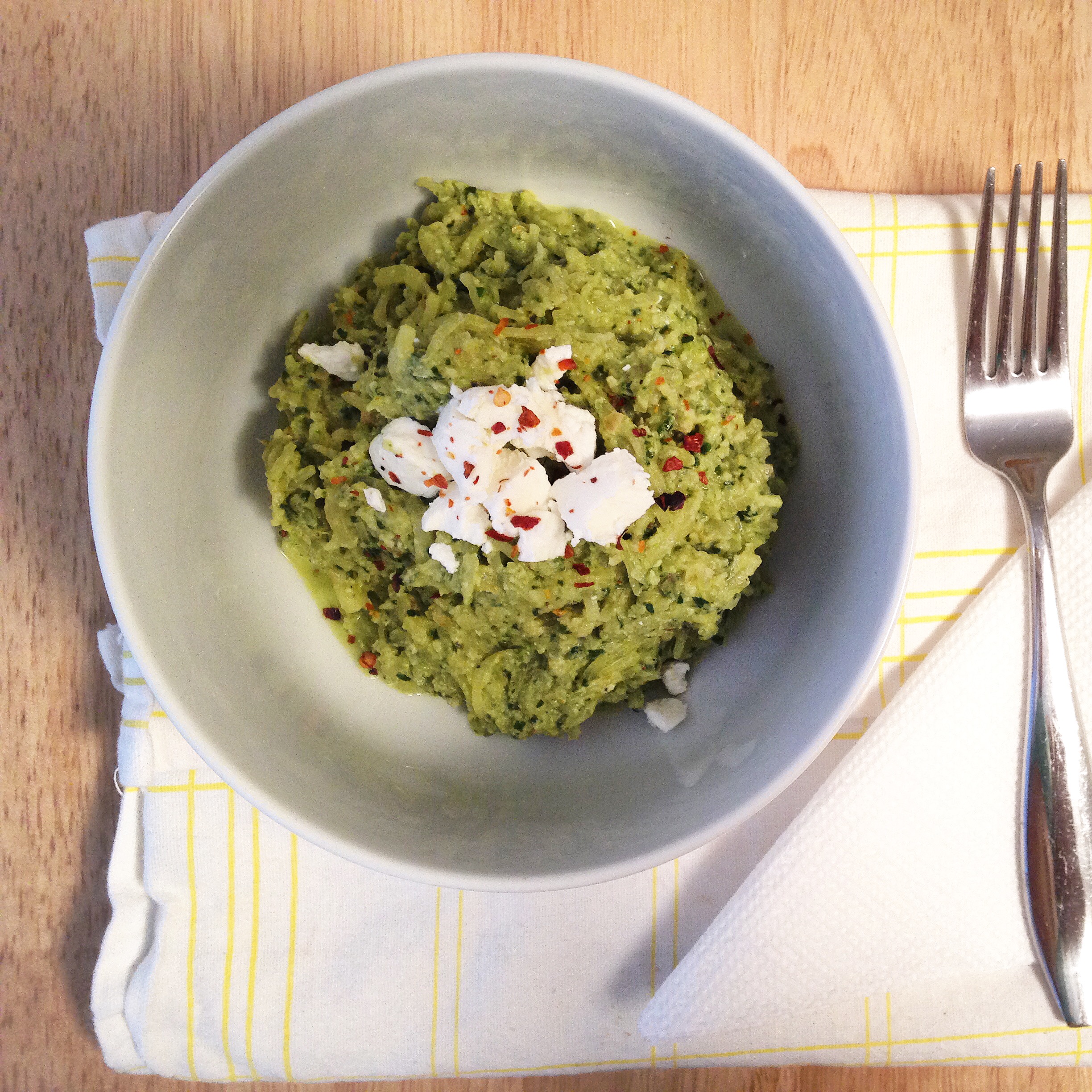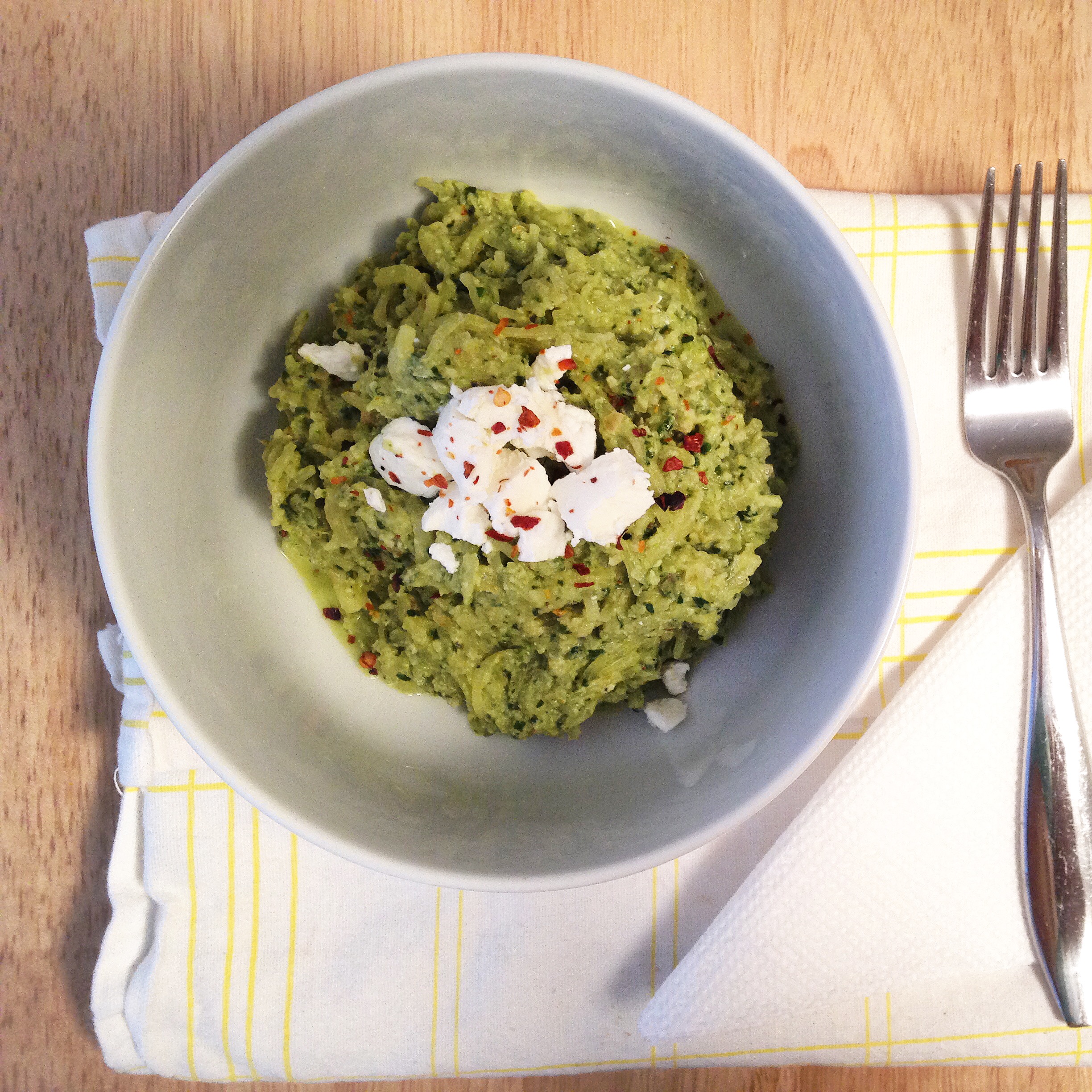 What recipe says 'Spring' more than pesto? Instead of following the typical pesto trio of basil, pine nuts & Parmesan, I wanted to try something new for a couple of reasons. Firstly, pine nuts are expensive, and secondly, I have a slight goat cheese obsession & needed to work it into this recipe. I took the healthy route and served this pesto over roasted spaghetti squash instead of actual spaghetti… it did not disappoint!
After eating this recipe twice in one week, I knew I had to share it. While it was absolutely perfect paired with spaghetti squash, this pesto will go with pasta, grilled chicken, shrimp or vegetables. Packed with spinach & walnuts, it's delicious & good for you.
The Tips
Toast your nuts. To get more depth of flavor, I like to dry-toast my walnuts in a pan before adding to the pesto. You can skip this step, but you shouldn't!
Pesto texture can vary. While serving pesto over spaghetti squash or real pasta, I like it a bit thicker than a typical sauce. Spaghetti squash tends to release moisture after cooking/sitting for a little while. A thicker pesto will marry with that moisture, coating the squash perfectly. Also if serving with pasta, a thicker pesto allows me freedom to add a bit of pasta water & bring the sauce to my desired texture. If serving atop chicken, shrimp, or even grilled vegetables, add a bit more olive oil to loosen the pesto and turn it to a sauce. You get the picture!
Be creative. One of the great things about pesto is you can make the recipe your own. You can swap the walnuts with almonds or pecans. Also if you're not as obsessed with goat cheese as I am, swap it for Parmesan or another cheese. One of my favorite pesto combinations is broccoli rabe & pistachio with Pecorino Romano.
Make extra. A tip my mom has given me, is to make extra pesto and freeze it in ice cube trays. The freezer will preserve your seasonal, while the ice cube trays will make it easily accessible.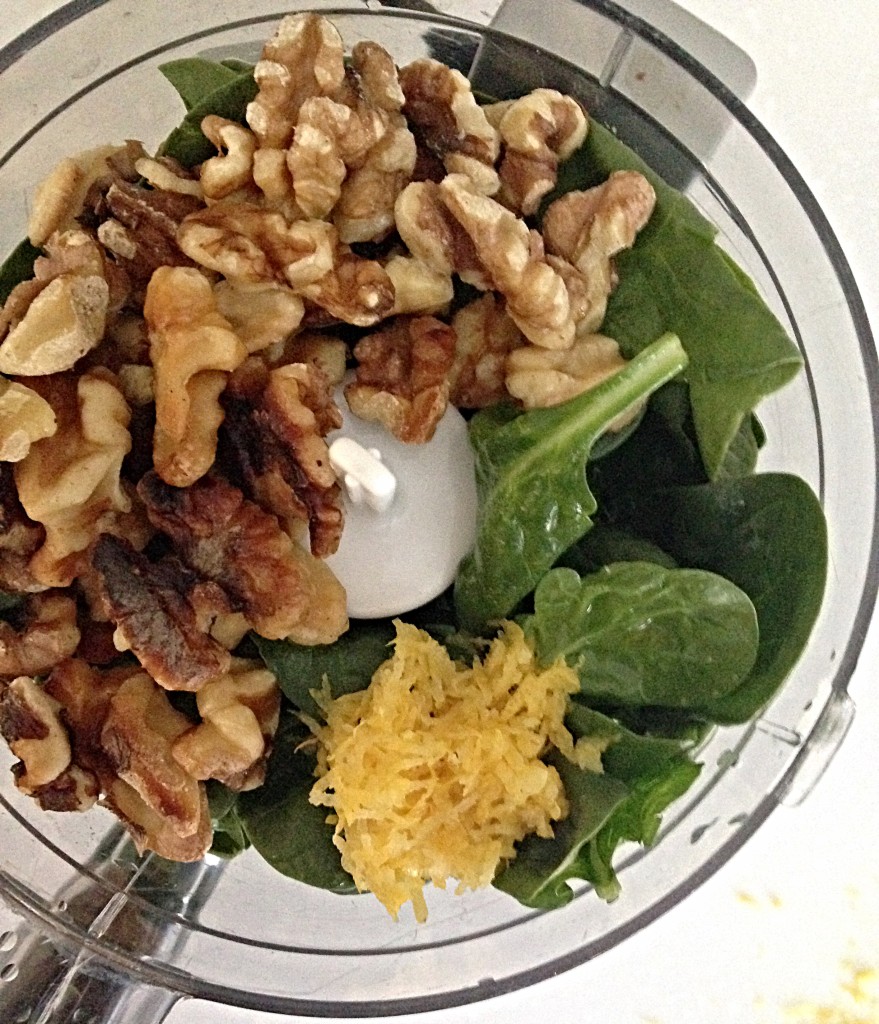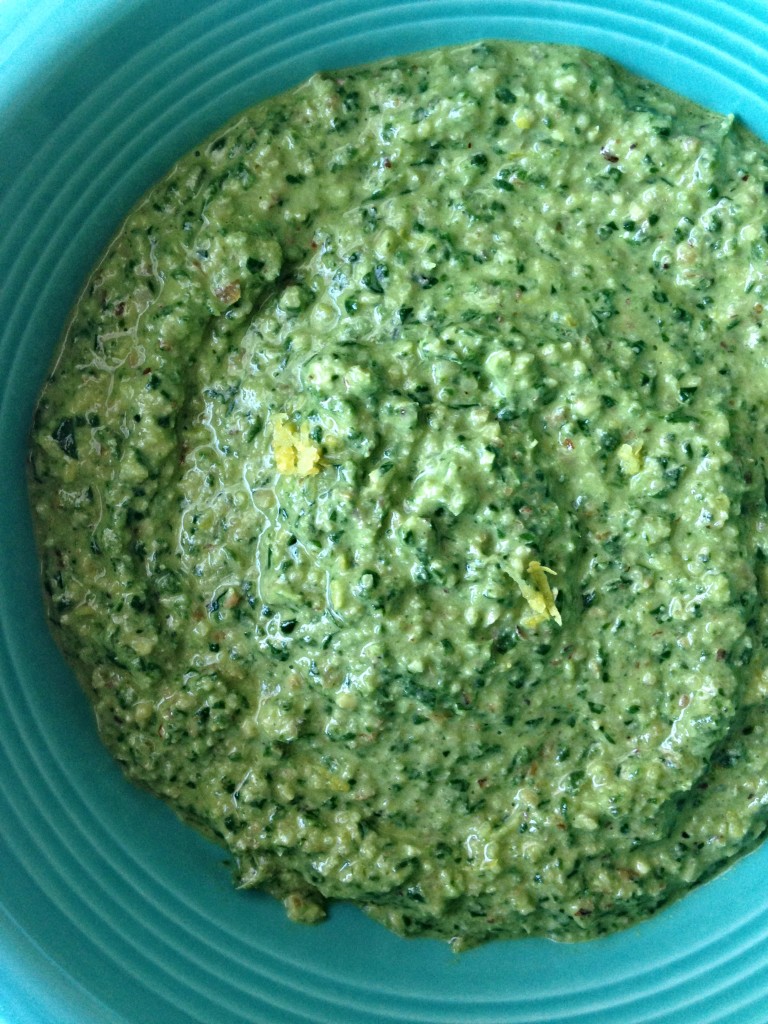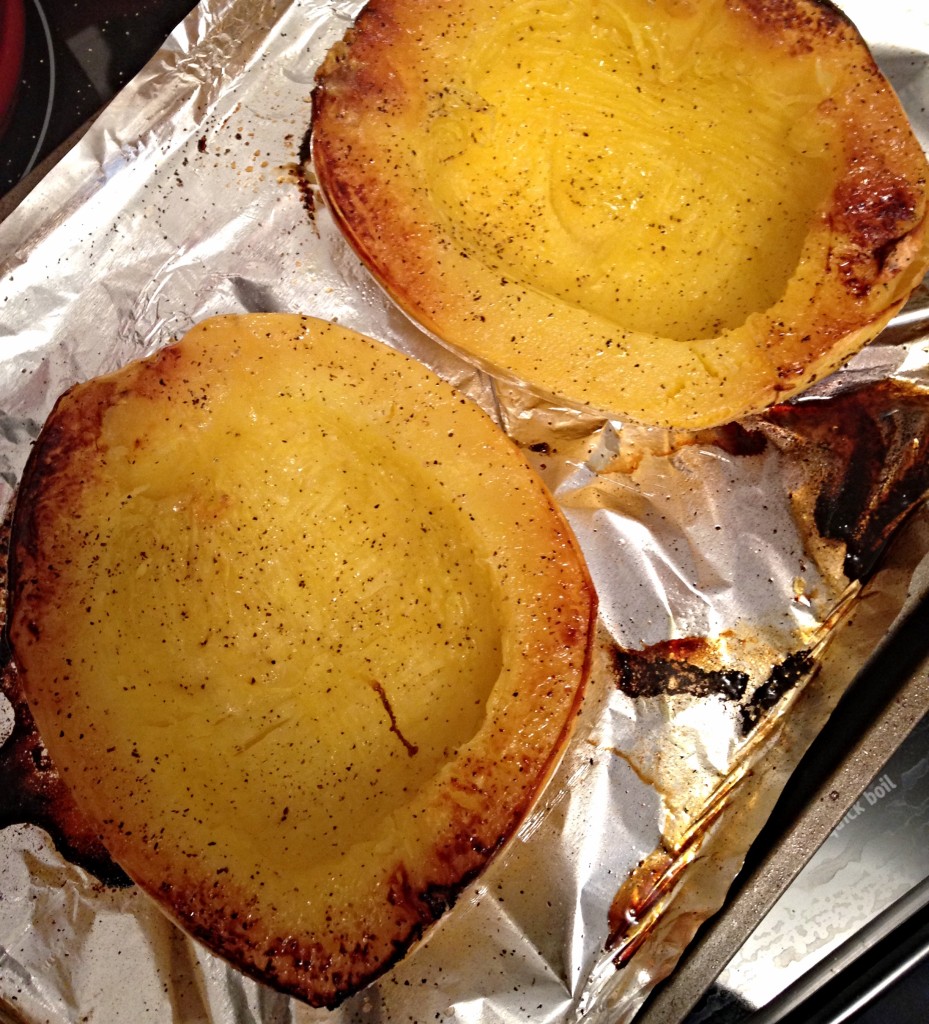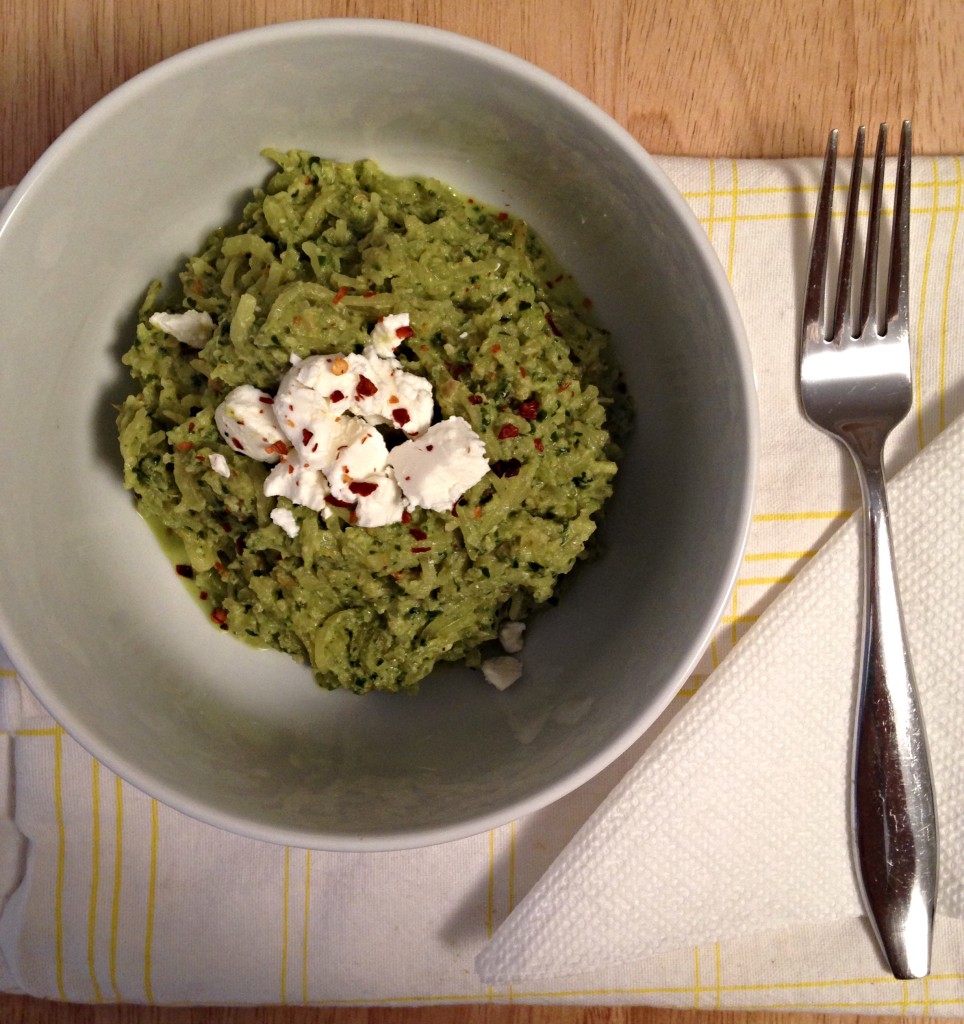 The Recipe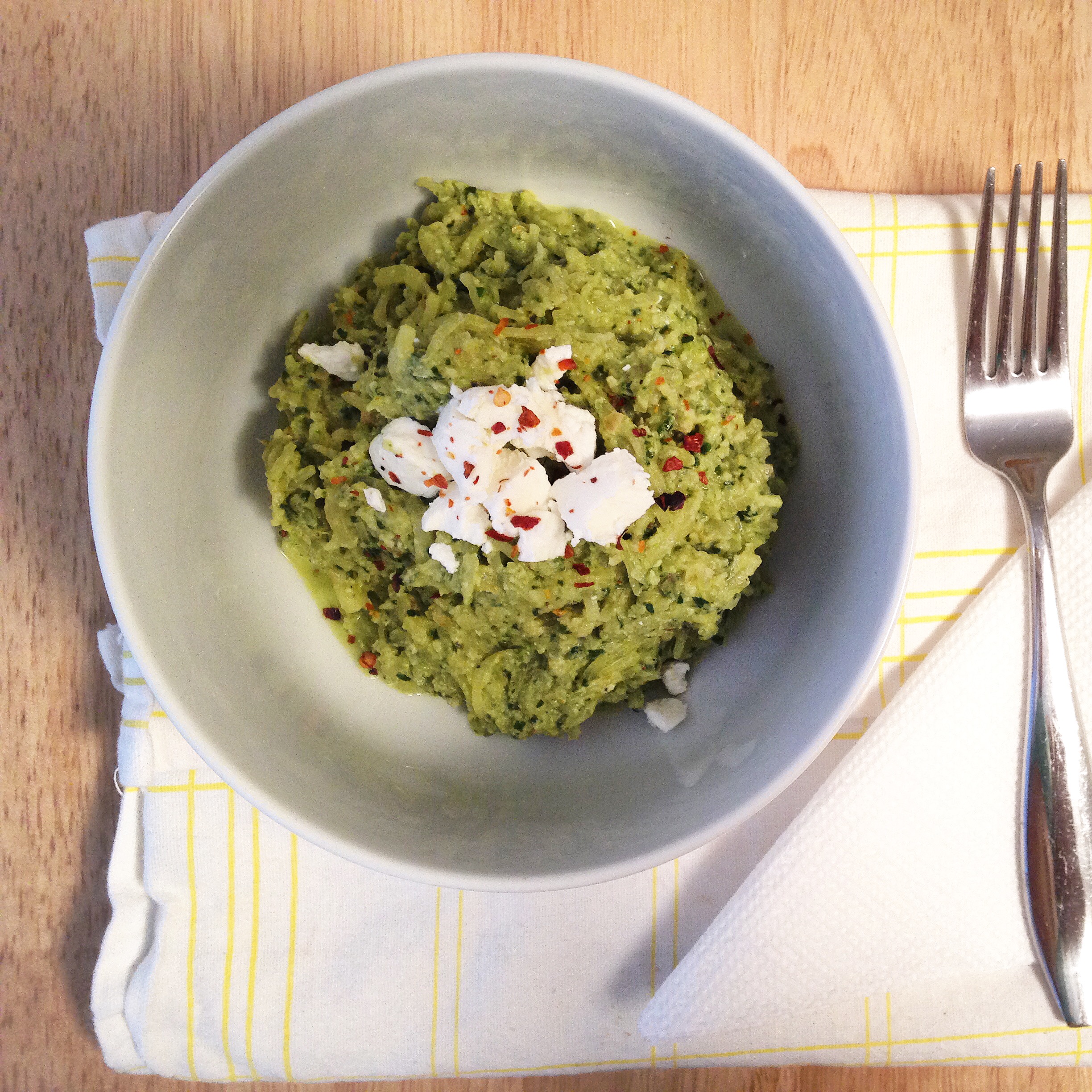 Spinach & Walnut Pesto
2015-05-19 09:00:40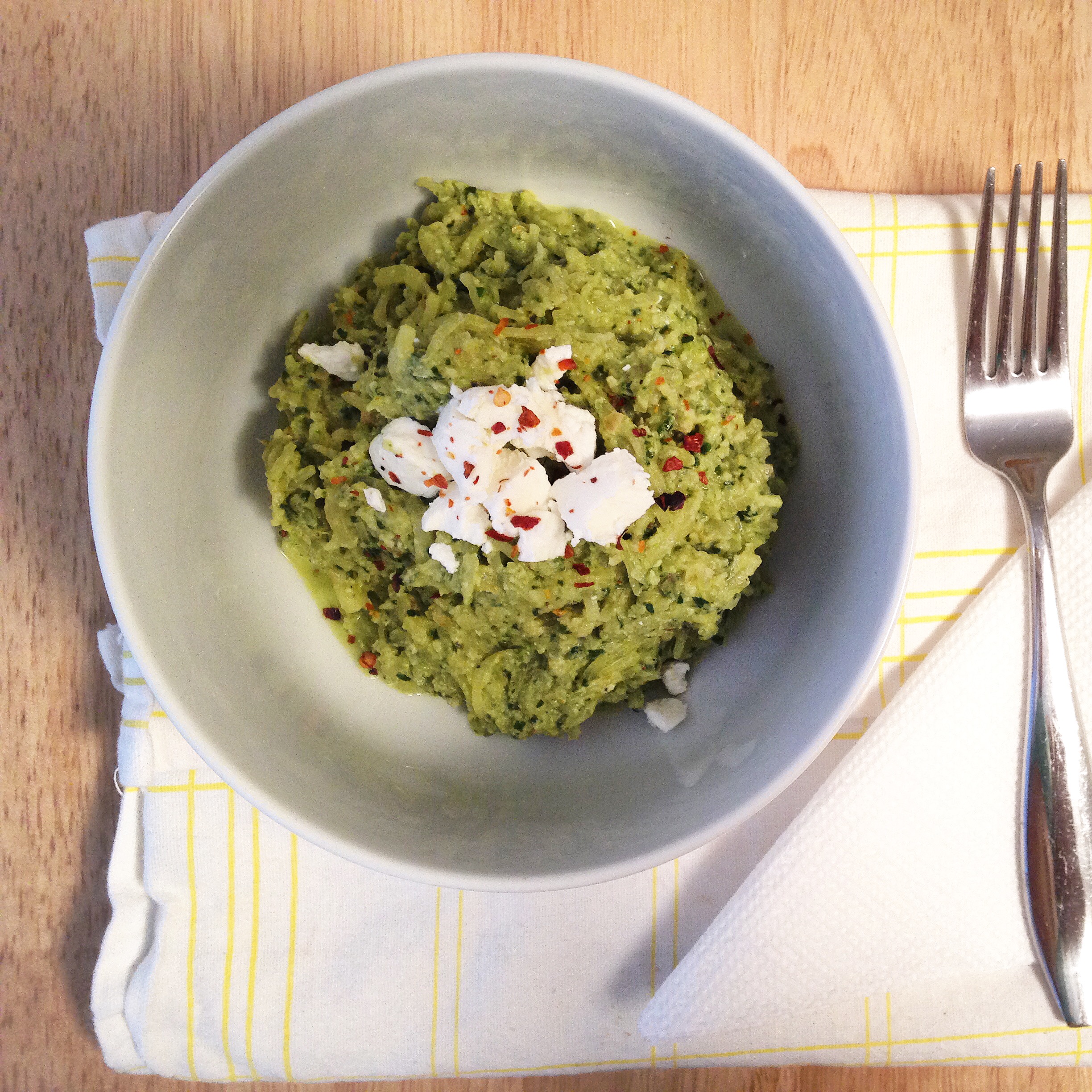 2 cups spinach, packed
1/4 cup walnuts, dry-toasted in a pan
Zest of 1 lemon
Juice of 1 lemon
1/2-3/4 cup extra virgin olive oil (EVOO)
1/4 teaspoon red pepper flake
Salt & pepper, to taste
Crumbled goat cheese (optional)
In a food processor, blend the spinach, toasted walnuts, lemon zest & juice. Drizzle in the EVOO until you've achieved your desired texture.
Pour the pesto into a large bowl, then stir in red pepper flake, salt & pepper.
Serve with crumbled goat cheese, if desired.
To freeze, pour into ice cube tray and place in the freezer for 2 hours. Remove from frozen pesto cubes and store in a resealable plastic bag until future use. Pesto will last up to 3 months frozen.
If serving over spaghetti squash, here's how to roast it properly: Preheat the oven to 400 degrees. Line a baking sheet with tin foil. Slice the squash in half vertically, then drizzle EVOO over the flesh. Season with salt & pepper. Lay the squash flesh-down on the prepared baking sheet. Roast for 50 minutes, until squash is tender and edges are caramelized. Once the it has cooled a bit, use a fork to pull 'spaghetti' from the squash shells.
Lana del Crave https://lanadelcrave.com/