April 7, 2015
Spring Quinoa Salad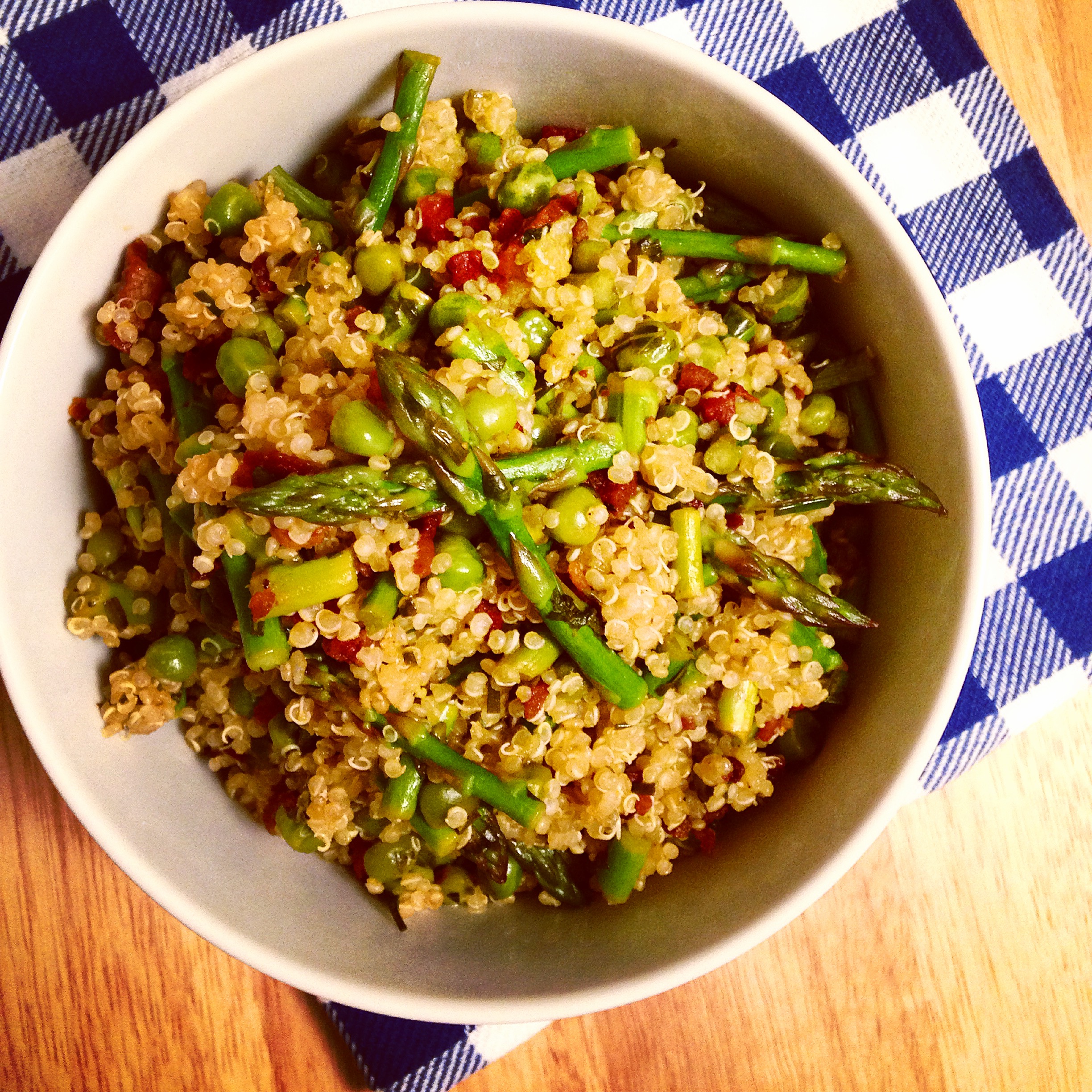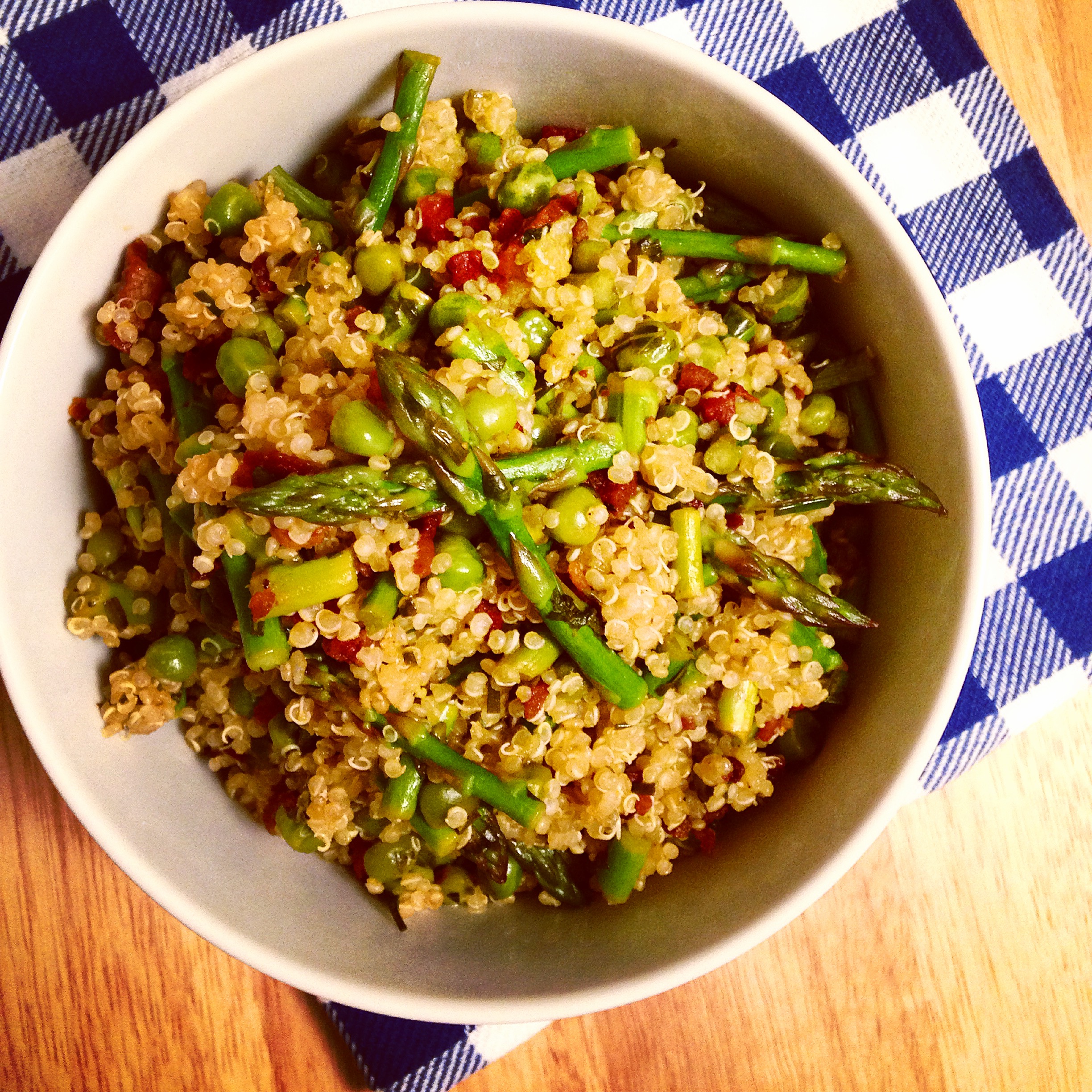 Spring is finally here… it's been cold & rainy but it's finally here! While thinking of seasonal recipes, I wanted to create a fresh, healthy dish packed with veggies and herbs. Loaded with asparagus, peas, basil & chives, this quinoa salad definitely hit the spot.
'Tis the season for asparagus and while it isn't typically my favorite vegetable, it's absolutely delicious in this dish. It could be because it's in season, or because I cooked the veggies in rendered fat from crisp pancetta; either way, I am now a fan of asparagus.
The Tips
Mise en Place. 'Mise en Place' is a French phrase meaning, putting in place. Chefs/cooks refer to this term when organizing and preparing ingredients required to cook a dish/meal. This dish is fast & super easy to make, especially if you cut, measure & organize your ingredients before starting. Measure the peas, cut the asparagus & herbs, zest the lemon… you get where I'm going with this. Once all these tedious steps are done, this recipe will fly by.
The asparagus trick. The bottoms of asparagus can be extremely fibrous & hard to digest. To know how much of the bottoms to remove, there's a fun/helpful trick. Simply take the end of the asparagus between your thump & forefinger, and bend until it snaps. The 'woody' fibrous portion of the asparagus will break off where the fresh juicy portion begins. This will give you a benchmark for where to cut the bottoms of all your asparagus. Make sure to do this before chopping the edible portion of the asparagus for your 'mise en place'.
Vegetable stock or water. I cooked my quinoa in all natural, sugar free vegetable stock. If you don't have vegetable stock, simply substitute water. Your quinoa will still taste delicious!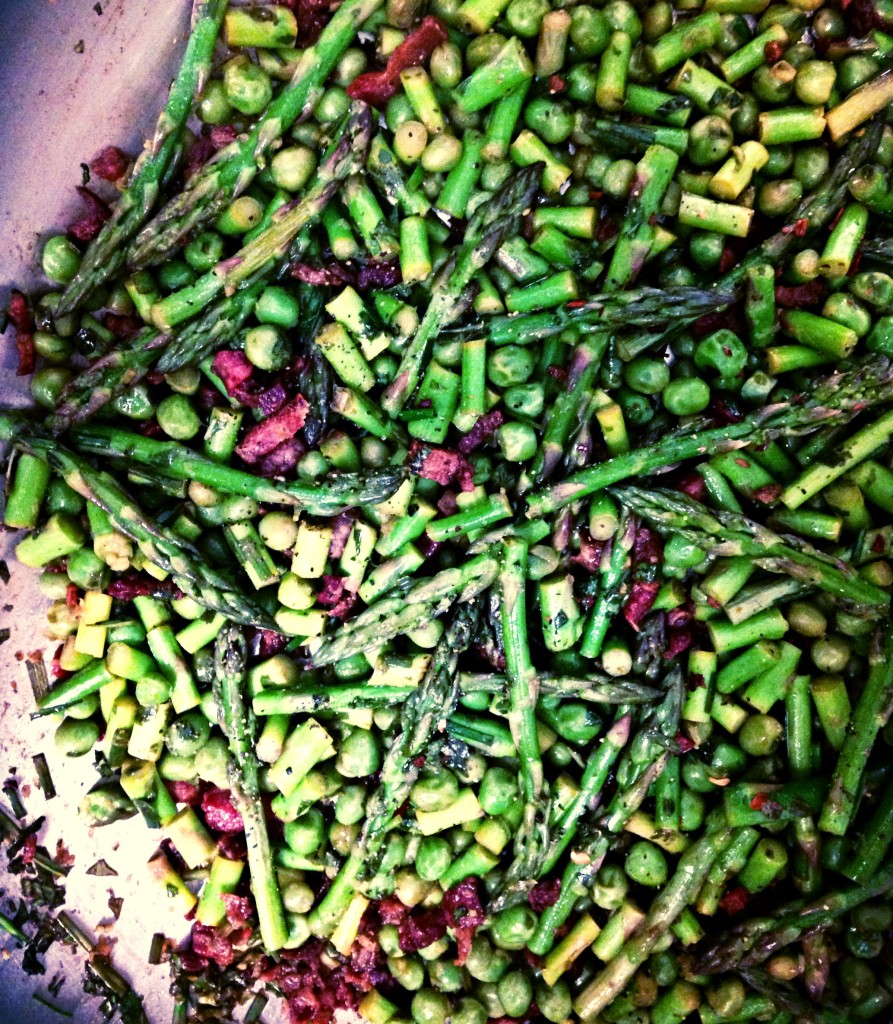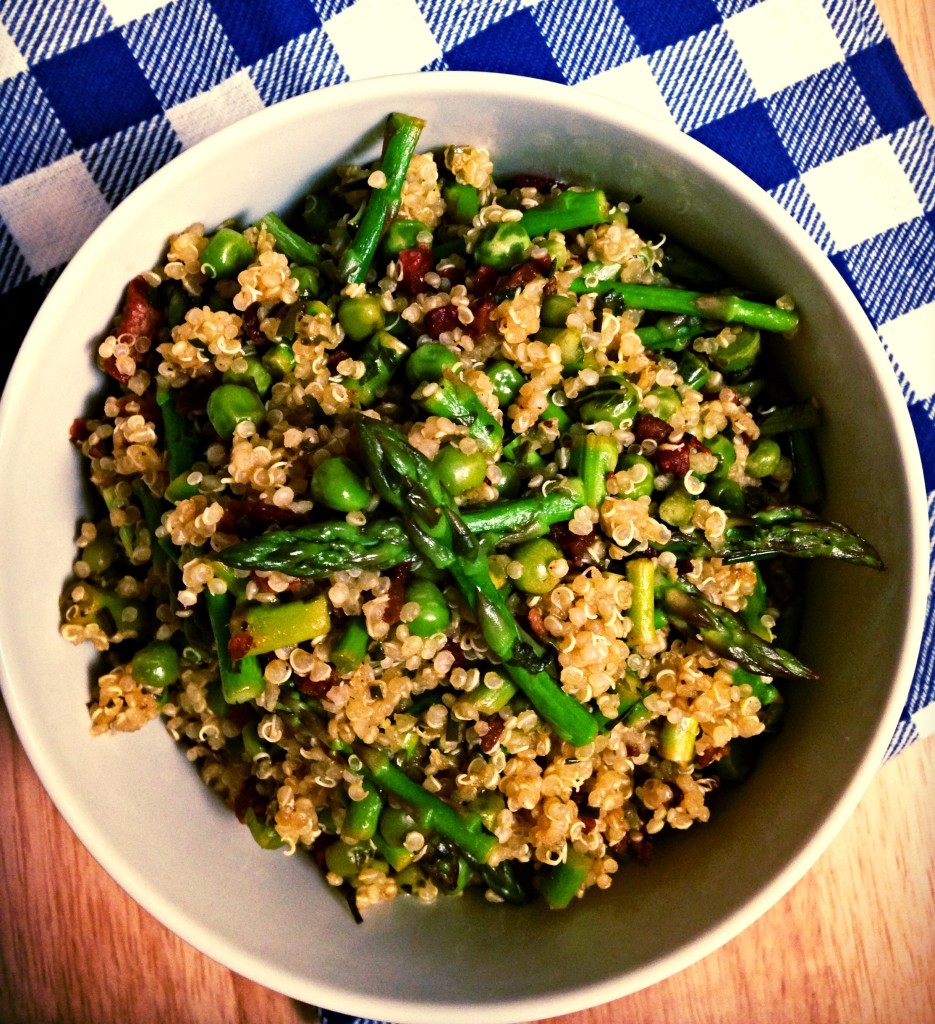 The Recipe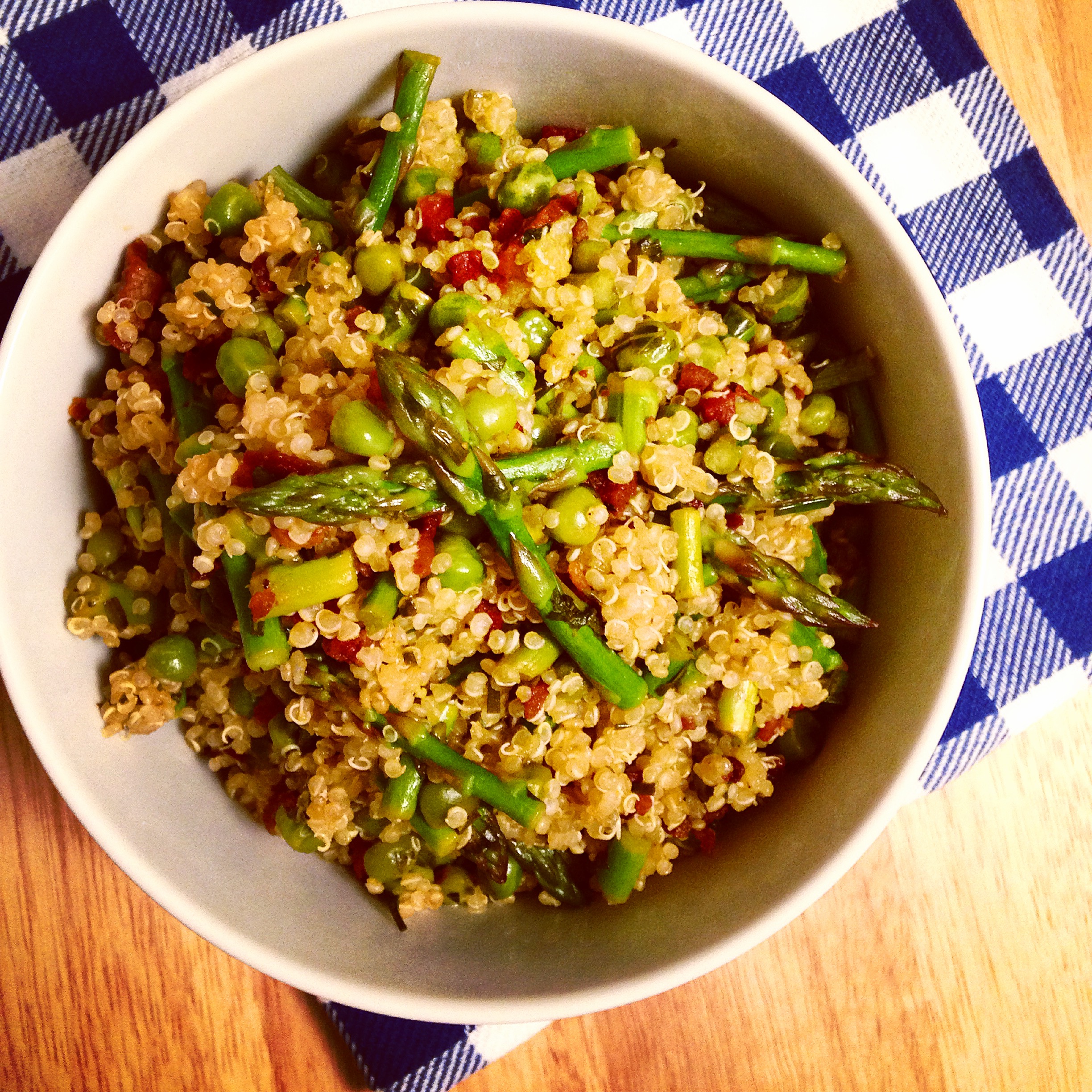 Spring Quinoa Salad
2015-04-07 11:57:47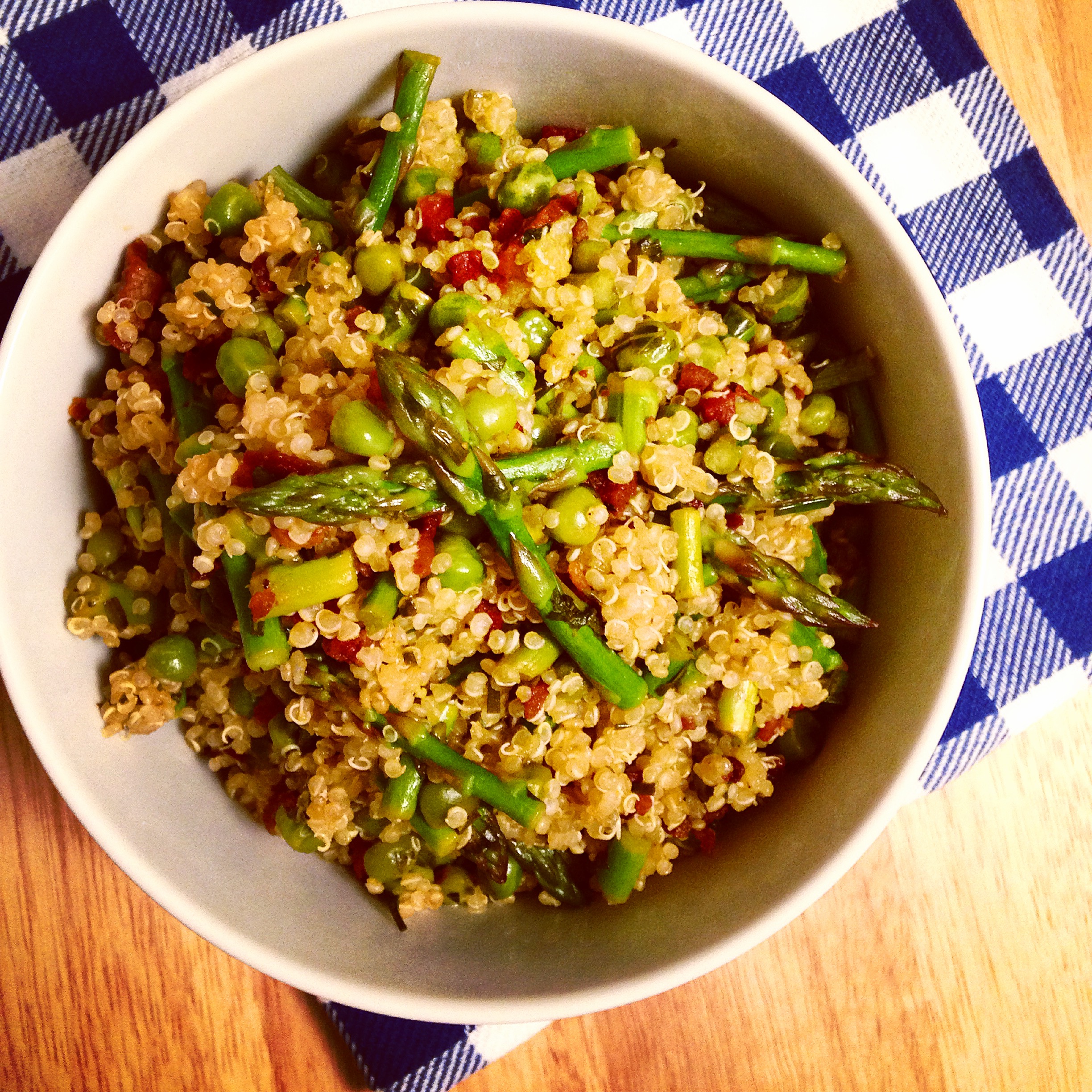 1/2 cup quinoa
1 cup vegetable stock
4 oz pancetta, diced
1/2 bunch of asparagus, chopped into 1/4-inch pieces
1 cup frozen peas
1/4 cup basil, finely chopped
2 tablespoons chives, chopped into 1/4-inch pieces
Zest from 1 lemon
Juice from 1 lemon
1/4 teaspoon red pepper flake
In a small pot, add quinoa & vegetable stock. Bring to a boil, reduce to simmer then cover tightly, cooking until the quinoa has absorbed all of the liquid - about 8 minutes. Once you remove the lid, if there's still liquid in the pot, re-cover & let cook 2 more minutes until all liquid is absorbed. Once cooked, use a fork to scrape the quinoa away from the sides to 'fluff' it. Set aside.
To a large pan over medium-high heat add the pancetta and cook until crisp, stirring occasionally. Using a slotted spoon, remove the pancetta and place on a paper towel to drain the fat. Discard any extra fat from the pan, if desired.
Place the pan back over medium heat. Add the asparagus and peas, cooking until both vegetables are vibrantly green and the peas are defrosted, about 5 minutes. Add the crisp pancetta back to the pan, along with the the basil, chives, lemon zest, lemon juice, and red pepper flake. Cook about 2 minutes.
Add the cooked quinoa to the pan & stir to combine.
If you're eating for lunch, this recipe may yield less than 4 servings.
Lana del Crave https://lanadelcrave.com/