December 17, 2014
White Chocolate Candy Cane Cookies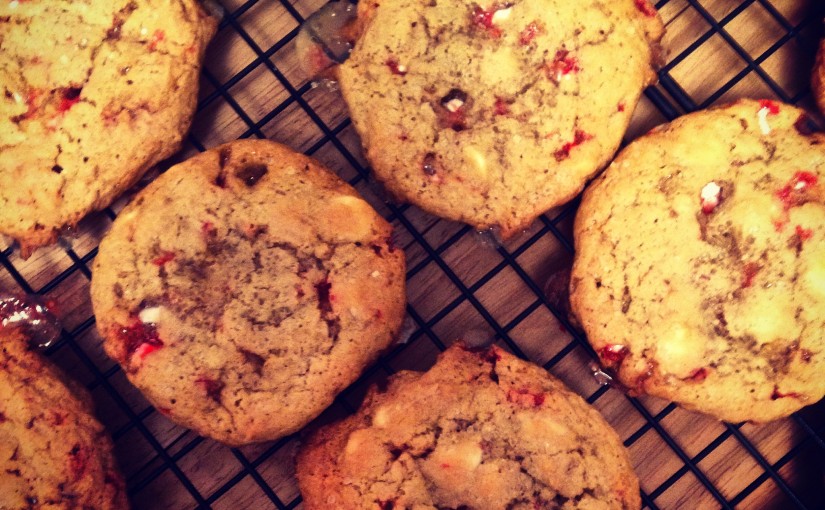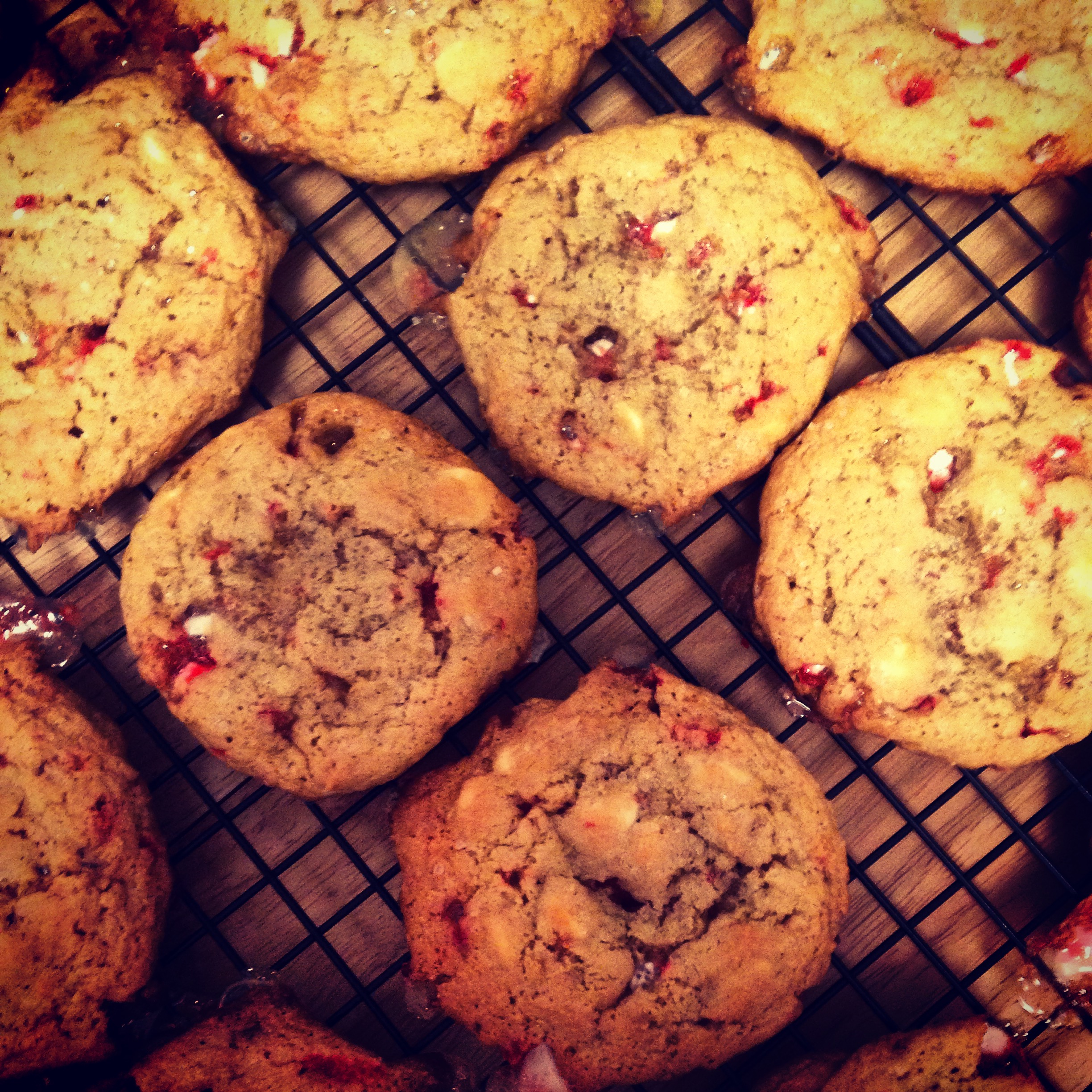 White chocolate, candy cane cookies. The most Christmassy looking Christmas cookies, EVER! Between the white chocolate chips and broken candy canes, they are SO fun.
While collecting both old and new holiday cookie recipes for this week's posts, I came across an article on the Huffington Post called 'The 50 Best Christmas Cookies this Season'. While some recipes weren't my cup of tea, others (like this one) looked too good not to try. These cookies, although they scream 'MERRY CHRISTMAS', are not too overwhelming. The classic chocolate chip cookie base shines through, despite the addition of white chocolate, coarse sugar, and candy cane deliciousness. I am not one for minty desserts but I will make an exception for these cookies, especially during the Christmas season!
The Tips
Use a food processor. The original recipe called for peppermint crunch chips, but I had no idea where to find them. Christmas is around the corner, so candy canes are super easy to find and a good alternative. The next time I make these cookies, I'll use a food processor to break the candy canes into smaller pieces. During the baking process, the larger pieces of candy cane melted through the cookie. Still delicious but not the prettiest.
Keep the batter cold. Some cookies have a tendency to spread while baking in the oven. My mom's theory for this scenario is, 'the butter must have been too warm'. To keep these cookies from spreading in the oven, put the batter into the fridge for 10-15 minutes before baking.
It's all about the cookie scoop. Don't forget to scoop your cookie batter using your nifty cookie scoop, purchased for your Iced Pumpkin Cookies!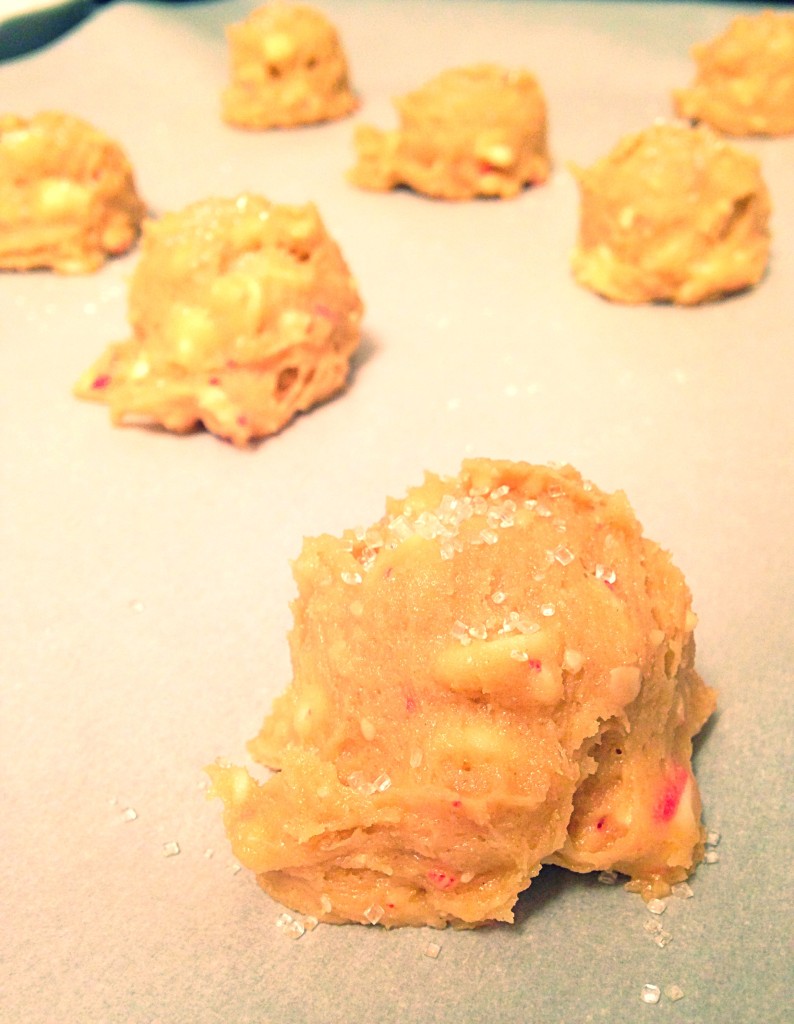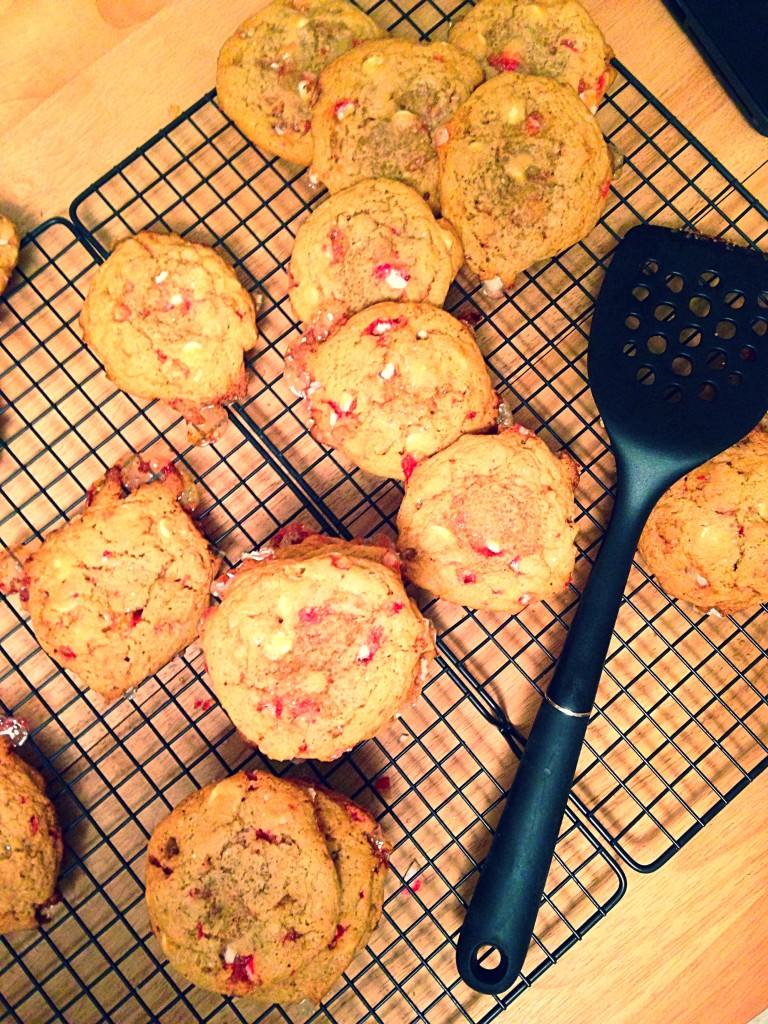 The Recipe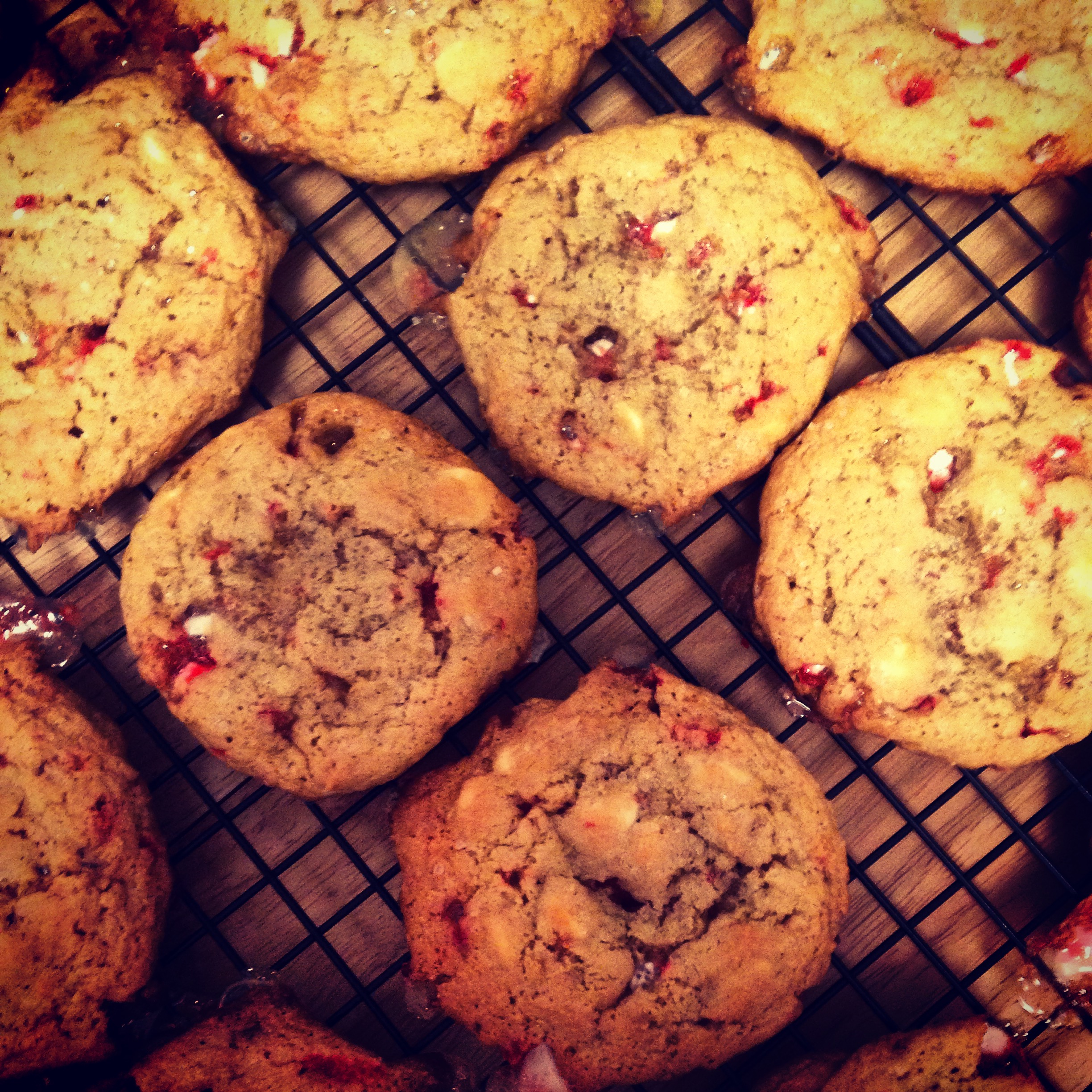 White Chocolate Candy Cane Cookies
2015-01-30 09:32:47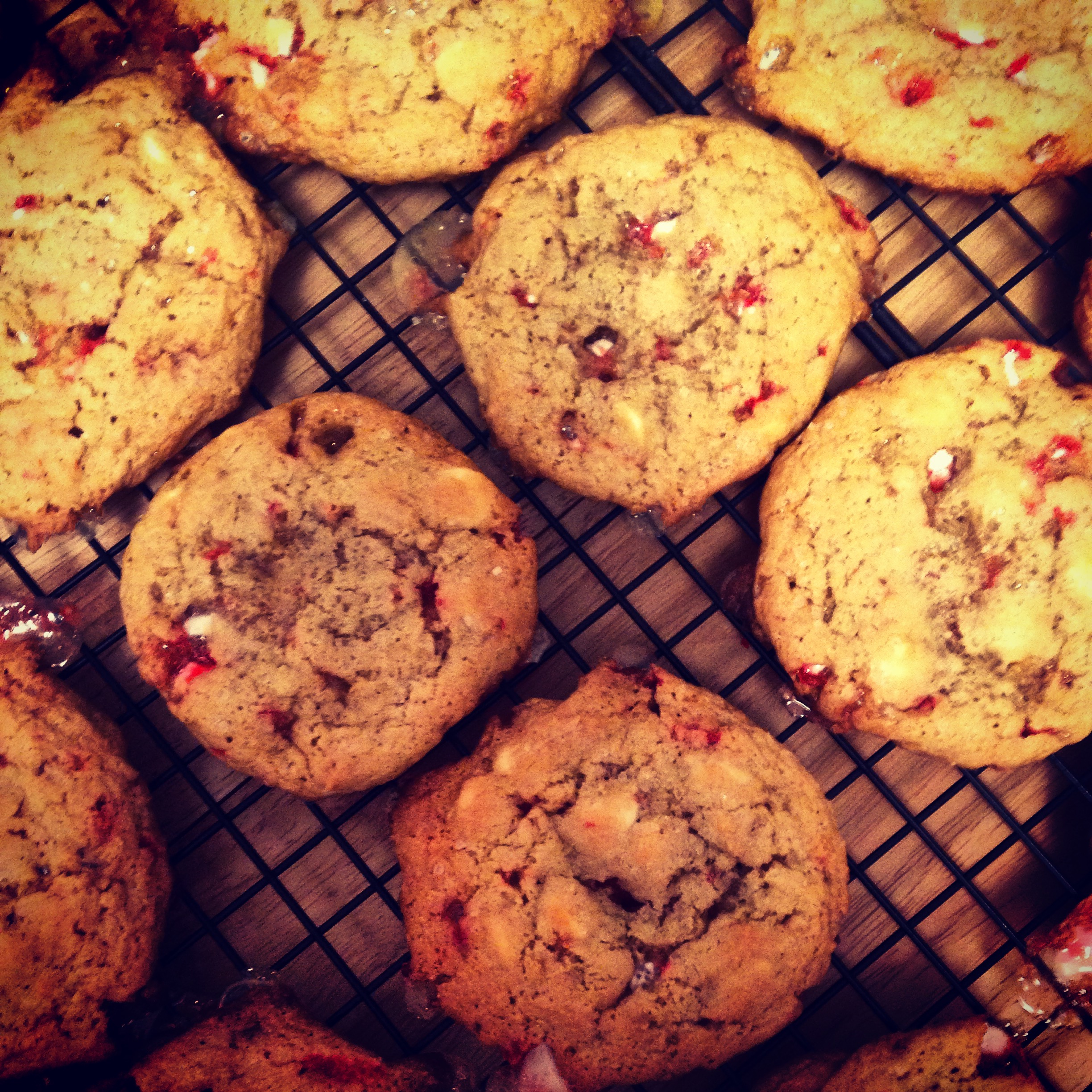 1/2 cup unsalted butter, at room temperature
1/3 cup cream cheese, at room temperature
1 cup light brown sugar
1/2 cup granulated sugar
2 extra large eggs
1 teaspoon vanilla extract
1/4 teaspoon peppermint extract
2 1/2 cups all-purpose flour
1 teaspoon baking soda
1/2 teaspoon salt
1 cup white chocolate chips
1 cup candy cane pieces, crushed to small pieces using a food processor.
Coarse white sugar for sprinkling
Preheat the oven to 375 degrees. Line a baking sheet with parchment paper and set aside.
In a large bowl, combine the flour, baking soda and salt. Set aside.
In a large bowl or stand mixer, beat the butter, cream cheese, brown sugar, and granulated sugar until light and creamy. Add the eggs on at a time, mixing after each, followed by the vanilla and peppermint extracts.
Slowly stir in the dry ingredients in small batches so you don't make a mess. Mix in the white chocolate chips and candy cane pieces.
Use a cookie scoop to form the perfect dough balls and place on the prepared baking sheet 2 inches apart. Sprinkle with coarse sugar and bake until edges just begin to turn golden, about 10 minutes. Let cool on the baking sheet then transfer to a wire rack to cool completely.
Adapted from Completely Delicious
Lana del Crave https://lanadelcrave.com/