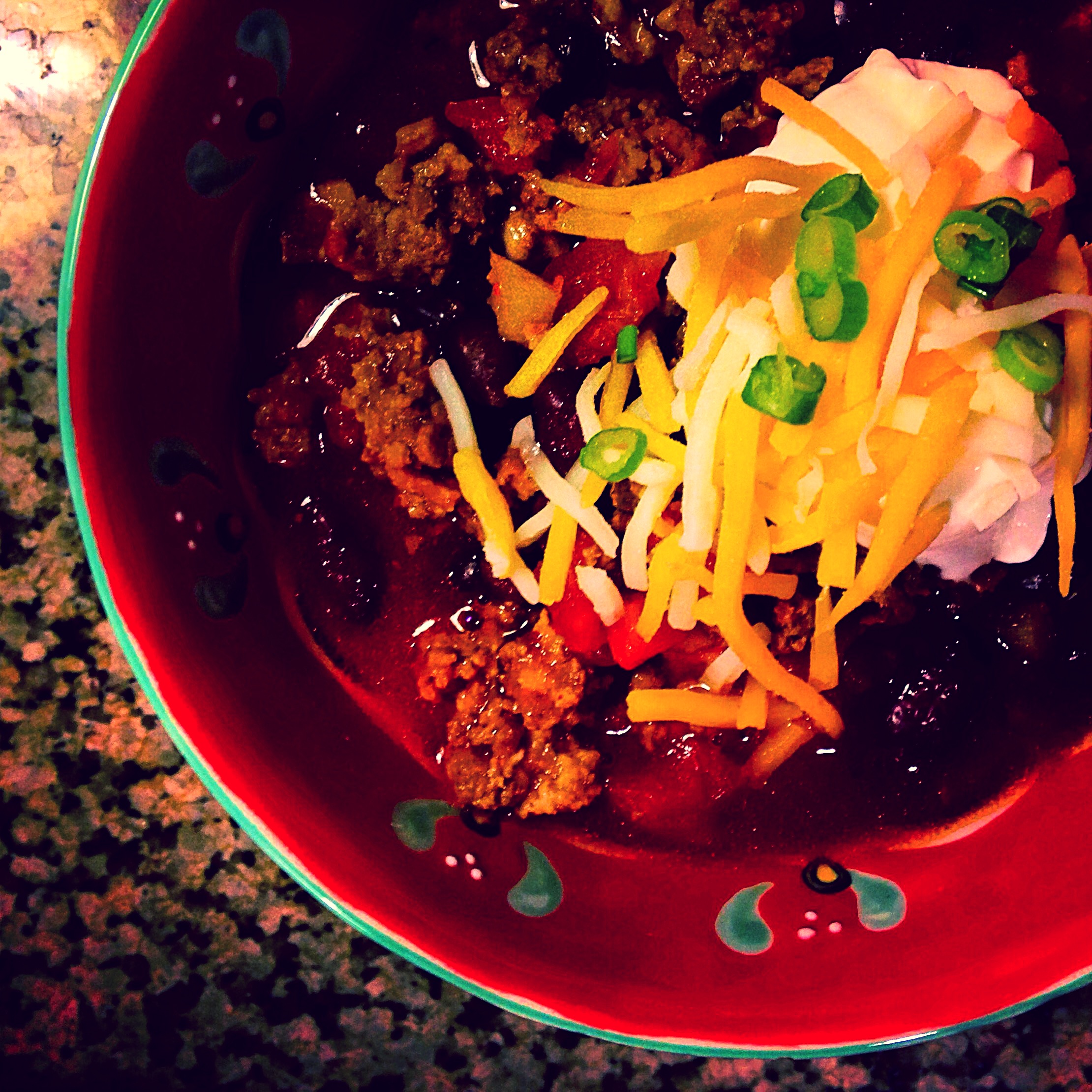 Football season, what's not to love? Every Sunday I watch my man scream at the television, questioning why the NY Giants suck this season and counting fantasy football points. Although I have a fantasy team of my own, I am usually more focused on the comfort food we'll curl up with while we both cheer our teams on. This week we were craving chili.
I offered the option of a light chicken chili but that was quickly rejected for a manlier, meatier chili. This chili recipe is one I've turned to over the years, even while living with my parents and cooking at a young age. The recipe calls for 1 cup of beer and I distinctly remember being underage and unable to purchase this ingredient. My dad, craving the chili for himself, would run out to buy me a can of beer in exchange for lunch. This recipe comes from Pat Neely who used to have a show on Food Network with his now ex-wife, Gina Neely. Their marriage may have failed but this recipe never does, especially during the Winter/Fall months!
The Tips
Freeze the bacon. Have you ever tried cutting bacon? Despite how sharp your knife may be, it's near impossible. The fat we all know and love is very slippery and makes for a risky knife situation. This chili is good but not worth accidentally cutting yourself! Thirty minutes before you're ready to start the chili, put the bacon into the freezer. Once you're ready, remove from the freezer and use a sharp knife to cut the bacon into small pieces. This trick also works with pancetta!
Potato mashers are not just for potatoes. After you've added the ground meat to your pot, you'll need to break it up into small pieces. Instead of digging in with a wooden spoon, I like to use a potato masher. It sounds strange but it's much faster and easier than using a wooden spoon, you'll see!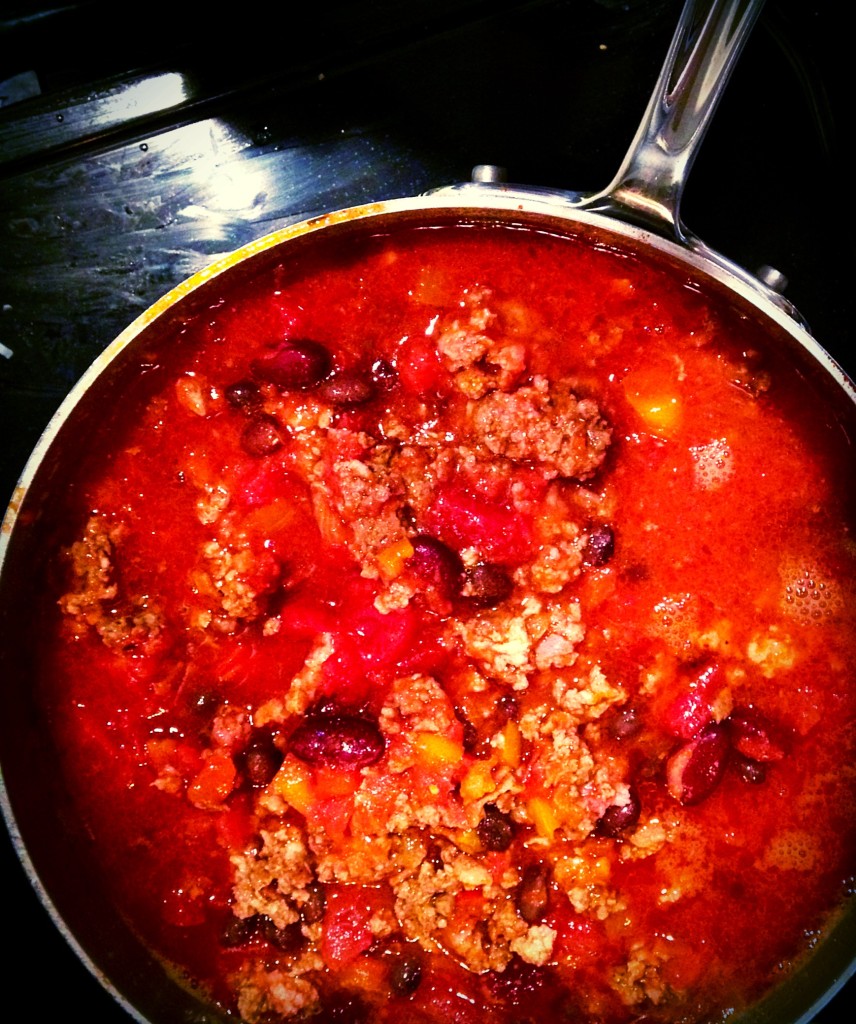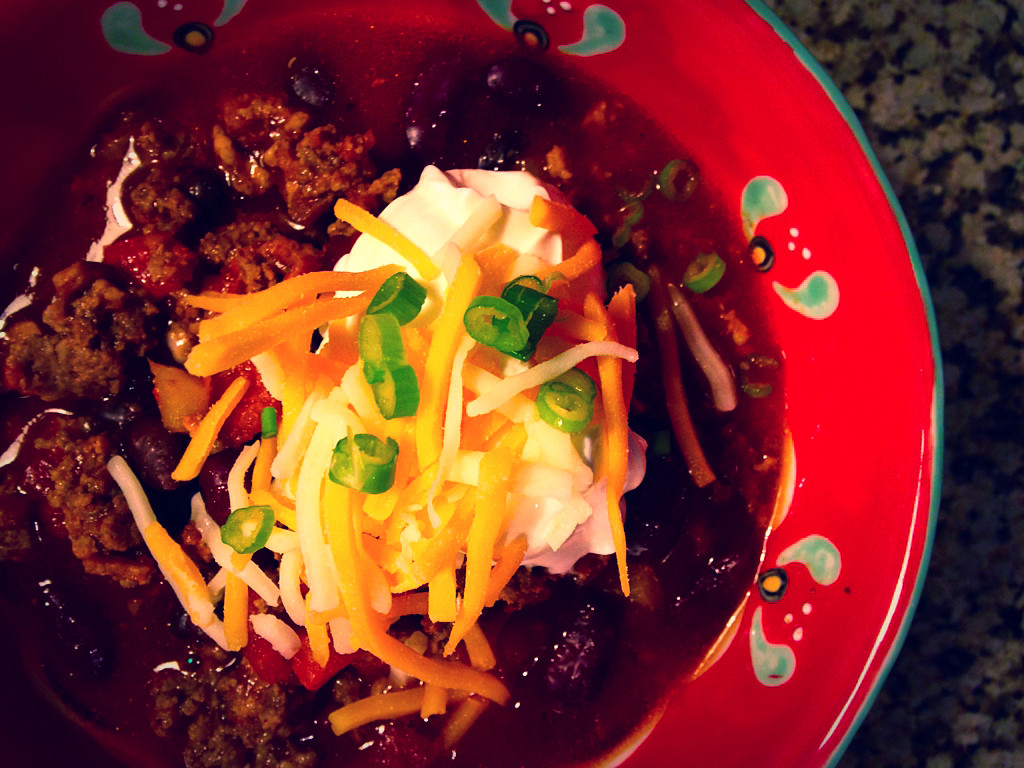 The Recipe
Manly Pork & Beef Chili
2015-01-29 14:35:50
Ingredients
6 slices bacon, cut into small pieces
4 cloves garlic, finely chopped
2 medium onions, finely chopped
1 red bell pepper
1 yellow bell pepper
4 tablespoons chili powder
1 tablespoon ground cumin
1 tablespoon smoked paprika
2 teaspoons dried oregano
1/4 to 1/2 teaspoon (depending on your tolerance for heat) red chili flake
Salt and pepper to taste
1 pound lean ground beef (80% lean, 20% fat)
1 pound ground pork
1 cup beer, whichever kind you have on hand
1 (15 oz.) can black beans, drained and rinsed
1 (15 oz) can kidney beans, drained and rinsed
1 (24 oz) can crushed tomatoes
1 (24 oz) can diced tomatoes, with juice
Instructions
In a large (and I mean LARGE) dutch oven/pot, cook the bacon over medium heat until crisp, stirring occasionally.
Once the bacon is browned, add the garlic, onions, bell peppers, and spices. Cook until the veggies are tender and spices are aromatic.
Add both the beef and pork. Using a potato masher (or a wooden spoon if that's all you have), mash the meat until brown - roughly 5 minutes. Stir in the beer, beans, and tomatoes. The chili will seem 'liquidy', as shown in the photo but will come together once simmered for a couple of hours.
Turn the heat to low and simmer covered for 2 hours or more, stirring occasionally. The chili will thicken a bit as the flavors come together.
Serve in bowls with your desired toppings.
Notes
For garnish, use sour cream, shredded cheese (I like a mixture of sharp cheddar and Monterey jack), sliced scallions, crumbled tortilla chips, or whatever tickles your fancy!
Adapted from Pat Neely
Lana del Crave https://lanadelcrave.com/