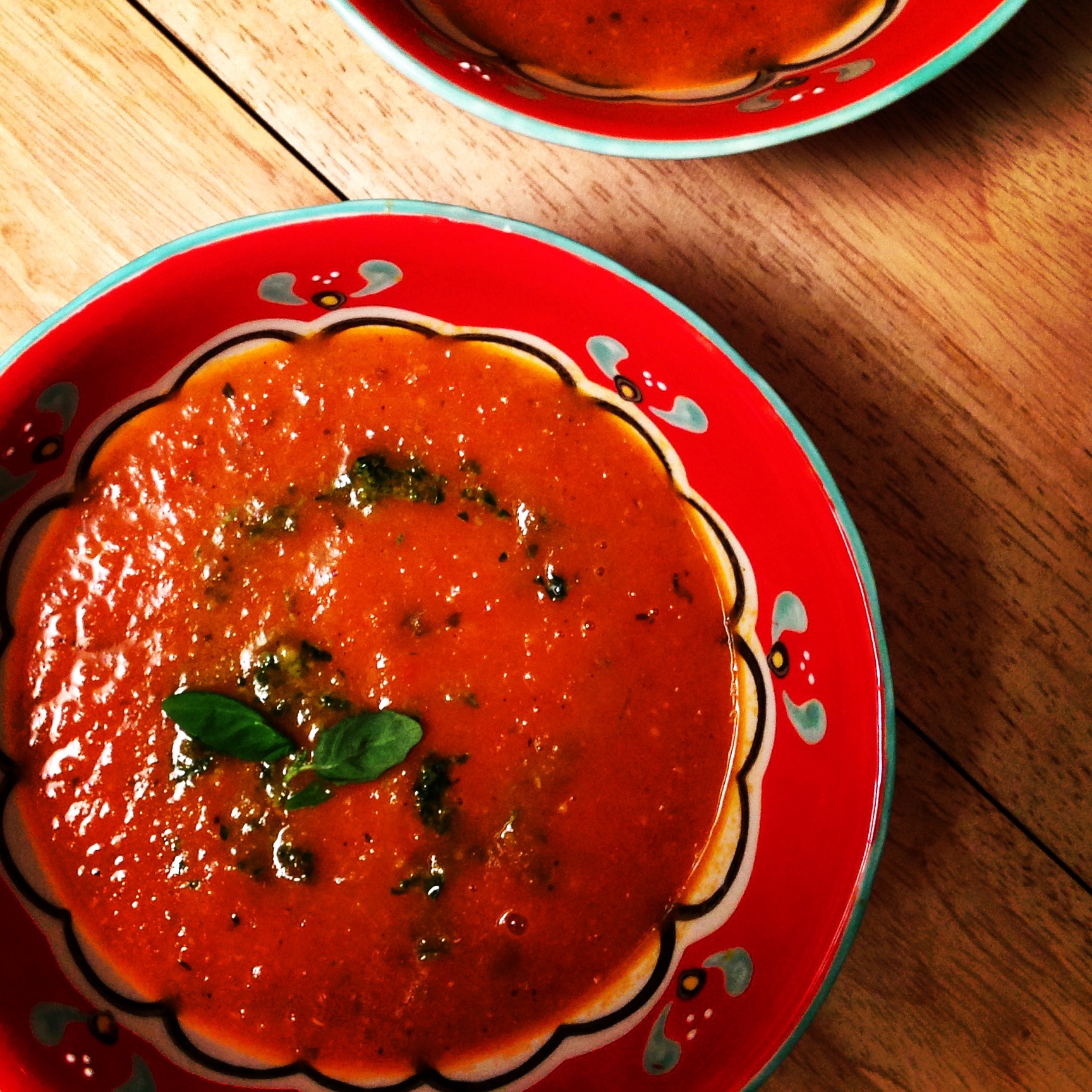 This morning, as I walked out the door and on to a sidewalk covered in ice, I decided tonight would be the perfect night for tomato soup. Soup is definitely comfort food, especially when the weather is cold.
I've been eating light the past couple of weeks so I wanted to achieve deep, rich flavors without
adding too many ingredients. Roasting the tomatoes before turning them into soup and adding a fresh basil pesto definitely did the trick. As a side note, if I wasn't on a health kick I'd serve this soup with either grilled cheese or a bagel, toasted with cream cheese. Talk about comfort!
The Tips
Consistency is key. In my opinion, consistency and texture of food will make or break a dish. The first time I followed a recipe for tomato soup, it resulted a chunky, gritty liquid. The flavor was good but it was missing that silky smooth texture tomato soup should have. That's why the second time around, I passed the roasted tomatoes through a sieve after blending them with an immersion blender. I also added chicken broth to thin the soup a bit.
Any type of tomato will do. I find plum tomatoes are best to use when it's out of 'tomato season', but if you prefer heirloom or another type of tomato, please substitute!
Cheese please! 'Pesto' is typically a combination of fresh herbs, garlic, olive oil, nuts, and cheese. I am trying to avoid dairy products so I left cheese out of this recipe. You are more than welcome to add some! Just add 1 tablespoon of grated Pecorino Romano OR Parmesan cheese to the pesto recipe below. You can even grate a bit extra to sprinkle atop the soup… or for snacking!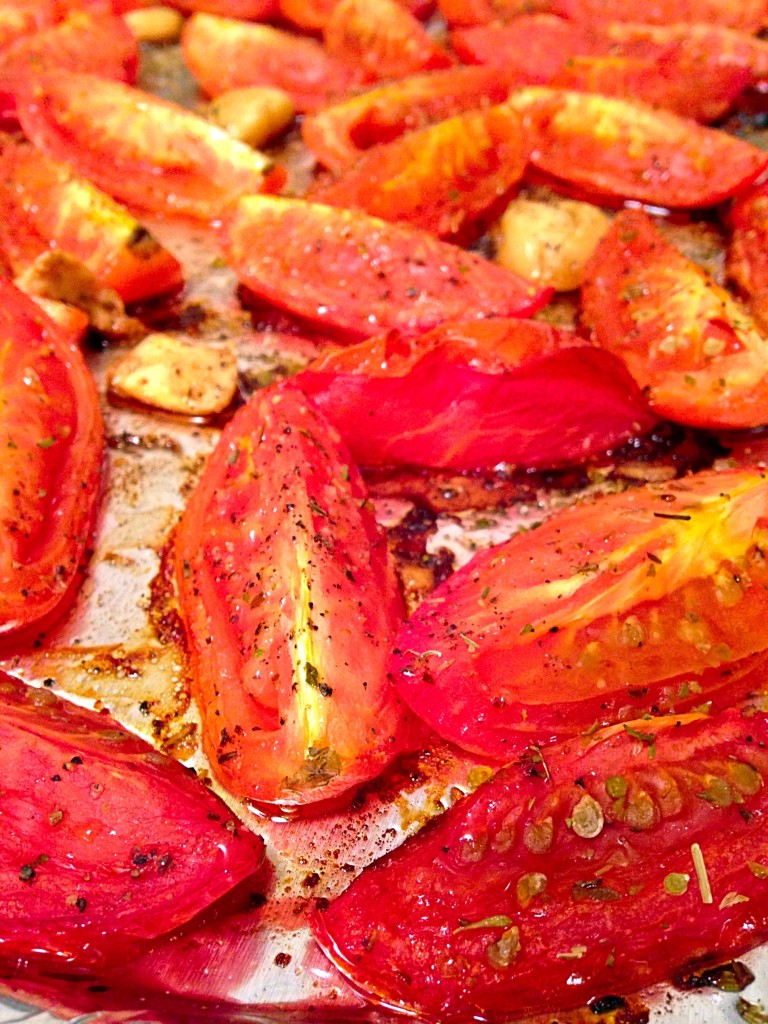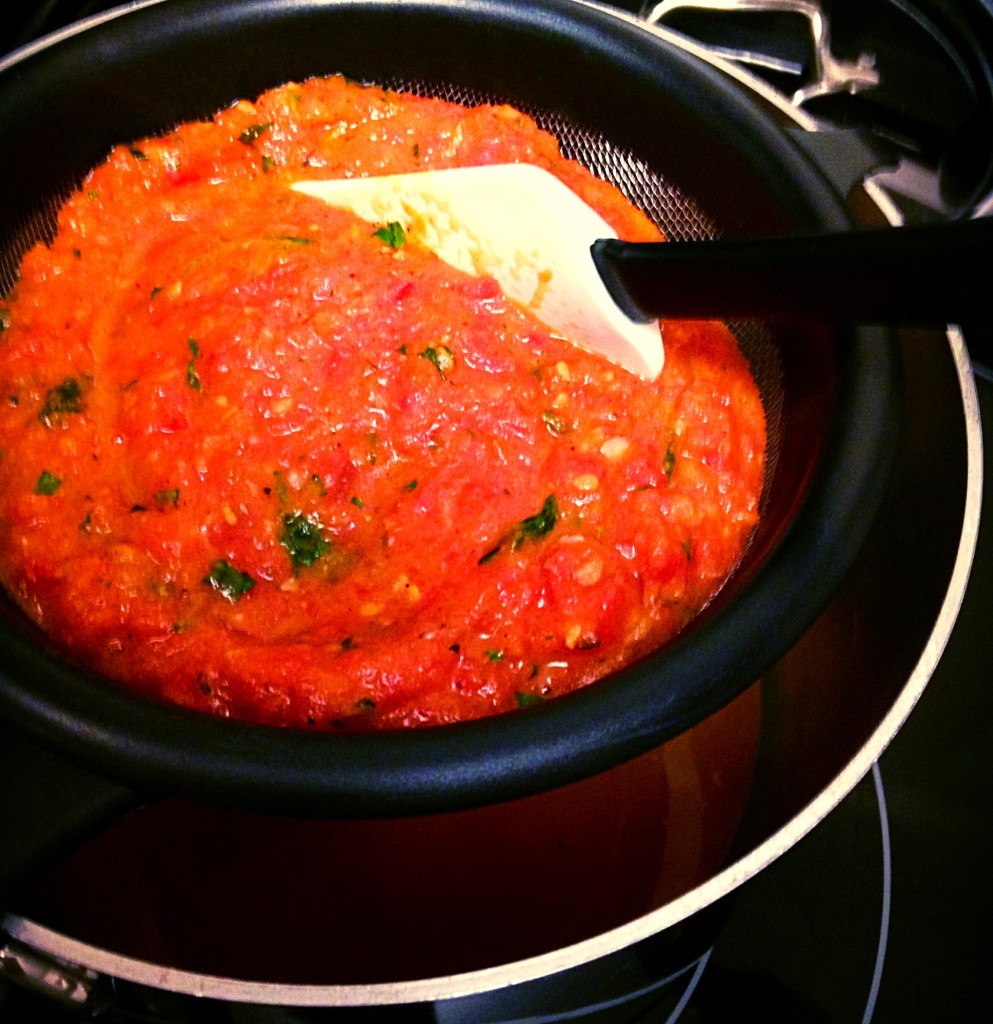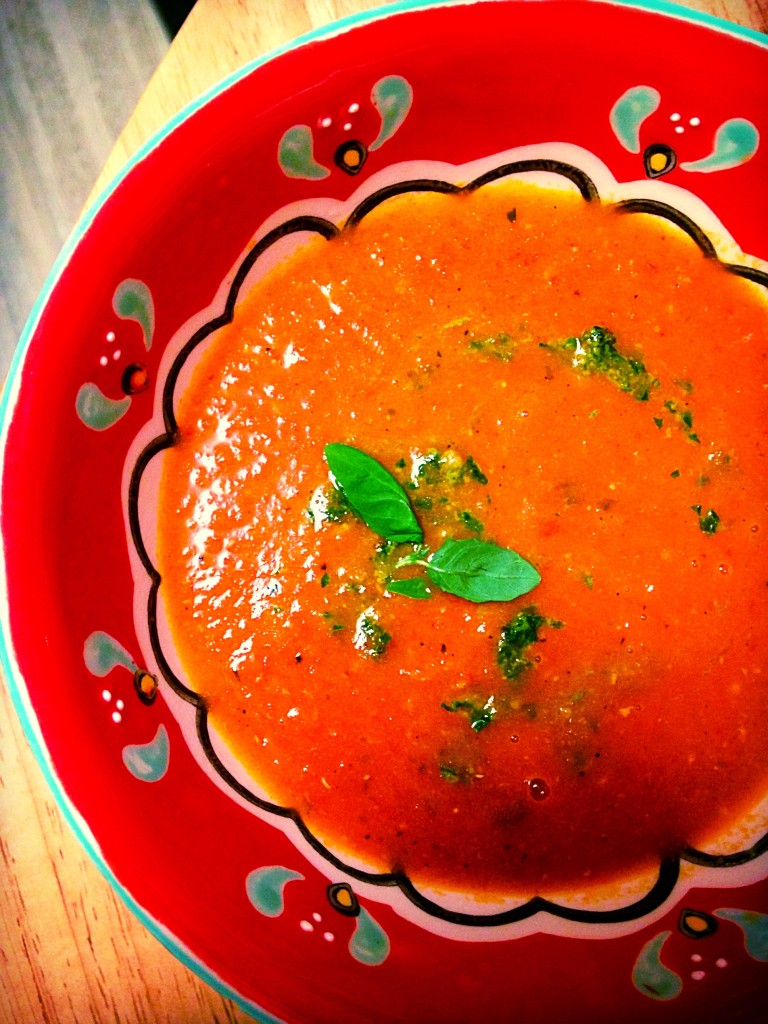 The Recipe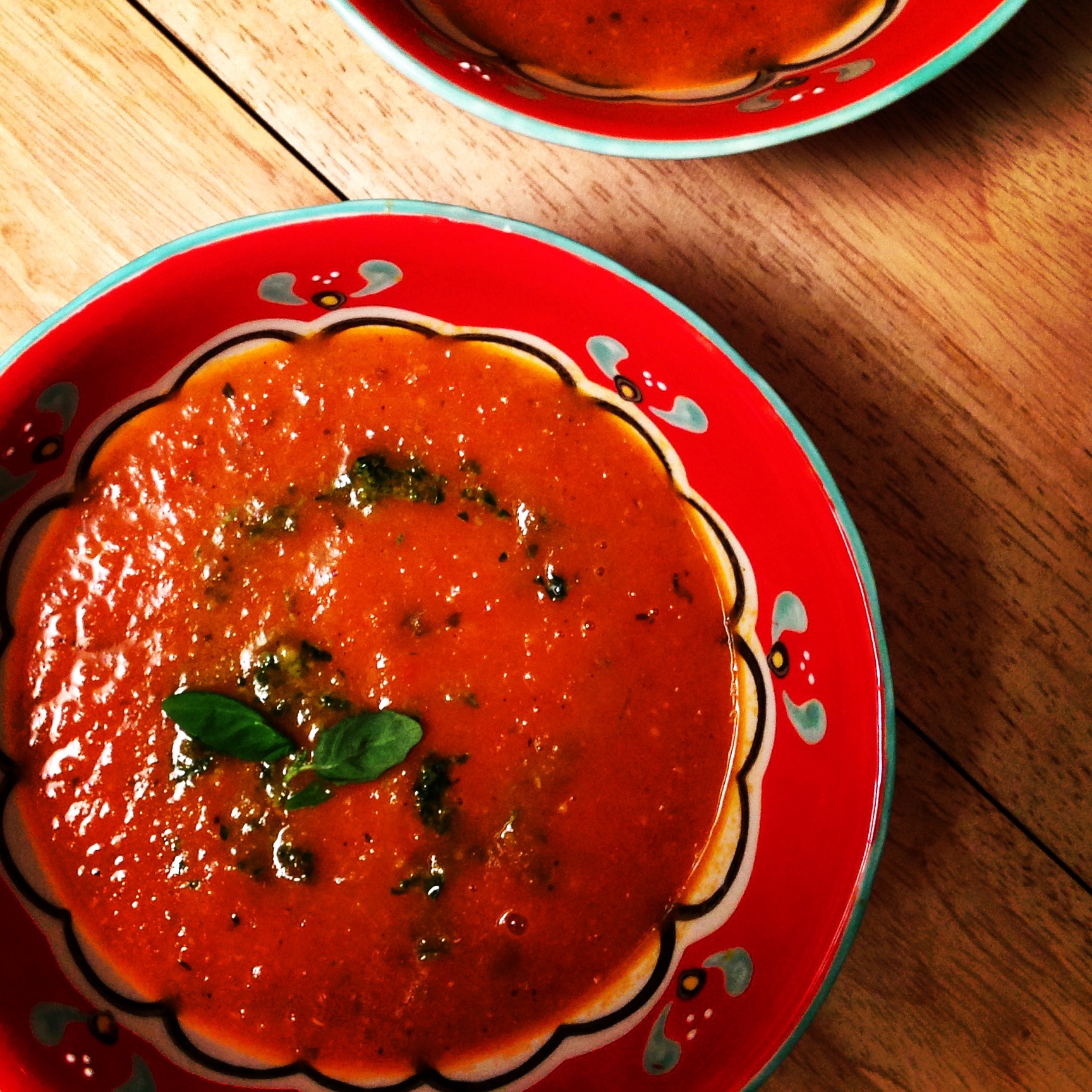 Roasted Tomato Soup w. Pesto Drizzle
2015-01-30 08:34:09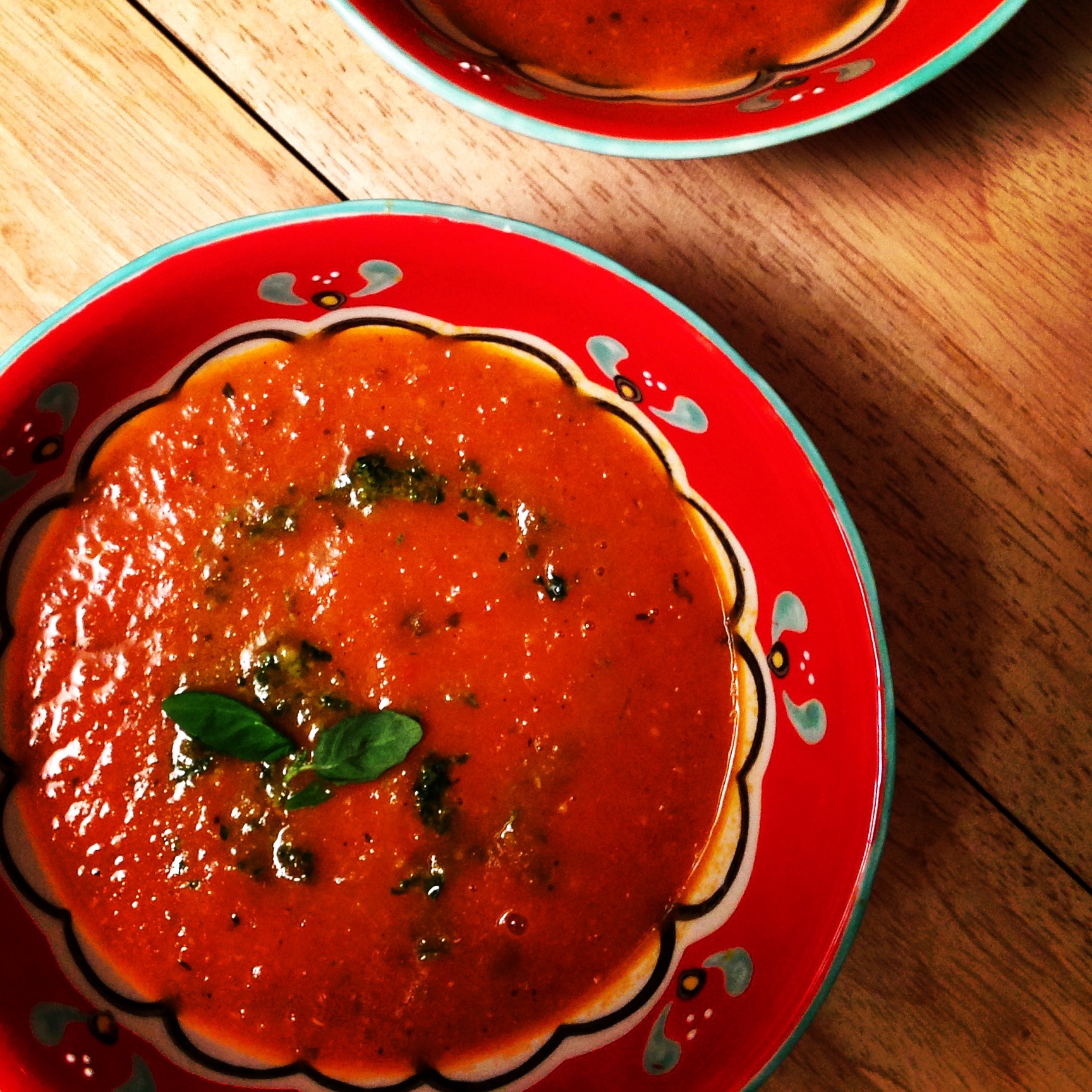 Ingredients
2 lbs. Plum tomatoes
4 garlic cloves
Extra virgin olive oil (EVOO)
2 teaspoons dried oregano
Salt and pepper, to taste
2 tablespoons basil leaves
1/2 cup low sodium chicken broth
For the Basil Pesto -
1 tablespoon pine nuts, toasted
1/2 cup packed, fresh basil leaves
1 small garlic clove
2 tablespoons EVOO
Salt and pepper, to taste
1 tablespoon grated Pecorino Romano or Parmesan cheese (Optional)
Instructions
Preheat your oven to 400 degrees.
Cut the tomatoes into quarters and spread on a baking sheet. Next, remove the skins from the garlic and add the whole cloves to the baking sheet. Drizzle the tomatoes and garlic with EVOO, enough to cover each of them. Sprinkle with dried oregano, salt and pepper. Roast for 20-30 minutes, depending on the size of your tomato slices. You'll know they are done when soft, wrinkled and the edges are slightly crisp.
While the tomatoes and garlic are roasting, make the pesto to drizzle on top of the soup. First, toast the pine nuts in a small pan atop the stove until fragrant. Remove and add to a food processor with 1/2 cup basil leaves, garlic, EVOO, salt and pepper. Blend until completely smooth. If you are adding cheese, transfer the pesto mixture to a bowl and stir in the grated cheese of your choice. Set aside.
Once the tomatoes and garlic are done roasting, and if you are using an immersion blender, add them to a bowl with 2 tablespoons basil leaves. Carefully blend until smooth, it can be messy! If you don't have an immersion blender, blend the tomatoes, garlic, and basil in a traditional blender until smooth.
Place a sieve on top of a large pot over the stove and add the blended soup mixture. Using a spatula, press the mixture through the sieve until you've gotten as much moisture from it as possible. Discard the remaining tomato skins and seeds. Add chicken broth to the soup and simmer for 20-30 minutes, until the soup thickens up a bit.
Notes
Serve in bowls with a sprinkle of red pepper flake and pesto drizzled on top.
Adapted from Shoots & Roots
Lana del Crave https://lanadelcrave.com/