August 25, 2020
Jalapeño Popper Hassleback Chicken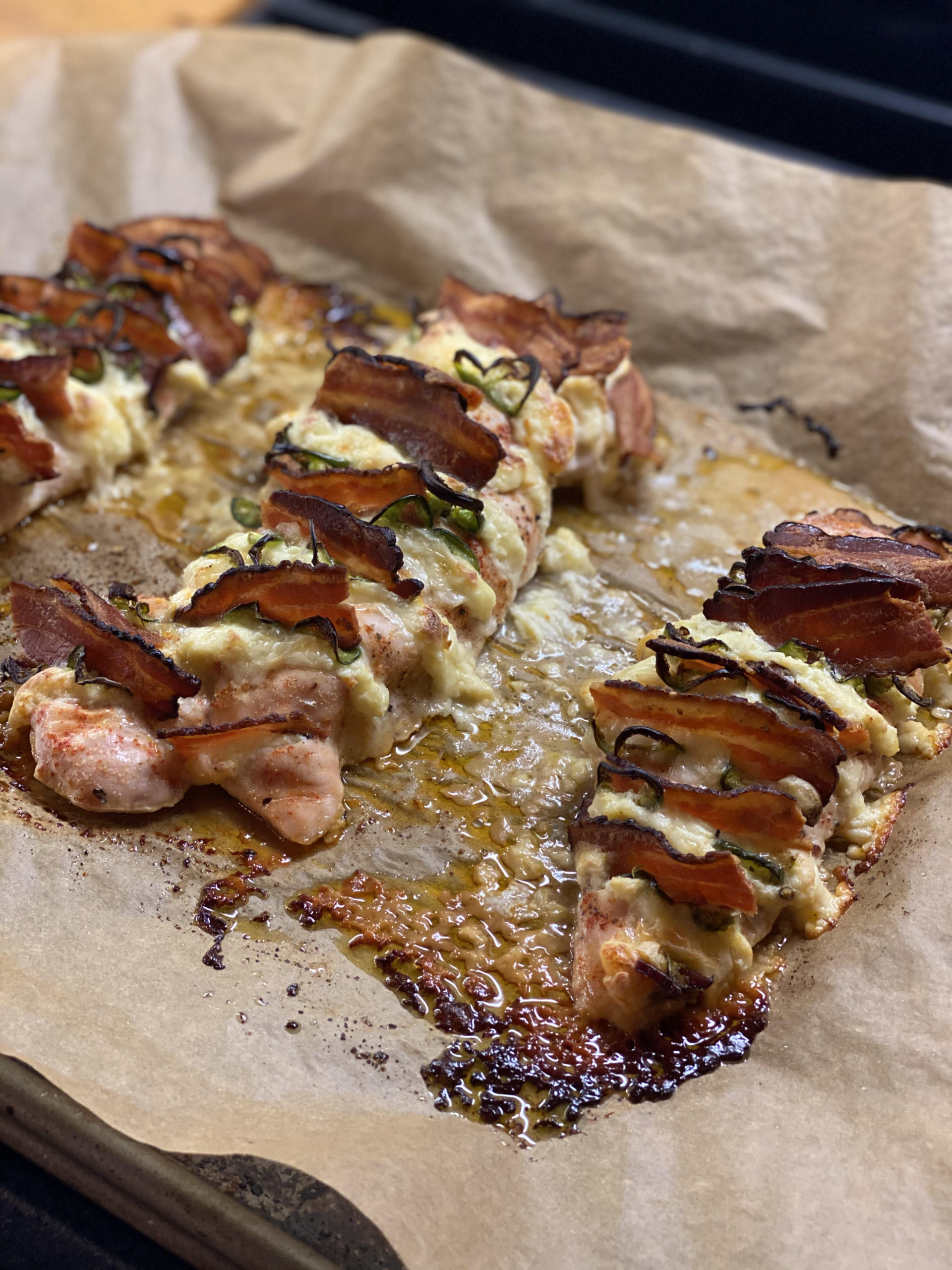 WOW, you guys, it's been a while since I've done this! This recipe was worth a quick blog post, based on the overwhelming amount of positive messages I received after sharing on my Instagram story. This jalapeño popper hassleback chicken was insanely easy to make and, while indulgent, is Keto-friendly (if you're into that) and gluten-free. It can also be sugar-free… if you buy sugar-free bacon. I threw that last sentence in there as a way to make us feel better about all the cheesy, bacon-y goodness.
For those wondering what 'hassleback' is, it's a cooking method where chicken, potatoes or other items are sliced 3/4 of the way through in even layers, then stuffed or topped with different ingredients. You've probably seen or heard of hassleback potatoes but this week, for some reason, chicken popped into my head.
The Tips:
Be gentle with your breasts. Cheeky, I know, but important. When creating the 'hassleback' slices, it's easy to get carried away and cut through the chicken, potatoes or whatever you're cutting entirely. Have self-restraint and avoid doing that. I once saw someone use a chopped stick to place along side the chicken breast while cutting – to stop their knife from slicing all the way through. It's a great thought but not totally necessary – just be careful!
Use a piping bag for your cheese filling. You can use a spoon to wedge the cream cheese/cheddar cheese mixture into the hassleback slices but it's worth the extra step to pop the filling into a large Ziplock bag, cut one of the tips and pipe it in. It was less messy and much easier to evenly distribute.
If you can't handle the heat… cut out the seeds. We like spicy food in our house so we left the jalapeño seeds in-tact. However, if you like a little less spice, simply remove the seeds from the jalapeño before adding to the dish. Also, something I constantly need to remind myself when cooking with spicy peppers, do not touch your eyes until your hands are thoroughly washed.
*Warning: Graphic photos of raw chicken below…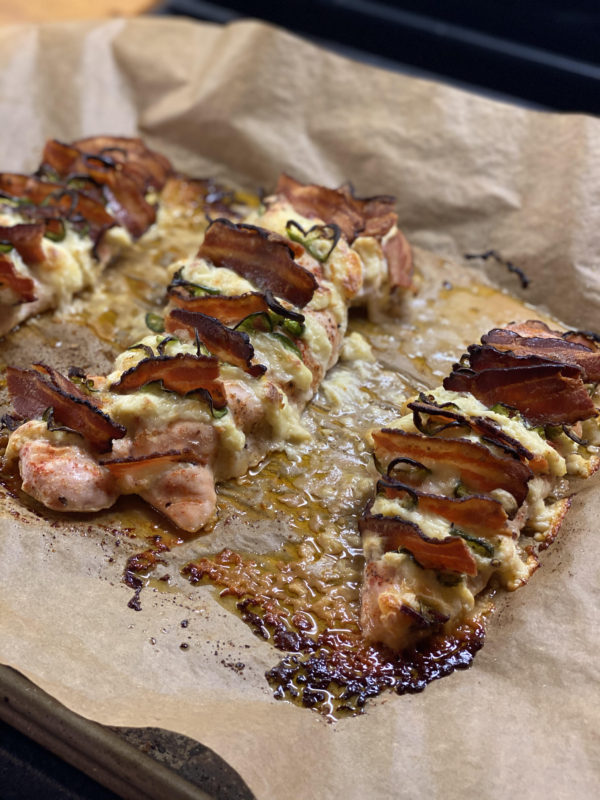 | | |
| --- | --- |
| | |
Preheat the oven to 400 degrees and line two baking sheets with parchment paper.

On one of the baking sheets, add the sliced bacon. Cook until slightly crisp, about 15 minutes. Remove from the oven, drain the bacon on a paper towel, cut each slice into thirds then set aside.

One breast at a time, slice the top of the chicken in the shorter direction about 1/2 inch apart, cutting 3/4 of the way down but not completely through the bottom.

Season the chicken breasts with salt, pepper, paprika and granulated garlic powder. Set aside on the second parchment-lined baking sheet.

In a medium bowl, mash together the cream cheese and shredded cheddar cheese until completely combined. Add the mixture to a large Ziplock bag and cut a small tip at the bottom for easy piping.

Fill each of the chicken slices with the cheese mixture. Next, add a piece of the cut bacon and 1-2 pieces of jalapeño to each of the chicken slices.

Bake the chicken for 25 minutes, until the chicken is cooked through. For extra bubbly cheese, place the pan under the broiler for 1-2 minutes (optional). Serve immediately.
I use roasted granulated garlic. I just recently discovered it at Whole Foods and will never buy non-roasted granulated garlic, if I can help it.