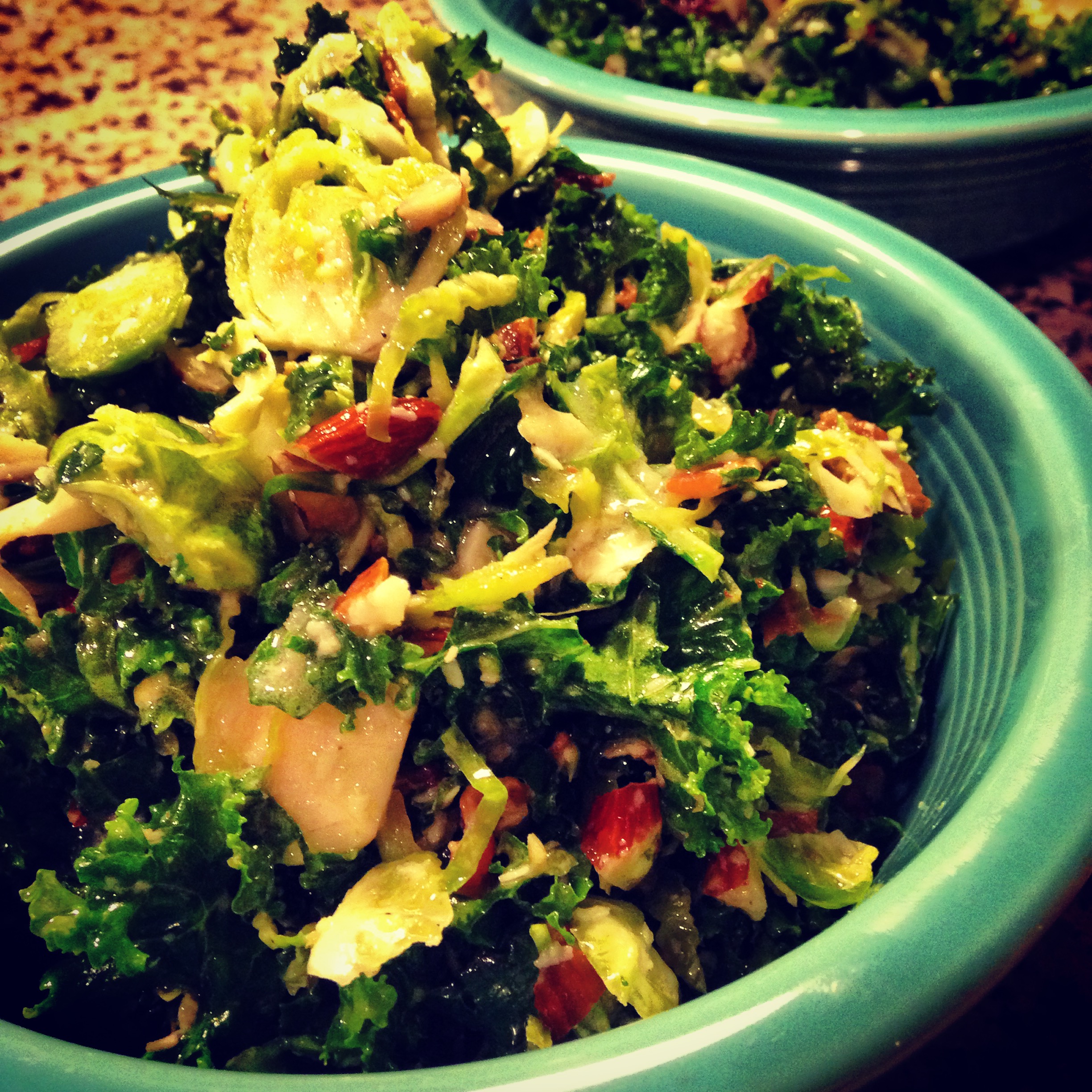 Don't be discouraged by the title of this post, there's bacon in this salad!
Post Thanksgiving is the return of healthy eating, at least until Christmas. That means salads all around and no pumpkin cheesecake or Mom's apple crumble without feeling guilty!
Whether you're eating healthy or simply craving a delicious salad, this recipe is perfect. For a salad with so many dimensions – between the bacon, toasted almonds & the vinaigrette – it's so simple to make. When I found this recipe online, the thought of raw Brussels sprouts seemed a bit discouraging, but the textures and flavors come together wonderfully! Plus, it's healthy, hearty, and cleansing. Definitely what we need after Thanksgiving and before Christmas.
The Tips
No mandolins! When a recipe calls for shaved Brussels sprouts, I am tempted to buy a mandolin to achieve perfectly thin slices. But before doing so, I think of my uncle, who sliced his finger trying to make eggplant chip. He was using, you guessed it, a mandolin. To get the sprouts super thin I cut them in half, turn them on their flat side, & slice thinly and CAREFULLY. You'll finish slicing quickly and without the anxiety of a scary mandolin blade staring you in the eye.
Grate your shallot. The vinaigrette in this recipe calls for 1 teaspoon of finely 'minced' shallot. I don't love to bite into pieces of raw shallot or onion, so I grate it into a paste-like texture using a cheese grater. This gives you that delicious 'oniony'/'garlicy' taste without biting into a harsh chunk of shallot. This tip also works for 'minced' onion!
Brussels, not 'brussel'. This is more of a nerdy food fact rather than a tip, but I'll tell you anyway. Brussels sprouts were widely embraced by the people of Brussels, Belgium – which is how they got their name. Isn't that interesting? You're welcome.
The Recipe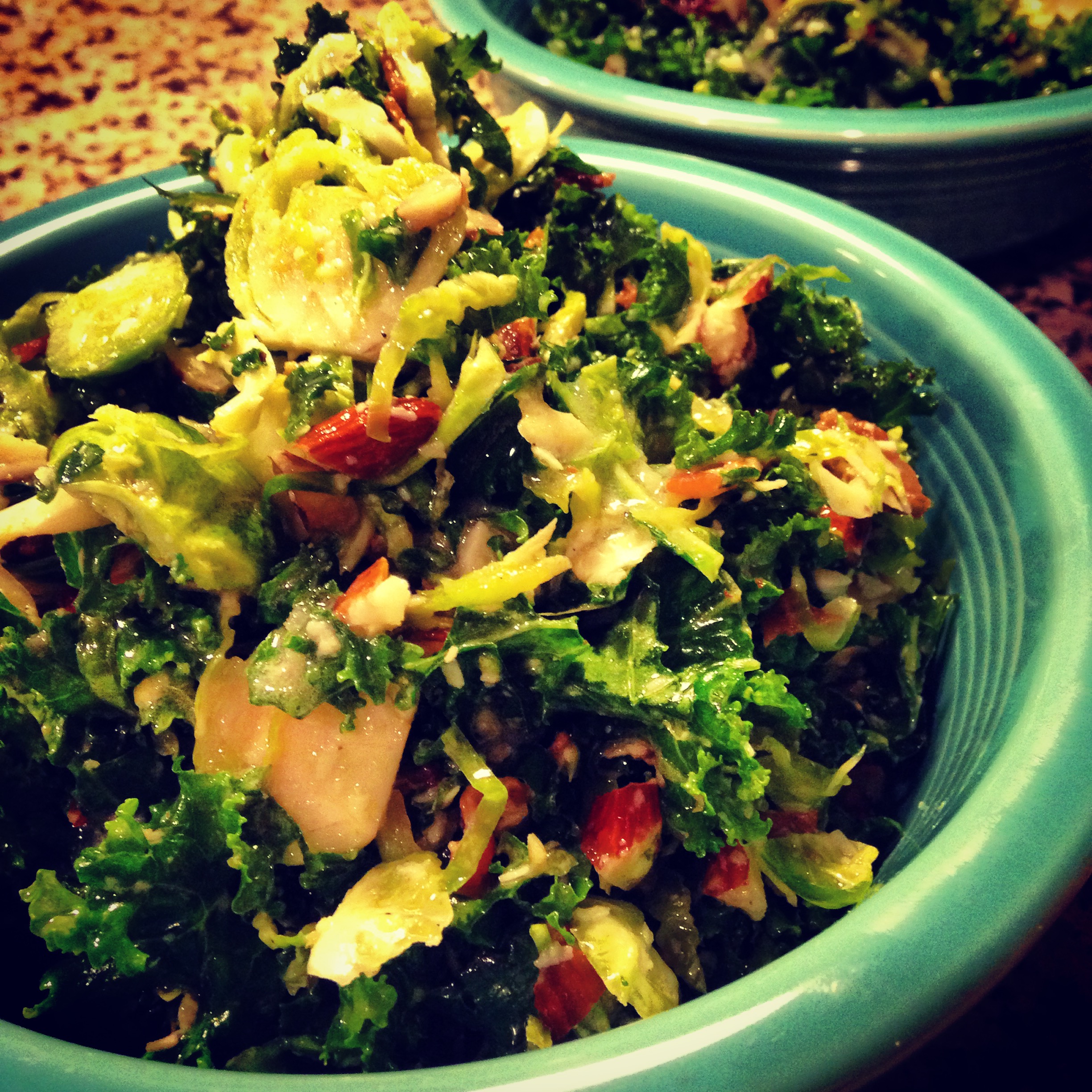 Brussels Sprout & Kale Salad
2015-01-30 08:05:40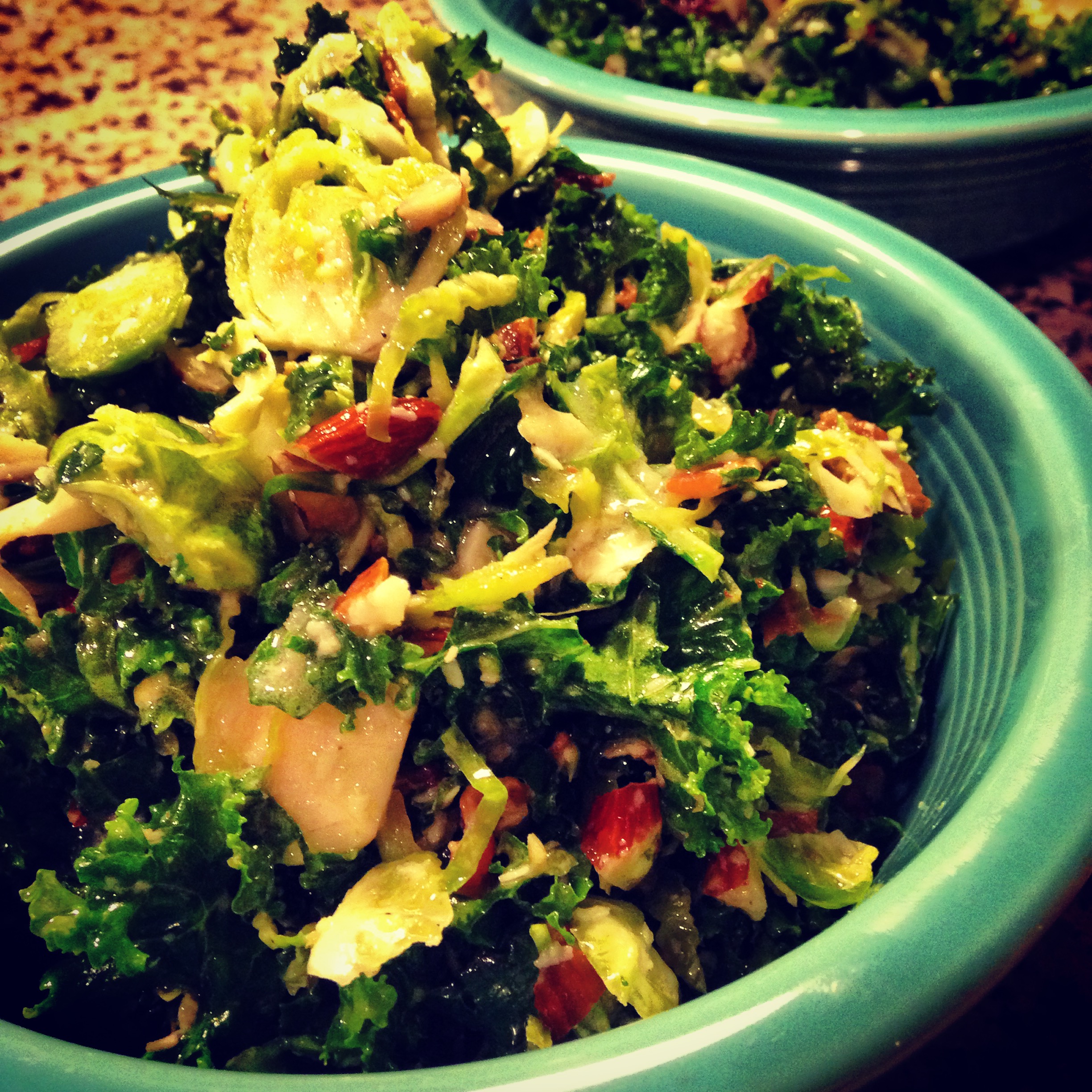 Ingredients
3 cups sliced kale
1 lb Brussels sprouts
4 slices bacon
1/4 cup almonds
1/4 cup Pecorino Romano cheese
For the Dressing -
2 tablespoons fresh lemon juice
1 tablespoon Dijon mustard
1 teaspoon shallot, grated with a cheese grater
1/4 cup extra virgin olive oil (EVOO)
Salt and pepper to taste
Instructions
Preheat the oven to 375 degrees and lay the bacon on a baking sheet. Once the oven is preheated, cook the bacon until crisp, about 15 minutes or longer if you like it very crispy. Remove and let cool. Set aside.
Pull the kale leaves from the stems and thinly slice. Add sliced kale leaves to a large bowl.
Clean the Brussels sprouts by rinsing, removing the bruised outer leaves, and cutting off the bottom of the stem. Next, cut in half then slice as thinly and carefully as possible, using a very sharp knife. Add to the kale.
Toast the almonds in a small pan atop the oven until fragrant, about 5 minutes. Remove from the pan, chop, and add to the kale & Brussels. Roughly chop the crisp bacon and add to the salad. Grate the Pecorino Romano cheese atop the salad. Set aside.
For the Dressing - Add the lemon juice, mustard, shallot, EVOO, salt and pepper to a bowl. Whisk together until well combined.
Pour dressing over the salad and toss together using tongs.
Adapted from Sugar and Grace
Lana del Crave http://lanadelcrave.com/